---
news
Published:
14 December 2020
Surrey Business School's Dr Ying Zhou has her work presented to the House of Commons
Last month, Dr Ying Zhou, Reader in Human Resource Management, had her work presented to the Department for Work and Pensions (DWP) Committee in the House of Commons. We spoke to Dr Zhou to find out more about her work and research interests.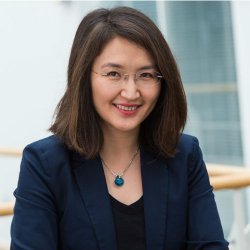 Dr Ying Zhou
Research interests and achievements
Ying's research focuses on job quality, occupation and employee wellbeing. She's won research grants from the Economic and Social Research Council, the UK Government and the European Foundation for the Improvement of Living and Working Conditions, to examine job quality and employee wellbeing in the UK and Europe.
Her research has also been presented to the:
UK Cabinet Office
Organisation for Economic Co-operation and Development (OECD)
European Commission
European Council.
Her recent papers on occupational mobility, unemployment and wellbeing were nominated as finalists for the 2017 and 2018 Academy of Management 'Overall Best Paper Award', winning the award in 2018.
Current research and presentation to the House of Commons
In May 2020, the DWP issued a call for evidence to prepare for the changes in the world of work, because of the 'Fourth Industrial Revolution', which is described by the UK Government as 'new technology creating new industries, changing existing ones and transforming the way things are made'. The DWP is particularly interested in how new technologies have affected employment, training and skills, career changes and worker wellbeing.
Dr Zhou led a submission of a written response with Cardiff University's Professor Alan Felstead and UCL's Dr Golo Henseke. Drawing on their research findings based on large-scale UK labour market surveys, they highlighted the following key points:
New technologies are likely to transform rather than replace whole occupations. To mitigate the consequences of automation, policies should focus on a microlevel understanding of job task changes, rather than macrolevel forecasts of employment trends.
A Universal Basic Income is unlikely to fully protect people from the detrimental effects of unemployment because work provides a wide range of latent benefits for mental wellbeing (e.g. time structure, social interactions, meaning and identity) besides the opportunity to earn a salary.
Working in emerging sectors may require a career change, but not all types of career change are beneficial. Lateral and particularly downward occupational mobility can result in dissatisfaction that lasts for many years after the transition.
Training has generally declined in the UK since the end of the 1990s and the decline was faster for young people and those with lower-level qualifications.
Up to 1.7m workers are acutely anxious about unexpected changes to their work hours, three times more than those on zero-hour contracts. Legislation on 'reasonable notice' of work schedules should apply to all employees.
On 4 November 2020, the team was invited to present oral evidence to the DWP Committee in the House of Commons.
Speaking about the presentation, Dr Ying Zhou said: "It was well received by the Committee and other witnesses in the session. An urgent need for government support was highlighted for the Skills and Employment Surveys (SES), which have tracked changes in skills and job quality in the UK since the late 1980s. The next SES will be carried out by Professor Alan Felstead, myself and Dr Golo Henseke in 2022/3. Members of the DWP Committee fully acknowledged the importance of rigorous data for effective labour market policies."
Discover our Human Resources Management MSc
Find out more about our courses on offer at Surrey Business School