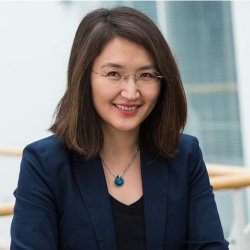 Dr Ying Zhou
---
Reader in Human Resource Management
MPhil (Oxon), DPhil (Oxon)
Biography
Biography
Dr Ying Zhou is a Reader in Human Resource Management at Surrey Business School. Her research focuses on occupation, job quality and employee well-being. Ying has won multiple research grants from the Economic and Social Research Council, the UK government and the European Foundation for the Improvement of Living and Working Conditions (with a total of £1.3 million) to examine job quality, employee performance and well-being in UK and Europe. Ying's research has been presented to the UK Cabinet Office, OECD and the European Commission and cited in UK, French and EU policy documents. She received Surrey Business School's Research Impact Award in 2018 and Mid-Career Researcher of the Year Award in 2019.
Ying's research has been published in leading journals such as the Journal of Applied Psychology, Journal of Vocational Behaviour, the British Journal of Industrial Relations and Human Resource Management Journal. Her two recent papers were nominated as the finalists for the 2017 and 2018 Academy of Management Overall Best Paper Awards (Careers Division) and successfully won the Award in 2018.  She was invited to serve on the Best Paper Award Committee for Careers Division in the 2019 Academy of Management Conference in Boston. Prior to joining Surrey University, Ying worked as a human resource consultant at Towers Watson where she advised a wide range of clients on employee engagement and organizational performance. Ying received her master and doctoral degrees in economic sociology from the University of Oxford.
Research interests
Dr Ying Zhou's research focuses on employees' quality of working life. Specifically she is interested in job involvement, skill development, work engagement, career change and subjective well-being. She is a specialist in quantitative research methods.
Teaching
Employee Relations; Performance, Engagement and Well-being
Affiliations
Member of the Academy of Management (AoM)
My publications
Publications