---
feature
Teaching with Zines and podcasts!
When designing the Sex, Gender and Sexuality masters, we paid close attention to the kinds of topics and skills that would be needed to ensure students graduate with very strong knowledge of the subject area. But we also really paid close attention to how we will teach such topics and how we'll assess learning on modules.
Here are just two examples where more innovative methods are used on modules offered in the programme.
Zines
The first is from Professor Diane Watt who teaches the module Medieval Women's Writing (optional module Semester 2). When asked about exciting teaching practices which engage with sex, gender and sexuality studies, Diane explained more about how she uses Zines in the classroom: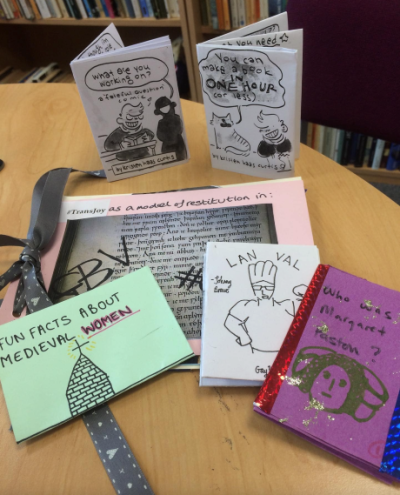 "The example that comes to mind here is the introduction of a Zine workshop to my module on Medieval Women's Writing. A 'Zine' is self-published original work, involving words and images, often handmade. Zines were popular in the '70s and '80s amongst marginalised groups, such as lesbians. They would be photocopied and distributed free of charge in pubs and clubs.
I became interested in them when I was working on a collaborative project on queer manuscripts and noticed a connection between the modern Zine and some medieval manuscripts, which were also copied by hand and had a far less closely controlled distribution than printed texts. My Zine workshops are about asking students to create Zines related in some way to medieval women's voices, the more marginal the better. The results have been incredibly creative: they have covered a range of topics from queer romance to medieval virginity and disability and mysticism."
Podcasts
The second example of exciting teaching methods is the use of podcasts as an optional assessment. In the module Queer Ecologies (optional module Semester 1), Dr Lena Mattheis supports students to make their very own podcasts based on their experience of the one they run - @QueerLit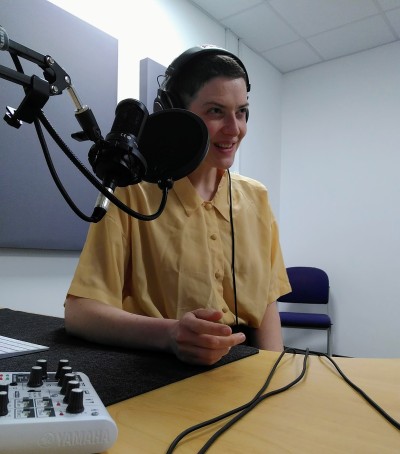 "I love using alternative formats and methods in my teaching and I am always incredibly impressed by the creative ways in which students respond when I ask them to create a map of a poem, explain ecocritical theory in an Instagram post or record a podcast episode about their take on LGBTQIA2S+* writing.
For the Queer Ecologies module, students can create their own research-based podcast as a form of assessment (listen to some here). I also get behind the mic myself to produce accessible and relatable learning material for students.
On the Queer Lit podcast, I host conversations with scholars whose work frequently appears on gender and sexuality reading lists. Students usually find complex theory much easier to engage with after they have listened to a chat with the scholar they're reading and heard them explain what their work is all about and why it matters to them."
Throughout this masters there are areas where students' creativity is really supported and they get to engage with academics who are doing really exciting forms of teaching and research.
A top recommendation is to look at each optional module in detail before you decide which ones to take to ensure you don't miss out on the things you'd really like to give a go.
If you would like any further information, please email the Programme Director or the Admissions team.