---
news
Published:
24 February 2023
The War in Ukraine: One Year On
From left to right: Professor Amelia Hadfield, Sir Julian King, Eduard Fesko, Lord Ricketts, Professor Sarah Wolf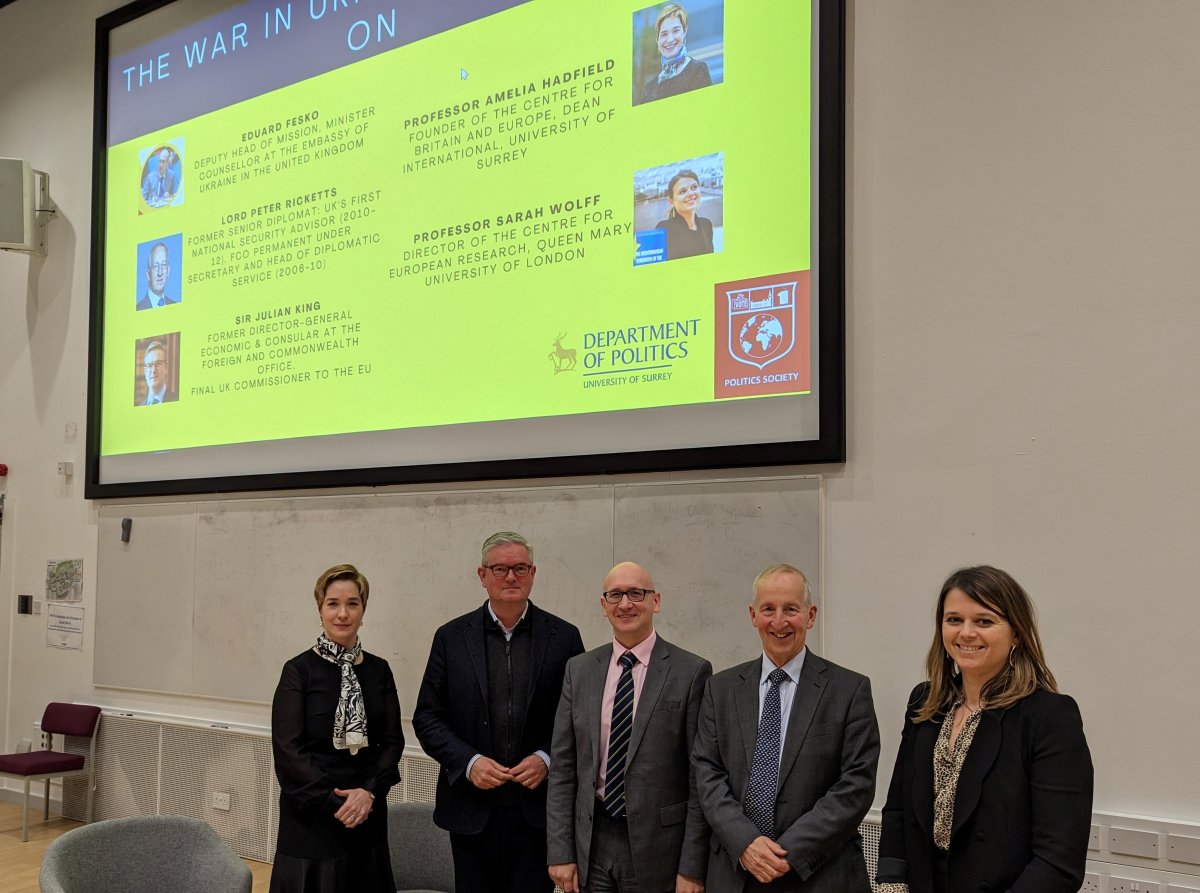 Our distinguished panel included the Deputy Head of Mission and Minister Counsellor at the Embassy of Ukraine in the UK, Eduard Fesko, Lord Peter Ricketts, a retired British senior diplomat, and Sir Julian King, Director-General Economic and Consular at the Foreign and Commonwealth Office. It was chaired by Professor Sarah Wolff, Professor in European Politics and International Relations and Director of the Centre for European Research at Queen Mary University of London, and Professor Amelia Hadfield, Head of Department of Politics and Dean International at the University of Surrey, was moderator. 
The high-level diplomats discussed the last year of conflict in Ukraine, gave fascinating and moving insights into the situation in Ukraine and debated possible future scenarios. Mr Fesko reminded the audience that the theatre of Ukraine's war is vast: the frontline is 1,200 miles, the same distance between London and Rome, as well as the scale of the internal and external migration of Ukrainians, and the destructive impact the war has had upon Ukraine itself.
The panel agreed that a swift end to the war, on Ukraine's terms, followed by unstinting political, security and financial support from its key partners were the next requirements.
Professor Hadfield said: "The war in Ukraine continues to dominate the geopolitical agenda, with significant impacts for Europe, the UK and the wider world. Europe itself – as well as the EU – has been profoundly altered by this conflict. Remaining informed on the complexities