---
news
Winning spatial structure design symbolises 'butterfly effect'
A sculpture, themed on the chaos theory, has been announced as winner of the University's Spatial Structures Design Competition and will become a feature of Manor Park campus for decades to come.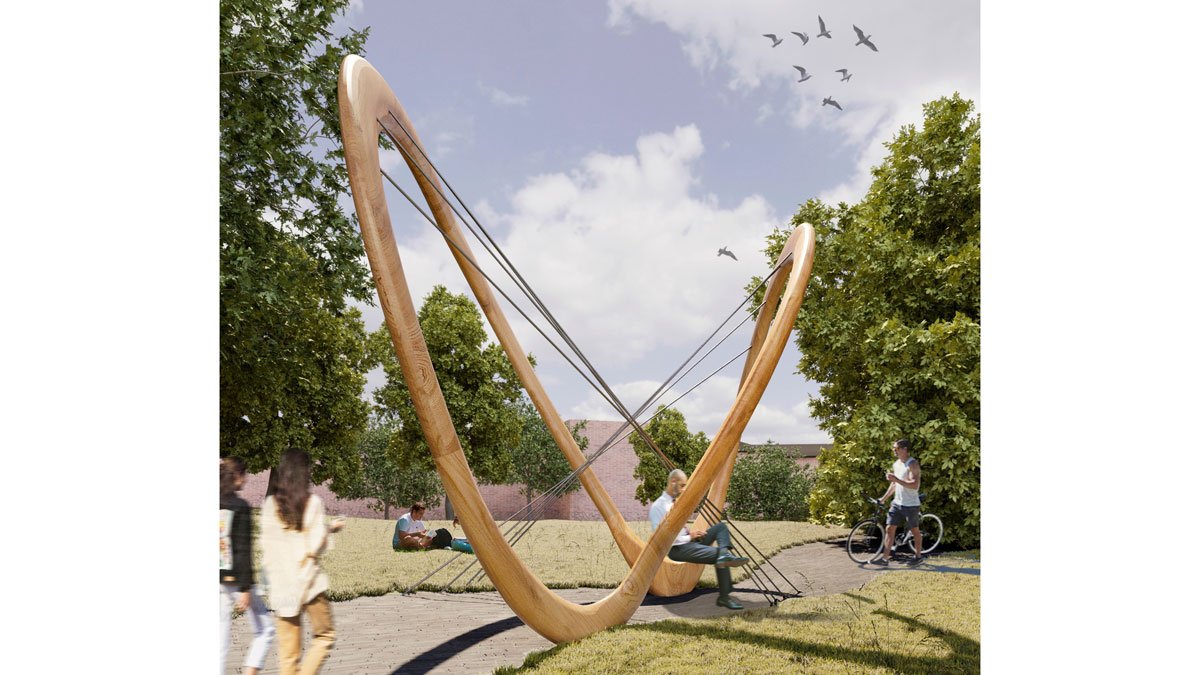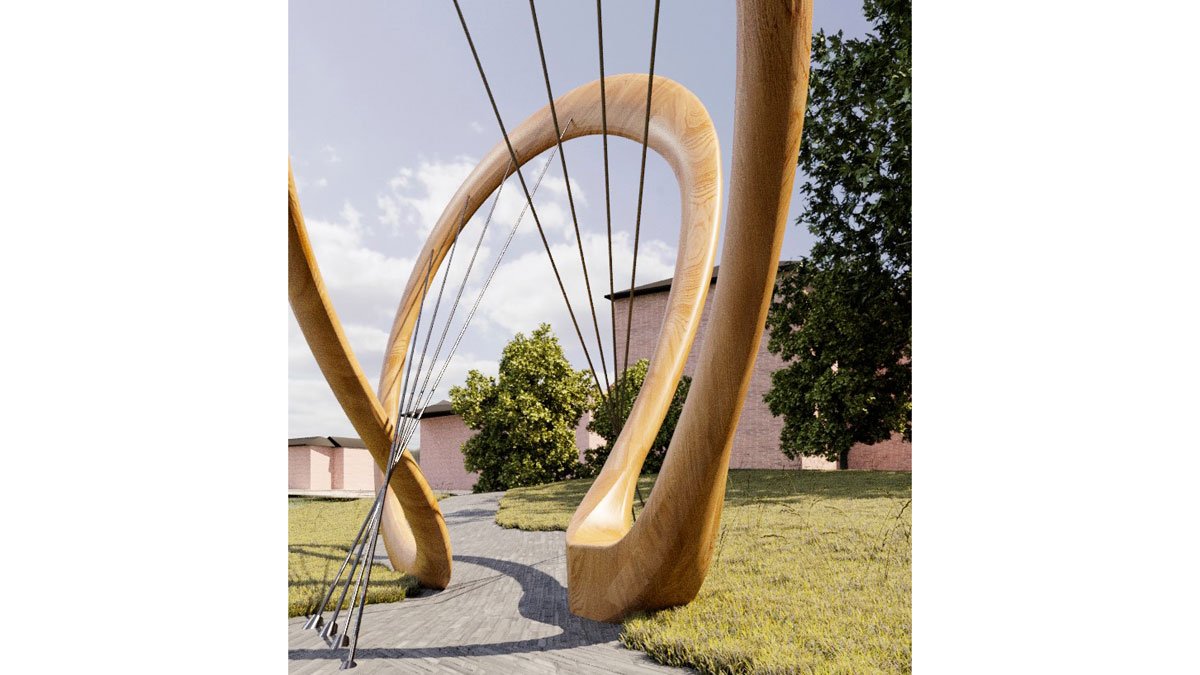 The Design Competition, sponsored by the Novum Group, challenged entrants to design a new spatial structure for the campus and attracted entries from around the world.
The winning sculpture was designed by engineer Volodymyr Opanasiuk, architect Katie Cunningham, architectural assistant Charlie Pye and visualiser Aleksandra Kovalenko. Called 'The Attractor', it pays tribute to mathematician and meteorologist Edward Lorenz who first identified the 'butterfly effect' – the theory that a small action such as the flap of a butterfly's wings can change the course of the weather or climate.
The design is a 3D representation of the theory, and takes the form of a flowing, irregular figure of eight made of smooth wood, connected and anchored to the ground by steel cables.
Volodymr Opanasiuk said: "The design maximises the use of sustainable materials, encourages re-use and utilises innovative fabrication methods to improve material efficiency and create an object people will want to interact with. The sculpture is a call to recognise the fragility of the world we live in, and appreciate that small actions now (both positive and negative) can lead to vast differences in the future."
Among many other notable entries was an innovative curved steel concept designed by runners-up Emily Baker and Edmund Harriss (Assistant Professor of Architecture and Assistant Professor of Mathematics respectively at the University of Arkansas, USA). The design, which is based on the mathematical concept of 'parallel transport' achieves a 3-dimensional form with no heat treatment or rolling.
Also highly commended were entries from Mark Da Costa (a structural engineer from London, UK); Carolina Zambrano Rodriguez, Tania Aguilar Valencia and Maria Aragon Arriola (Ricardo Palma University, Peru); Thomas Wartmann (lecturer at Xi-an Jiatong-Liverpool University, China); Jonathan Cortes-Rodriguez (computational designer) and Robert Otani (CTO and CORE Principal) at Thornton Tomasetti/CORE Studio; and Demi Fang, Eduardo Gascon Alvarez, Mohamed Ismail, Paul Mayencourt, Caitlin Mueller and Ramon Weber from Massachusetts Institute of Technology, USA.
Each entry was judged by a panel of experts for its visual appeal, durability, economic viability and consideration for sustainability.
Dr Donya Hajializadeh, Lecturer within the Department of Civil and Environmental Engineering and organiser of the Design Competition, commented: "Over the past three decades, the aluminium dome by the lake on Stag Hill campus, which was the celebratory structure of the Third International Conference on Spatial Structures in 1984, has become an iconic element of the University. We hope that our new celebratory sculpture, which will mark the occasion of the Seventh Conference, will similarly become part of the good memories of students, staff and visitors for decades to come."
The winning design will be installed in an open space on Manor Park campus later this year.
Discover our courses in civil and environmental engineering, including our MSc Structural Engineering.
Featured Academics
---
Related content
---