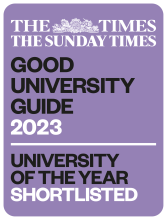 Offer holders 2023 entry
Congratulations to our offer holders
These pages are exclusively for you. Here, you will discover why you can expect more than a degree at the University of Surrey. You can expect the time of your life.
At the University of Surrey you can Expect More
Award-winning employability
We will offer you a rich university experience and award-winning employability.
An amazing campus experience
Your student life will start with great food, lively bars, music, theatre and rolling parkland.
Surrey means success
"In an increasingly competitive graduate jobs market, a degree from Surrey opens doors."*
*Alastair McCall, editor of The Times Good University Guide.
Your future
You've already taken the first steps. We'll help you keep going forward.
Your place
You'll be supported and welcomed by the Surrey community.
Your ambition
We will give you the confidence and opportunity to follow your dreams.