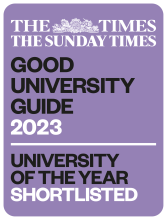 Offer holders 2023 entry
This area is exclusively for Surrey offer holders. You'll find information about student life and studying here. You can book on an Offer Holder Event and plan your day to discover what studying at Surrey can offer you.
Your future
You've already taken the first steps. We'll help you keep going forward.
Your place
You'll be supported and welcomed by the Surrey community.
Your ambition
We will give you the confidence and opportunity to follow your dreams.