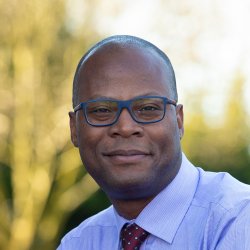 Dr Abel B. Ekiri
---
Lecturer in Infectious Disease Epidemiology
BVM, MS, PhD, DACVPM, FHEA
Biography
Abel holds a veterinary degree from Makerere University (Uganda) and MS and PhD degrees in epidemiology from the University of Florida (USA). Additionally, Abel is a board-certified member/diplomate of the American College of Veterinary Preventive Medicine (DACVPM). Abel values interdisciplinary collaborative research and has interests and experience in the application of clinical, field, molecular and analytical epidemiology, and One Health approaches to address research questions relevant to animal health and public health in both developed and resource-limited settings. Prior to his current role, Abel contributed to research activities on livestock health, management and production and antimicrobial use practices of animal health professionals in sub-Saharan Africa. Previously Abel was a Research Scientist at the One Health Institute at the University of California-Davis (USA) and at North Dakota State University (USA), where he contributed to research and capacity building activities in the areas of One Health and transboundary animal diseases in sub-Saharan Africa.
Areas of specialism: Infectious disease epidemiology; One Health; Hospital-acquired infections and infection prevention and control practices; Antimicrobial use practices and antimicrobial stewardship.
If you want to get in touch to explore potential collaborations or to know more about Abel's current research, feel free to contact him at: ab.ekiri@surrey.ac.uk
University roles and responsibilities
Lecturer in Infectious Disease Epidemiology
Research
Research interests
Abel has research experience and interests primarily in the areas of infectious disease epidemiology and One Health. His early research work focused on hospital-acquired Salmonella infections in horses, evaluation of diagnostic test performance, disease surveillance, and hospital infection prevention and control practices in the United States. Later work focused on identifying critical control points for implementation of pre-harvest interventions aimed at reducing contamination of beef with Shiga toxin–producing Escherichia coli and Salmonella enterica in the United States. More recently, Abel was involved in interdisciplinary collaborative research utilizing One Health approaches to conduct surveillance for Brucellosis, Rift Valley Fever, and emerging and re-emerging viruses with zoonotic potential at the human-livestock-wildlife interface in Tanzania. Abel's current research activities are focused on various aspects of livestock health, management and production, and antimicrobial use practices of animal health professionals in Nigeria, Uganda, Ethiopia, and Tanzania.
If you want to get in touch to know more about Abel's current research or to explore potential collaborations, feel free to contact him at: ab.ekiri@surrey.ac.uk
My teaching
Module lead: VMS4004 Contemporary Issues in Veterinary Medicine - Emerging Diseases, Public Health and Sustainability
Teaching:

VMS4004 Contemporary Issues in Veterinary Medicine - Emerging Diseases, Public Health and Sustainability
VMS2008 Veterinary epidemiology and public health
VMS4007 Zoological Medicine

Supervision of BVMSci student projects 
My publications
Publications