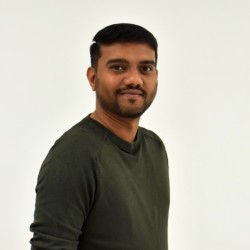 Dr Aiden Jayanth
---
Head of Anatomy
MD PhD FHEA FIBMS
About
Biography
Dr Aiden Jayanth is Head of Anatomy at the School of Medicine, University of Surrey. He is also the Lead for Year 1 of the Surrey Medical programme. Externally, he is the Treasurer of the London and South East Committee of Anatomists (LSECA). 
Aiden is a medically qualified anatomist and has completed doctoral studies in molecular medicine focusing on healthcare-associated infections. He has taught anatomy, physiology and pathophysiology on a number of undergraduate and postgraduate pre-registration healthcare programmes, including medicine. He also teaches anatomy on a number of external courses offered by the Royal College of Surgeons. 
At Surrey, Aiden will be managing the new anatomy teaching facility, integrating traditional cadaver-based teaching with modern approaches. His research interests are in inclusivity, assessments and development of cadaveric teaching.