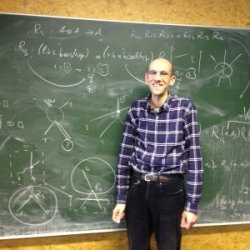 Professor Alessandro Torrielli
---
About
Biography
2018: Recipient of the EPSRC-SFI grant "Solving spins and strings" (link here) jointly with Dr. Marius de Leeuw (Trinity College Dublin). The total value to Surrey is £487,604 (with a commensurate amount from SFI to Trinity College). It includes money for a postdoc [Juan Miguel Nieto Garcia, now at the University of Hamburg], travel, and 20% time for the PI. The project starts in September 2019.
2015: I was voted Best Lecturer at the Durham Integrability School. The award was presented to me at IGST15 in London.
2012: Awarded EPSRC First grant "Exotic quantum groups, Lie superalgebras & integrable systems"
2011 - present: Member of staff, Department of Mathematics, University of Surrey; "Fields, Strings and Geometry" group
2010-2011: Post-doc at the Mathematics Department of the University of York, UK; EPSRC grant of Dr.Niall MacKay and Prof. Evgeny Sklyanin
2008-2010: Post-doc at the Institute for Theoretical Physics and Spinoza Institute, Utrecht University, The Netherlands
2006-2008: Bruno Rossi" INFN-MIT postdoctoral fellow at the Massachusetts Institute of Technology, USA
2004-2006: Post-doc at the Humboldt University of Berlin
2003: 2-month DAAD fellowship to collaborate with Dr. Harald Dorn - Humboldt University of Berlin
2003-2004: Postdoc at the University of Padova and fellow of the Italian Institute for Nuclear Physics (INFN)
2002-2003: Four months of scientific collaboration with the University of Padova
2003: PhD dissertation (Physics) at the University of Padova, Italy [17 Feb] (Supervisor Prof. Antonio Bassetto, Collaborator Prof. Giuseppe Nardelli)
1999: Laurea 110/110 e lode (top marks cum laude) in Physics at the University of Genova, Italy [13 Oct] (Supervisor Prof. Carlo Maria Becchi, Co-supervisor Prof. Nicola Maggiore)
1994: Esame di Maturita' Classica with top marks (60/60) at the Lyceum of Classical Studies "G. Parodi", Acqui Terme, Italy
University roles and responsibilities
Undergraduate Programme Leader and Support Staff for the Milan Bicocca - Surrey dual doctorate
Affiliations and memberships
Research

Research interests

I am interested in the theory of integrable systems and quantum groups, especially the ones that emerge in the context of the AdS/CFT correspondence. For more details, please see my personal webpage.

Research projects

In-depth analysis of the behaviour of the massless modes in the conformal limit of the AdS_3/CFT_2 scattering problems and the relation with the thermodynamic Bethe Ansatz. Study of the conformal form factors and the correlation functions at the critical point and analysis of the massless non-relativistic deformations.

Research collaborations

I am collaborating with:

Bogdan Stefanski (City), Riccardo Borsato (Santiago), Ben Hoare (Berlin / ETH), Olof Ohlsson-Sax (Nordita), Antonio Pittelli (Uppsala), Andrea Prinsloo, Vidas Regelskis (Hertfordshire), Alessandro Sfondrini (ETH) and Martin Wolf, on alternating spin-chains based on superalgebras and the AdS_3 / CFT_2 and AdS_2 / CFT_1 correspondences
Fabrizio Nieri (Hamburg) and Sara Pasquetti on integrable aspects of N=2 supersymmetric gauge theories
Georgios Itsios (Sao Paulo), Konstantinos Sfetsos (Athens) and Konstantinos Siampos (CERN), on integrable interpolations in sigma models.
Joakim Stroemwall and Andrea Fontanella (Madrid) on the AdS_3 / CFT_2 and AdS_2 / CFT_1 correspondences
Evgeny Sklyanin (York), Karol Kozlowski (Lyon) and Benoit Vicedo (York) on the quantisation of the KP equation.
Teaching
Quantum Mechanics MAT3039 for year 3 Mathematics