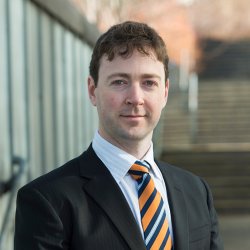 Dr Andrew Viquerat
---
Senior Lecturer in Structural Mechanics
Biography
Dr Andrew Viquerat is a Lecturer in the Materials and Structures Group in the Department of Mechanical Engineering Sciences. The primary focus of his research is the design and analysis of lightweight deployable and flexible structures.
Andrew has previously held positions as a structural analyst for Boeing Aerostructures Australia, and as a Research Associate at both Cambridge and Surrey. He currently supervises/co-supervises five PhD students. He has participated in the coordination and completion of a number of European Commission Framework Seven (FP7) funded projects in the field of gossamer space structures.
Areas of specialism

Deployable Structures;

Polynomial continuation methods;

Overconstrained mechanisms;

Inflatable Structures;

Lightweight materials for space applications
University roles and responsibilities
Undergraduate Admissions Tutor for Mechanical Engineering Sciences
My qualifications
2008-2011
PhD in the design of deployable structures
University of Cambridge
2007-2008
M.S. in Aeronautics and Astronautics
Stanford University
2002-2006
B.Eng in Aerospace Engineering (Hons 1 + Medal)
University of Sydney
2002-2006
B.Sc in Science (majoring in physics)
University of Sydney
Research projects
A new generation of deployable optical systems to increase small satellite capability
The ever increasing demand for high resolution imagery for the Earth Observation market, with latency of minutes rather than days, requires satellite constellations, and due to the limited capabilities of current launch vehicles there is a need to reduce significantly the size and cost of the payload/camera and satellites.
However, to maintain the required resolution, the size of the optics and distance between elements cannot be significantly reduced. Therefore there is a need for deployable systems where the structure that supports the optical elements can be folded to allow a tightly packed configuration during launch and then deployed once in space, to position the optical elements at the required distances.
The objective of this project is to develop a physical proof of concept of a deployable optical system to pave the way to its implementation in a real SSTL demonstration mission.
Principal investigator
Co-investigators
Andrew Viquerat, Jason Forshaw and Chakravarthini Mini Saaj.
Researchers
Roy Blows and Simon Fellowes.
Students
Jason Shore
Collaborators
Surrey Satellite Technology Ltd (SSTL)
Sponsor
Centre for Earth Observation Instrumentation (CEOI)
External links
InflateSail
InflateSail was a 3U CubeSat launched on PSLV C38 on 23 June 2017 into a 505 km polar Sun-synchronous orbit. It carried a 1 m long inflatable rigidizable mast, and a 10 m2 drag-deorbiting sail, designed and built here at Surrey. Its primary aim was to demonstrate the effectiveness of drag based deorbiting from low Earth orbit (LEO). It was one of the Technology Demonstrator CubeSats for the QB50 mission. An identical drag sail payload will be included on the RemoveDEBRIS demonstrator.
InflateSail took 72 days to re-enter the Earth's atmosphere. The satellite experienced a rate of altitude loss more than 100 times that of a typical CubeSat, losing approximately 1 km/day initially, then accelerating towards the end of the mission. InflateSail's altitude from the time of sail deployment until re-entry is shown below.
InflateSail was the first European sail to be deployed in space, and the first inflatable to be successfully deployed from a CubeSat. It was one of the three deployable technologies that made up the DeployTech FP7 project.
Two Line Element (TLE) data from the mission can be downloaded here.
Principal Investigator
Craig Underwood / Vaios Lappas
Researchers
Andrew Viquerat, Mark Schenk, Ben Taylor, Simon Fellowes, Richard Duke, Jason Forshaw and Chiara Massimiani.
Students
Gabriel Secheli and Adam Hoskin.
Collaborators
Von Karman Institute (VKI), Netherlands Organisation for Applied Scientific Research (TNO), CGG Safety and Systems, University of Cambridge, Airbus D&S France, NASA M.S.F.C., RolaTube Technology, Athena Space Programmes Unit.
Sponsor
European Commission (Framework 7 Programme)
External links
My teaching
Semester 1
ENGM250 (Finite Elements)
Semester 2
ENG1067 (Transferable Skills, MATLAB component), ENG3171 (Advanced Stress Analysis)
Supervision
Postgraduate research supervision
Bistable reeled composite (BRC) tubes with non-zero Gaussian curvature
Geoff has been developing models for BRCs with non-zero Gaussian curvature. These BRCs deploy not into straight tubes, but toroidal, or even helical shapes. Geoff has also been experimenting with the use of natural fibres in bistable composites.
Student
Sponsors
RolaTube Technology Ltd, EPSRC iCASE.
Resistance of CFRP structures to environmental degradation in low Earth orbit
Agnieszka developed a strategy for protecting polymers in the low Earth orbit (LEO) environment from the detrimental effects of atomic oxygen and UV radiation. In particular, she looked at cycloaliphatic resins reinforced with polyhedral oligomeric silsequioxane (POSS) nanoparticles. This work was inspired by the need to create very lightweight passive drag-deorbiting devices for satellites in LEO that need to survive up to 25 years in the harsh environment space. These structures are often made of very thin polymers which would degrade rapidly without any form of protection.
During her project, we constructed a LEO simulation test facility called ICARUS (shown to the right), capable of exposing samples of polymeric materials to oxygen plasma and vacuum-UV radiation.
Student
Sponsors
RolaTube Technology Ltd, EPSRC iCASE.
Modelling of packaging folds in metal-polymer laminates
Gabriel designed the inflatable "DebrisSat" (playing the role of an uncooperative satellite to be captured by net) for the active debris removal (ADR) demonstration mission RemoveDEBRIS. This inflatable structure, like InflateSail, makes use of a mechanically rigidised metal-polymer laminate skin. The mechanics of the plastic deformations which occur in metal-polymer laminates during folding became the focus of Gabriel's work, and he constructed a numerical model to predict the packaging fold radius given a certain folding pressure for various combinations of laminate materials.
Student
Blossoming of coiled deployable booms
Adam used energy methods in an attempt to understand a failure mode first encountered in the space sail deployment mechanism of CubeSail, and then seen again in InflateSail. This failure mode, called "blossoming", occurs when a coil of tape spring booms expands within the sail deployer, rather than remaining tightly coiled and extending in a controlled manner outside the deployer. His model was able to predict the system parameters under which this potentially catastrophic failure is likely to occur.
Student
Dynamic analysis of extended bistable reeled composite booms for space applications
Chenchen's work involved optimising the fibre orientation within CFRP bistable reeled composite (BRC) tubes to maximise the natural frequencies of the deployed tubes, while maintaining certain constraints such as the coiled radius. The main applications being considered were extremely lightweight deployable space structures. Chenchen graduated in 2017.
Student
Sponsors
RolaTube Technology Ltd, EPSRC iCASE.
External links