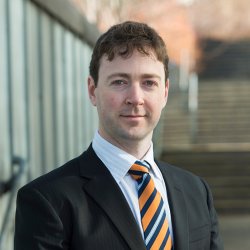 Dr Andrew Viquerat
---
Senior Lecturer in Structural Mechanics
Mechanical Engineering Programme Leader
About
Biography
Dr Andrew Viquerat is a Senior Lecturer in the Centre for Engineering Materials and Structures in the Department of Mechanical Engineering Sciences. The primary focus of his research is the design and analysis of lightweight deployable and flexible structures.
Andrew has previously held positions as a structural analyst for Boeing Aerostructures Australia, and as a Research Associate at both Cambridge and Surrey. He currently supervises/co-supervises a number of PhD students.
Areas of specialism
Deployable Structures;
Polynomial continuation methods;
Overconstrained mechanisms;
Inflatable Structures;
Lightweight materials for space applications
My qualifications
2008-2011
PhD in the design of deployable structures
University of Cambridge
2007-2008
M.S. in Aeronautics and Astronautics
Stanford University
2002-2006
B.Eng in Aerospace Engineering (Hons 1 + Medal)
University of Sydney
2002-2006
B.Sc in Science (majoring in physics)
University of Sydney
Research

Research projects

2018-2020 - This EPSRC New Investigator Award is aimed at accelerating the technology readiness level (TRL) and developing the design and modelling tools required to work with doubly-curved deployable flexible booms (focusing mainly on fibre reinforced laminate materials), and improving the manufacturing methods and deployment mechanisms in an effort to make booms with the necessary geometric precision and dimensional stability to be used in RF and optical systems.

2019 - This SPRINT (Research England) funded project was a collaboration with collaboration with Oxford Space Systems.

2017-18 - The objective of this Centre for Earth Observation Instrumentation (CEOI) funded project was to develop a physical proof of concept of a deployable optical system to pave the way to its implementation in a real SSTL demonstration mission.

PI: Guglielmo Aglietti. Co-Is: Andrew Viquerat, Jason Forshaw and Chakravarthini Mini Saaj. External collaborator: Surrey Satellite Technology Ltd (SSTL).

2012-2017 - InflateSail was a European Commission (Framework 7 Programme) funded 3U CubeSat launched on PSLV C38 on 23 June 2017 into a 505 km polar Sun-synchronous orbit. It carried a 1 m long inflatable rigidizable mast, and a 10 m2 drag-deorbiting sail, designed and built here at Surrey. Its primary aim was to demonstrate the effectiveness of drag based deorbiting from low Earth orbit (LEO). It was one of the Technology Demonstrator CubeSats for the QB50 mission. An identical drag sail payload will be included on the RemoveDEBRIS demonstrator. InflateSail took 72 days to re-enter the Earth's atmosphere. The satellite experienced a rate of altitude loss more than 100 times that of a typical CubeSat, losing approximately 1 km/day initially, then accelerating towards the end of the mission. InflateSail's altitude from the time of sail deployment until re-entry is shown below. InflateSail was the first European sail to be deployed in space, and the first inflatable to be successfully deployed from a CubeSat. It was one of the three deployable technologies that made up the DeployTech FP7 project.

PI: Craig Underwood / Vaios Lappas. Researchers: Andrew Viquerat, Mark Schenk, Ben Taylor, Simon Fellowes, Richard Duke, Jason Forshaw and Chiara Massimiani. External collaborators: Von Karman Institute (VKI), Netherlands Organisation for Applied Scientific Research (TNO), CGG Safety and Systems, University of Cambridge, Airbus D&S France, NASA M.S.F.C., RolaTube Technology, Athena Space Programmes Unit.
Supervision
Postgraduate research supervision
Current students
Caroline Uncles
Henry Ayres
Past students
Teaching
Semester 1
ENGM250 (Finite Elements)
Semester 2
ENG1067 (Transferable Skills, MATLAB component), ENG3171 (Advanced Stress Analysis)