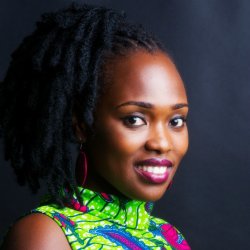 About
My research project
Angelique has spent the past four years, researching child labour in sub-Saharan Africa's artisanal and small-scale mining sector. 

War in her country of origin which led to a difficult journey to the United Kingdom, inspired an interest in poverty and development studies. Angelique acquired a Bachelors degree in International Studies with French from the University of Birmingham, followed by a Masters in Social Development and Sustainable Livelihoods from the University of Reading. It was during her Masters degree that she was introduced to the artisanal and small-scale mining sector in a lecture delivered by Professor Gavin Hilson who is now at the Surrey Business School. Having experienced working on the family farm as a child, it felt natural to want to research the role of children in the sector. Was it really as dangerous and exploitative as it was portrayed in NGO reports and in the media?

Supervisors
My qualifications
2011
MA Social Development and Sustainable Livelihoods
University of Reading
2008
BA (Hons) International Studies with French
University of Birmingham
Research

Research interests

Angelique conducted a research study in the Western Region of Ghana, where she engaged with various stakeholders including government, donor organisations, NGOs, educators, local leaders, parents as well as children who engaged in mining activities. 

The main objective of this research is to understand why there is a high incidence of child labour in the artisanal and small-scale mining (ASM) sector. This includes tracing the African farmer's journey to the mine site and understanding the policy implications. The research challenges the Western conceptualisation of childhood - a task which is seemingly difficult when we consider that modernity and civilisation are the yardsticks with which we measure a country's level of development. It seeks to normalise and provide space for 'other' childhoods while promoting homegrown solutions to a serious global problem. And from a business perspective it challenges local, national and international organisations to reflect on how their business decisions impact the lives of young boys and girls in remote corners of the world.  
Teaching
I am currently teaching Business Ethics (MAN1090) to Level 4 students and some elements of Project Management (MAN3104) to Level 6 students.