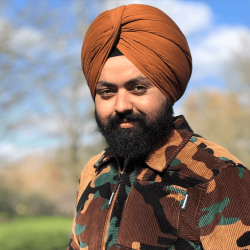 Dr Arshdeep Singh
---
UKAN+ Early Career Acoustic Champion, Research Fellow A in AI4S Project + Sustainability Fellow at the Institute for Sustainability
PhD
About
Biography
Arshdeep Singh is employed as a Research Fellow A  at the Centre for Vision Speech and Signal Processing (CVSSP) at the University of Surrey, working on the project "AI for Sound" funded through an Established Career Fellowship awarded by the Engineering and Physical Sciences Research Council (EPSRC) to Prof Mark Plumbley (Principal Investigator). He is also selected as a Sustainability Fellow at the Institute for Sustainability.  In May 2023, Arshdeep has been selected as a Early career Acoustic champion for AI within EPSRC funded UK acoustic network, UKAN+.
Previously,  Arshdeep has completed his PhD from IIT Mandi, India. His research focuses on designing machine learning frameworks for audio scene classification and compression of neural networks. During his PhD, he worked on sound-based health monitoring to identify the health of an industrial machine as a part of his internship work in Intel Bangalore. Earlier, he has completed his M.E from Panjab University, India and bagged a Gold medal. He has also worked as a Project fellow in CSIR-CSIO Chandigarh. 
Areas of specialism
Audio signal processing, Audio classification;
Compression of CNNs;
Signal processing;
Machine learning;
Sustainable AI: AI Model compression
University roles and responsibilities
Supervision
Postgraduate research supervision
MSc students:
(Co-supervisor, Primary Supervisor: Prof Mark D Plumbley)
Soham Bhattacharya, Dissertation title:  Efficient Convolutional Neural Networks for Audio Classification, 

Bars Szegedi, Dissertation title: Classification of Sounds Heard at Home using Convolutional neural networks.
Undergraduate (Y3) Students: 
(Co-supervisor, Primary Supervisor: Prof Mark D Plumbley)
Kristaps Redmers, Dissertation Title: Visualising Soundscapes using Machine learning, website link: www.soundseek.pro/ 

Yan-Ping, Liao, Dissertation Title: Recognizing sound events in the home or workplace.
Teaching
Teaching assistanship (tutorials) in 2023 EEE3008 Fundamentals of Digital Signal Processing(DSP).