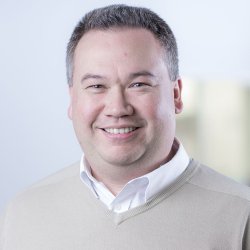 About
Biography
As Programme Manager for the 5G Innovation Centre (5GIC), I bring a wealth of industrial experience in future mobile communication systems research and standardisation. Having previously carried out research used to drive standardisation of military high frequency radio systems, I started work on research and standardisation of UMTS third generation mobile radio systems just as these activities started moving from concepts to first technical standards definition. Over a decade I actively participated in, and contributed to, the standardisation of various elements of the radio access network for 3G and 4G, within both ETSI (European Telecommunications Standards Institute) and 3GPP (3rd Generation Partnership Project), learning not only the technologies involved, but also the mechanisms, values, and constraints of global standardisation.
I was able to contribute to the development of 4G from the start - working within the ITU (International Telecommunication Union) on the fundamental vision and framework for "4G", as well as on market and service aspects. As a representative of the global industrial and academic research community, on the steering board and vision committee of the Wireless World Research Forum, I was one of the originators of the large WINNER collaborative research project, which provided many of the core technical ideas used within 4G standardisation. In total, I have filed over 30 patents in the field of mobile communications.
Since joining the Institute for Communication Systems, I have also worked on the Internet of Things (IoT) - forming and running the Internet of Things International Forum, which was at the forefront of bringing together industry, academia, regulators and individuals interested in the IoT domain, which is seen as one of the key new drivers towards 5G systems.
Within the 5GIC my role has always been one of looking beyond individual technologies to understand how the research efforts can be effectively directed to work together towards meaningful solutions, rather than just clever ideas. As Programme Manager, I have also taken on the responsibility to form the bonds between the research programme and our industrial members, so that research results can be used to have an impact on the development of actual 5G systems."