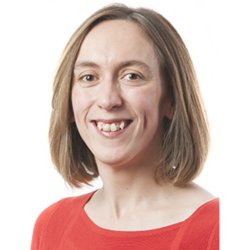 Biography
My research focuses on the mathematical modelling of biological systems. I joined the University of Surrey as a Lecturer in Mathematics in January 2012. Prior to this I spent four years at Heidelberg University as a postdoctoral fellow, and three and a half years as a postdoctoral researcher at Oxford University. I completed my doctoral research in fluid dynamics in 2004 at the University of Oxford, where I read mathematics as an undergraduate.
Areas of specialism
Biophysics;
Mathematical Biology;
Cancer modelling
University roles and responsibilities
Affiliations and memberships
Society of Mathematical Biology
Member (Developmental Biology subgroup)
European Society for Mathematical and Theoretical Biology
Member
Research
Research interests
I am interested in using mathematical and computational approaches to solve a broad range of problems in developmental biology, tissue morphogenesis and cancer modelling. A particular research focus is on the cell as a physical object, incorporating an understanding of the role of mechanical forces into models of biological processes. I draw on a diverse range of concepts in pursuing this research ranging from population modelling to the theories of fluid dynamics and elasticity theory. Currently ongoing projects include work on tissue self-organization, mechanical regulation of growth and cellular contractility.
Current students:
PhD - Kieran Boniface, Oct. 2019 - present, Mathematical models for tissue growth and development with applications to organoids and tissue eningeering
PhD - Josephine Solowiej-Wedderburn, Oct. 2017 - present, Mechanical models of cell-substrate interactions 
PhD- Adam Nasim, Jan. 2018 - present, Mathematical modelling of pharmacological approaches to cancer treatment (collaboration with Dr James Yates, AstraZeneca) 
MMath - Robert Dymott, Importance of interstitial fluid flow in tumour growth
Former students
Euan Littlejohns, PhD, University of Surrey  (2014 -18), Continuum Elasticity Models for Tissue Growth and Mechanotransduction
Philip Murray, DPhil, University of Oxford (2004-8): From discrete to continuum models of tumour growth, co-supervisors: Prof. P. K. Maini and Dr M.J. Tindall. now Lecturer, Division of Mathematics, University of Dundee 
Matthew Johnston, DPhil,University of Oxford (2004-8): Mathematical modelling of cell population dynamics in the colonic crypt, co-supervisors: Prof. P.K. Maini and Prof. S.J. Chapman
Research projects
Open positions
PhD positions available within the group - please do get in touch.  
Mechanobiology
The importance of the cell as a physical object and of mechanical interactions in directing cellular behaviours is now clear. We use mathematical modelling to investigate how physical forces internally generated within cells can direct cellular behaviour through - and in particular on the role of cell-substrate (in vitro) and cell-ECM interactions in this process.
mechanotransduction
PKPD modelling for cancer treatments
Quantitative systems pharmacology is being increasingly recognised as being of high value in the pharma sector. We here focus on PKPD models of drug effects in tissue within the context of mathematical oncology.  (A collaboration with AstraZeneca)
Mathematical models of morphogenesis for tissue engineering
In many context, healthy tissue function is dependent on structure. The question of how tissues develop their shape and size underpins the field of tissue morphogenesis. By considering how growth and active cellular behaviours can generate force and tissue adaption we investigate this process in a range of tissues looking cellular positioning, branching structures, and size control. This has implications for diseases associated with disregulation of morphogenesis and organoid (synthetic tissue) development.
Modelling for biophysical experiment
The range of techniques available for interrogating the biophysics of cells and tissues has exploded over recent years. These new experiments have illuminated the physical nature of cells. We use mathematical modelling of cellular mechanics to inform the interpretation of what these experimental observations could imply for cell cytoskeletal dynamics and force generation. This is particularly important, where cells are seen to interact with each other in multicellular systems so that isolating individual cell behaviours experimentally is difficult.
Supervision
Postgraduate research supervision
Kieran Boniface, PhD, Oct. 2019 - present, Mathematical models for tissue growth and development with applications to organoids and tissue eningeering
Josephine Solowiej-Wedderburn, PhD, Oct. 2017 - present, Mechanical models of cell-substrate interactions 
Adam Nasim, PhD, Jan. 2018 - present, Mathematical modelling of pharmacological approaches to cancer treatment (collaboration with Dr James Yates, AstraZeneca) 
My teaching
I am lecturing this year on
MATM040 - Mathematical Biology and Physiology
MAT2050 - Inviscid Fluid Dynamics