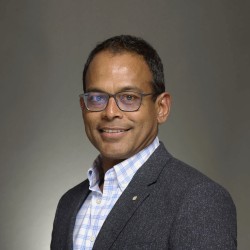 Professor Chanaka Jayawardhena
---
Professor of Marketing and Head of Department
About
Biography
I currently hold the position of Professor of Marketing at Surrey Business School (SBS) and serve as the Head of the Department of Marketing. My academic journey has included a diverse range of roles and experiences.
Before joining Surrey Business School in February 2020, I held the position of Professor of Marketing at the University of Hull. Prior to that, I contributed to the academic community through faculty positions at the University of Loughborough, DeMontfort University, and the University of Moratuwa in Sri Lanka.
My academic background also includes the distinction of being a former Cambridge Commonwealth Scholar. Beyond my academic pursuits, I have applied my expertise as a consultant and adviser to governmental bodies and have collaborated with numerous public and private organizations, further enriching my professional experience and contributions to the field of marketing.
University roles and responsibilities
Head of Department - Department of Marketing & Retail Management

Member of Senior Management Team
My qualifications
BSc (Hons)
Univesity of Moratuwa, Sri Lanka
MPhil
University of Cambridge, UK.
PhD
De Montfort University, UK
Previous roles
Professor of Marketing
University of Hull
Senior Lecturer
University of Loughborough
Research

Research interests

I am interested in investigating pertinent and thought-provoking issues that have the potential to yield impactful insights for both the academic community and industry practitioners. My research can be categorized into three overarching and interrelated themes.

To begin with, I have a specific focus on comprehending virtual marketplaces and the broader spectrum of consumption experiences. My particular emphasis lies in scrutinizing how consumers engage with digital media, digital assistants, and artificial intelligence, and subsequently assessing the services they receive and consume. Additionally, I delve into the strategies organizations employ to leverage digital technologies, encompassing platforms and advanced tools like AI and AR, to enhance customer experiences.

Secondly, building on the aforementioned theme, my research also extends to elucidating the nature of relationships that customers establish, nurture, and sustain with service and product providers over time. In this context, I have made notable contributions to the existing literature, especially concerning the impact of social media and word-of-mouth phenomena on these relationships. I recently edited a special issue on electronic word of mouth (eWOM) for the Journal of Business Research.

Last but certainly not least, my scholarly pursuits encompass an exploration of how consumers make decisions pertaining to consumption and the resulting customer experience. I investigate the multifaceted factors that influence these decisions, encompassing the various facets of customer engagement throughout the consumption process. Additionally, I am deeply intrigued by the intricate relationship between sustainability and the ethical dimensions of our consumption practices. 
Supervision
Postgraduate research supervision
I welcome outstanding prospective PhD students who would like to work on areas of research that align with my research interests (please see the research tab for my areas of interest). For an informal conversation, please send your resume and a research proposal that outlines the research question, conceptual and methodolgoical foudnations and potential contribution. 
Currently I am supervising two students. 
Asheeabee (Shaheen) Hosany – Her PhD work examines how resource scarcity affects decision making, particularly from a family perspective.
Mohamed Mohamed – His PhD work examines consumption practises and relationships within a sharing economy
Over the last fifteen years, I have supervised more than nineteen PhD students to completion as first supervisorand have acted as an external examiner for more than twenty PhDs both in the UK and elsewhere.
List of PhD candidates supervised to completion:
Shenaz Rangwala, "An examination of the consumption practices of new middle-class Indian women" PhD 2020 (Now a Lecturer in Marketing at Northumbria University).
Haidy Nasser Ashour, "Examining Consumers' Intention, Attitudes and Neutralisation Beliefs within Ethically Driven Consumption Episodes" PhD 2020 (Now a Lecturer in Marketing at the London College of Fashion)
Abdullah S Aloufi, "The Impact of Banks' Strategies for Managing Customer Misbehaviour on Other Customers", PhD 2020 (Now an Assistant Professor of Marketing, Taif University, KSA)
Badra Sandamali Galdolage, "Value Co-Creation and Total Customer Experience in Self Service Technologies: An investigation of adoption, roles, self-directed learning and practices", PhD 2018 (Now a Senior lecturer in University of Sri Jayewardenepura, Sri Lanka)
Abdullah M Alomran, "Perceived Risk in Technology Adoption: The Context of the Use of Internet Distribution Systems", PhD 2018 (Now an Assistant Professor of Marketing, Taiba University, KSA )
Ernest Emeka Izogo, "Online Customer Experience in an Emerging e-Retailing Market", PhD 2017 (Now a Lecturer at Ebonyi State University, Abakaliki, Nigeria & Post Doctoral Researcher at University of Hull, UK]
Hongfei Liu, "Investigation into Impact of Social Media on Creating Customer Engagement", PhD 2017 (Now a Lecturer at Essex University, UK)
Mohammad Masrurul Mowla, "Host Community Participation as a Competitive Advantage in Tourism Destination Marketing", PhD, 2017 (Now an Associate Professor at International Islamic University Chittagong, Bangladesh)
Mohamed Elsharnouby, "Enhancing Customer-Brand Relationships through Spokes Avatars: The Role of Relationship Orientation", PhD 2015 (Now a Lecturer in University of Cairo, Egypt)
Alaa ElBedweihy, "Consumer-Brand Identification: Scale Development and Validation", PhD 2015 (Now a Lecturer in University of Cairo, Egypt)
Ibrahim S Alotaibi, " Beyond Mobile Advertising: an exploratory study of customer engagement and empowerment behaviour via mobile devices in relation to marketing communication campaigns in Saudi Arabia", PhD 2015 (Now an Assistant Professor of Marketing, Taiba University, KSA)
Zyad Alzaydi, "The impact of quality control initiatives, customer integration and customer co-production on service quality performance: An empirical investigation", PhD 2015, (Now an Assistant Professor of Marketing, Albaha university, KSA )
Dan Cao, "Determinants of Fashion Orientation: Conceptual Development and Empirical Examination", PhD 2014 (Now an Assistant Professor in Zhejiang industrial and business university, China)
Jie Wu, "Equestrian tourists' motivation, involvement and behavioural intentions: Structural equation modelling analysis", PhD 2014 [Now an entrepreneur]
Ali H Al-hajla, "Brand Personality measurement scale for the Service industry: A study of the GCC states", PhD 2013 (Now an Assistant Professor of Marketing, Taiba University, KSA )
MeiMei Wu, "Investigating the Adoption of Banking Services Delivered Over Remote Channels: The Case of Chinese Internet Banking Customers", PhD 2012 [Now an Interior Designer]
Kemefasu Ifie, Title: "An investigation of the antecedents of service delivery and organisational performance: a service culture perspective", PhD 2010 (Now a lecturer at Loughborough University, UK)
Completed postgraduate research projects I have supervised
Teaching
I am an enthusiastic, committed and passionate teacher. I have extensive experience of teaching at all levels, in a number of institutions around the world. My teaching approach is to ensure that my material reflects current theory supported by clear practitioner insights. This reflects marketing as a topic and also the need for my students to be able to use their knowledge in real life situations. I use insights from my own research and experience of working with companies to enrich the learning material that I create. I encourage interaction in the classroom and am approachable. I am sensitive to the needs of different student cohorts and am able to adapt my classroom strategies as required.
I teach on
PG: MANM388 - DISSERTATION (Marketing and Retail Management)                
PG: MANM435 - Services and Relationship Marketing
UG: MAN3116 - Business Research Project