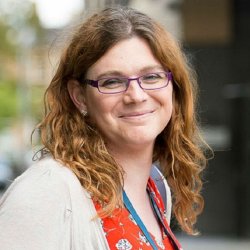 Dr Charlotte McCarroll
---
Teaching Fellow in Veterinary Preclinical Sciences
BVMS (Hons) MSc (VetSci) PhD
About
Biography
Dr. Charlotte McCarroll graduated from the University of Glasgow in 2008 with distinction before embarking upon a rotating small animal medicine and surgery internship at the University of Liverpool. During her time at Liverpool she developed a passion for research and teaching which led her to return to Glasgow where she was awarded her Masters in 2010 and her PhD in 2013.
Her academic achievements have been focused on cardiac calcium handling, excitation-contraction coupling and cardiac arrhythmias in human ischaemia-reperfusion injury as well as the effects of Trypanosoma brucei infection on cardiac calcium handling.
Having been out of clinics focusing on physiological and medical research for ten years Charlotte returned to small animal clinical practice in Berkshire for a time to update her practical knowledge of the veterinary profession.
Charlotte was appointed as a new teaching fellow in preclinical sciences and veterinary education at Surrey in 2019 to combine her extensive knowledge of physiology with her recent clinical practical knowledge to help provide a comprehensive and well-rounded experience for Surrey vet students.
Charlotte is a keen award-winning advocate for diversity and inclusion within STEM and the veterinary profession. She has sat on the Athena SWAN committee at Glasgow, spoken at public events and volunteered for several LGBT+ in STEM and LGBT+ inclusion in sport organisations.
Publications
Additional publications
Publications
McCarroll CS, He W, Foote K, Bradley A, Mcglynn K, Vidler F, Nixon C, Nather K, Fattah C, Riddell A, Bowman P, Elliott EB, Bell M, Hawksby C, MacKenzie SM, Morrison LJ, Terry A, Blyth K, Smith GL, McBride MW, Kubin T, Braun T, Nicklin SA, Cameron ER, Loughrey CM. (2018)
Runx1 Deficiency Protects Against Adverse Cardiac Remodeling After Myocardial Infarction.
Circulation. 137(1):57-70.
Fattah C, Nather K, McCarroll CS, Hortigon-Vinagre MP, Zamora V, Flores-Munoz M, McArthur L, Zentilin L, Giacca M, Touyz RM, Smith GL, Loughrey CM, Nicklin SA. (2016)
Gene Therapy With Angiotensin-(1-9) Preserves Left Ventricular Systolic Function After Myocardial Infarction.
J Am Coll Cardiol.68(24):2652-2666
Ross PD, Guy J, Selfridge J, Kamal B, Bahey N, Tanner KE, Gillingwater TH, Jones RA, Loughrey CM, McCarroll CS, Bailey ME, Bird A, Cobb S. (2016)
Exclusive expression of MeCP2 in the nervous system distinguishes between brain and peripheral Rett syndrome-like phenotypes.
Hum Mol Genet. 25(20):4389-4404
McCarroll CS, Rossor CL, Morrison LR, Morrison LJ, Loughrey CM. (2015)
A Pre-clinical Animal Model of Trypanosoma brucei Infection Demonstrating Cardiac Dysfunction.
PLoS Negl Trop Dis. 9(5):e0003811.
Elliott EB, McCarroll D, Hasumi H, Welsh CE, Panissidi AA, Jones NG, Rossor CL, Tait A, Smith GL, Mottram JC, Morrison LJ, Loughrey CM. (2013)
Trypanosoma brucei cathepsin-L increases arrhythmogenic sarcoplasmic reticulum-mediated calcium release in rat cardiomyocytes.
Cardiovasc Res. 100(2):325-35.
Burrow R, McCarroll D, Baker M, Darby P, McConnell F, Cripps P. (2012)
Frontal sinus depth at four landmarks in breeds of dog typically affected by sinonasal aspergillosis.
Vet Rec. 170(1):20