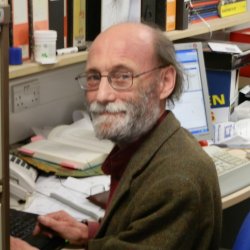 Professor Chris Jeynes
---
Professorial Research Fellow
---
Academic and research departments
About
Biography
PhD: "Carbonado and the diamond polishing process", Department of Physics, University of Bristol, 1981 with Andrew Lang (Prof.A.R.Lang FRS, 1924-2008). See: C.Jeynes,A proposed diamond polishing process, Phil.Mag. A48 (1983) 169-197 and C.Jeynes, Natural polycrystalline diamond, Industrial Diamond Review, 39 (1978) 14-23.
1981: Joined University of Surrey to work on epitaxial silicon deposition with Ian Wilson. See: M.Milosavljević, C.Jeyens (sic), I.H.Wilson, Low-temperature epitaxial growth of (100) silicon, Elec.Letts. 19 (1983) 669-671, M Milosavljević, C Jeynes, I H Wilson, Solid phase epitaxy of evaporated amorphous silicon films, Appl. Phys. Lett. 45 (8) 874-876 (1984), M Milosavljević, C Jeynes,& I H Wilson, Epitaxial (100) silicon films grown at low temperatures in an electron-beam evaporator, J. Appl. Phys. 57 1252-1255 (1985).
1982: Joined the University of Surrey Ion Beam Centre as liaison fellow.
1989: Promoted to senior liaison fellow.
Other interests and links
Doubtless few will wish to know, but this is a good place to put this stuff!
Psalms
About 3 millennia ago David introduced what was effectively a new means of human expression - the Psalm. This is poetry exploring the whole range of emotion, and sometimes in an outrageously unrestrained way. But the poetry also has a very secure underlying philosophical stance. I have been interested in the Psalms for a long time, and have now completed a book on them ("Psalms: the Prayerbook of the Church (PDF)", 160pp, 2MB) in which I insist on the importance of their historical and literary context, and also on their philosophical importance to Christians (and therefore also to scientists - see "Science & Creation" below).
Science and creation (and the Higgs Boson)
"Science and Creation (PDF)" (2002, 72pp) is my abridgement of Stanley Jaki's 1974 book of the same name. It is a full-scale historical demonstration of the opinion that is now widespread among historians of science, that Christian belief underpins the scientific method. Scientists believe that the world ("the Universe") is not unintelligible in principle, and moreover that we are capable of understanding it. This corresponds to the Christian beliefs that God is not capricious, and that we are made "in the image of God", that is, able to appreciate God's handiwork. Putting it another way, God is rational, and people matter.
In particular, Jaki is interested in the philosophical attitudes to time in the various civilizations he considers, and the enormous philosophical importance of the Christian insistence on finite time. (He considers Islam at length, from a philosophical point of view -- the Muslims also believe in Creation and the Day of Judgement; but he concludes that they never succeeded in shedding their Aristotelianism - Aristotle insisted that time must necessarily be infinite in extent.)
I think that this is an important basic book, but that Jaki's expression was rather obscure (and also presupposed rather a lot of knowledge of the reader). I have tried to clarify and simplify it and hope that some may find this abridgement useful.
The Higgs Boson, (unofficially) reported by CERN in July 2012, is sometimes referred to as the "God particle" - not for very good reasons, except that it could be considered to represent our current model of the Universe. On the Higgs Boson (PDF) (3rd September 2012) is a very simple "explanation" of it, together with reasons for Christians to be interested in it.
A Christian cosmogony (on creation and creationism)
Cosmogony is an account of the creation of the universe, where cosmogony is an account of the evolution of the universe."A Christian Cosmogony (PDF)" (2010, 19pp) is a wide-ranging essay considering how to read the Creation accounts in Genesis. I think that a correct reading is one that the original author(s) would have recognised and is, rather surprisingly, completely consistent with modern cosmology.
Curiously, although many assert that religious beliefs are not falsifiable in a Popperian sense, it turns out that a central assertion of the monotheistic faiths (Judaism, Christianity, Islam), the Creation, is now conventional wisdom in physics. The Big Bang theory is supported by the standard theory of the Cosmic Microwave Background with the resulting observed H/He ratio in the universe, and the observed abundance of isotopes explained by stellar nucleosynthesis. The singular nature of the Big Bang is emphasised theoretically by the Penrose/Hawking gravitational collapse theorem of 1970. Thus, the Christian assertion of Creation can reasonably be said to be proved!
Although I firmly believe (with all physicists, mutatis mutandis) in Creation, I am emphatically not a "creationist" insisting on a literalist reading of Genesis. Rhis is explained in detail in a review of an unashamedly creationist book: "Creation & Change (PDF)" (D.F.Kelly, 1997; 2012, 7pp) which I conclude is "a bad book ... full of foolish nonsense."
The historicity of the gospels
The question of what happened at Easter is central to Christian belief. Is the story of the death and resurrection of Jesus historical? We have the testimony of the Evangelists as the primary evidence, are the Gospels reliable? These questions are investigated in an essay on the first part of the passion narrative in the Gospel of John (John chapter 18 (PDF): 2012, 19pp).
Book reviews
Azazeel (PDF), by Prof. Youssef Ziedan (2009; tr. Jonathan Wright 2012). A novel presented as an autobiography of a fifth century monk in Syria. Brilliant but philosophically flawed (18 April 2013).
Infallible? (PDF), by Prof. Hans Küng (1970; tr. E.Mosbacher, Collins, 1971). A monograph addressing the doctrine of Papal infallibility written shortly after the Second Vatican Council by one of Rome's leading theologians. A fascinating and wonderful work of interest to all Christians (and others).
Adam, Eve and the Devil (PDF), by Marjo C.A. Korpel & Johannes C. de Moor (Sheffield Phoenix Press 2014). This is a deeply interesting monograph containing the reconstruction ("restoration") and translation of the text on two important tablets found in an ancient tomb (13th century BC) near the site of the ancient port of Ugarit. Ugaritic is closely related to Hebrew, and the decipherment and interpretation of these tablets has helped scholars to better understand many words, expressions and ideas in the Bible, a text that remains one of pivotal cultural significance. Korpel & de Moor have reconstructed, translated and interpreted these important texts with impressive scholarship, and they have explained the links with and relevance to the Hebrew canonical text with equal conviction. This work is important!
Research

Research interests

Accurate ion beam analysis (IBA)

I have long believed that we do not generally get as much information from IBA spectra as we could. Our first contribution to more detailed RBS analysis was a code to fit joined half-Gaussians (JHG) to data (C Jeynes, A C Kimber, High accuracy data from Rutherford backscattering spectra: Measurements of the range and straggling of 60-400 keV As implants into Si, J. Phys. D. 18, L93-L97 (1985); A C Kimber, C Jeynes, An application of the truncated two-piece normal distribution to the measurement of depths of arsenic implants in silicon. J. Roy. Stat. Soc. C, 36(3) 352-357 (1987).

There were a number of useful application of this JHG code: U Bangert, P J Goodhew, C Jeynes, I H Wilson, Low energy (2-5keV) argon damage in silicon, J. Physics. D. 19 (1986) 589-603; R P Webb, C Jeynes, I H Wilson, The effect of angle of incidence on interface broadening, Nucl. Instrum. Methods B,13 (1986) 449-452; Z.H.Jafri, C.Jeynes, R.P.Webb, I.H.Wilson, Observation of swelling and sputtering of a Si target under Ar ion irradiation using a double marker technique, Vacuum 39 (1989) 1119-21; Z.H.Jafri, C.Jeynes, R.P.Webb, I.H.Wilson, Mass transport of Silicon during Argon irradiation employing a double marker system, Nucl. Instrum. Methods B, 48 (1990) 457-460.

I have also used this JHG code participating in a Round Robin to use RBS to measure the thickness of Ta2O5 layers on Ta organised by Martin Seah of the National Physical Laboratory: M P Seah, D David, J A Davies, C Jeynes, C Ortega, C Sofield, G Weber, An intercomparison of absolute measurements of the oxygen and tantalum thickness of Ta2O5 reference materials BCR 261 by Six laboratories, Nucl. Instrum. Methods B, 30 (1988) 140-51.

We were the first to critically demonstrate 1% absolute accuracy in determining the stoichiometry of InGaAs films by RBS: C.Jeynes, Z.H.Jafri, R.P.Webb, M.J.Ashwin, A.C.Kimber, Accurate RBS measurements of the In content of InGaAs thin films, Surf.Interface Anal. 25 (1997) 254-260.

We have critically demonstrated that, with care, the electronic gain of the spectroscopy system for standard The RBS can be determined to 0.5%: C.Jeynes, N.P.Barradas, M.J.Blewett, R.P.Webb, Improved ion beam analysis facilities at the University of Surrey, Nucl. Instrum. Methods B, 136-138 (1998) 1229-1234. It is surprising that in fact it is pretty difficult to get better than this; for example, Lennard (et al, Nucl. Instrum. Methods B, 45, 1990, 281) in his work on the pulse height deficit of detectors implicitly gets the same accuracy. With considerable effort we have achieved <0.1% (see A.F.Gurbich, C.Jeynes, Evaluation of non-Rutherford proton elastic scattering cross-section for magnesium, Nucl. Instrum. Methods B, 265, 2007, 447-452); a comparable accuracy has also been achieved by Munnik et al (Nucl. Instrum. Methods B, 119, 1996, 445).

We have also demonstrated ion implantation fluence determination by RBS at 2% absolute traceable accuracy, where the uncertainty is dominated by that in the silicon stopping power, used for a robust and convenient routine determination of the charge solid-angle product (Jeynes et al, Quality assurance in an implantation laboratory by high accuracy RBS, Nucl. Instrum. Methods B, 249, 2006, 482). A measurement precision of 0.5% has been demonstrated in this work.

This has been followed up by a "Round Robin" between Surrey (C.Jeynes), Lisbon (N.P.Barradas) and Budapest (E.Szilágyi) ("Accurate determination of Quantity of Material in thin films by Rutherford backscattering spectrometry") demonstrating that three labs can independently measure an implant fluence with an absolute accuracy of 1% , Analytical Chemistry 84, 2012, 6061-6069. This has been confirmed by a detailed demonstration of the robustness of the method: J.L.Colaux & C.Jeynes, High accuracy traceable Rutherford backscattering spectrometry of ion implanted samples, Analytical Methods 6, 2014, 120-129.

The IBA DataFurnace

Really, this is a continuation of the "Accurate IBA" theme. Nuno Barradas and I (with support from Roger Webb) invented the DataFurnace in 1997 as an automated way of getting depth profiles out of "hard" RBS spectra. We were the first to use the simulated annealing algorithm to do this, and no-one to date can invert IBA spectra as easily, robustly and accurately as we can.

We first published this work as: Simulated annealing analysis of Rutherford backscattering data, N.P.Barradas, C.Jeynes, R.P.Webb, Appl.Phys.Lett. 71 (1997) 291-3. There is now a large literature on DataFurnace and a full-length Topical Review (PDF) has been published (C.Jeynes et al J.Phys.D 36, 2003, R97-R126). See the DataFurnace web pages.

IBA reviews

Ion Beam Analysis : a century of exploiting the electronic and nuclear structure of the atom for materials characterisation (PDF), C.Jeynes, R.P.Webb, A.Lohstroh, Reviews of Accelerator Science and Technology Vol. 4, (2011) 41-82 (World Scientific Publishing Company) 31 Figs., 290 refs.

"Total IBA" - where are we? (PDF) C.Jeynes, M.J.Bailey, N.J.Bright, M.E.Christopher, G.W.Grime, B.N.Jones, V.V.Palitsin, R.P.Webb, Nucl. Instr. Methods B, 271 (2012) 107-118 (a version of an invited talk given at the 20th International Conference for Ion Beam Analysis, Itapema, Brazil, 10-15 April, 2011) 123 refs.
Research collaborations