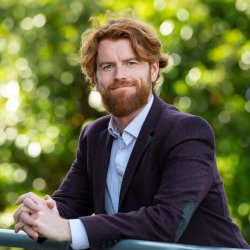 Dr Ciaran Gillespie
---
Lecturer in International Politics/Director of Employability
PhD, Msc, BA (Hons)
About
Biography
Ciaran is lecturer in International Politics, teaching on international relations theory, technology, security, terrorism and US Foreign Policy.
His research broadly considers indirect forms of international intervention across two pathways. The first, more traditional area critically considers the political economy of international military assistance programs involving transfers of equipment, funding and training. This stream focuses on US foreign policy and impacts on recipient state populations during the war on terror, particularly Pakistan.
The second stream considers cultural international intervention through digital frontiers- specifically through Virtual Reality (VR). He is currently writing a book on the global political implications of VR technologies, reflecting on the disruptive potential of a platform that promises to immerse users both visually, and emotionally in global affairs. The research raises questions about the international politics of technology, and the power of the tech sector to reshape social relations globally. He has conducted field work on VR applications in Israel and Palestine, Northern Ireland, and is a field leader in the utilisation of VR technology in the classroom.
Adminstrative Role
Ciaran is the Employability Director for the department, overseeing career development, the Professional Training Year and International Exchanges. For more information on the placements and exchange please e-mail Ciaran or visit the Department's PTY website.
Affiliations
British International Studies Association
International Studies Association
Awards
Graduate Teaching Assistant Scholarship, University of Surrey 2011-14
BISA Founders Fund Award 2015
Supervision
Postgraduate research supervision
PhD Supervisor (2nd) Lucy McDermott 
PhD Supervisor (2nd) Ellis Mallet
Teaching
I teach on range of undergraduate and postgraduate programs relating to international politics, security, US foreign policy and IR Theory. 
Publications
Publications:
For Better or Worse? The Complex Impact of U.S. Security Assistance on Human Security in Mexico and Pakistan w/ Paul Ashby (Working Paper)
Aid and the Oroburus: US Foreign Military Assistance and Human Security in Pakistan (Working Paper)
Buddies, Bargains, Bribes: A Historical Typography of Military Aid Strategies (Working Paper)
Her Brand is Malalai: Gender & the War on Terror's Education Narratives (Working Paper)
The Three Faces of Human Security: Critical Responses and Conceptualisations of Power (Working Paper)
IR in VR: The Potential Impact of Emergent Visual Technologies on Conflict Coverage (Working Paper)
Terrorism and the Search for Justice in South Africa (Critical Terrorism Studies, Critical Studies on Terrorism, Volume 6 Issue 3, 2013)
The FARC: The Longest Insurgency by Gary Leech (Review article for Journal of International Relations Research, Issue 1, January 2012)
Conferences/Panels Organised:
Panel: Helping Others to Help Defend Themselves? Impacts, Outcomes and Externalities in US Security Assistance Policy - British International Studies Association Annual Conference, Brighton, 2017
Conference: International Intervention- The Future, ESRC Funded Mini Conference, Surrey 2016
Panel: The Growing Role of Security Assistance in U.S. Hegemony? British International Studies Association Annual Conference, 2016
Conference: On the Receiving End of Intervention: Methods in Human Security, Institute for Advanced Studies Conference, Surrey 2014.