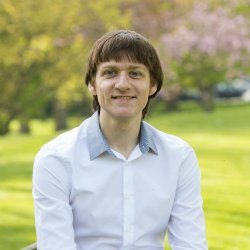 Biography
Biography
Colin obtained his PhD in Chemical Engineering from the University of Leeds in 2010, where he developed a method to predict particle breakage during agitated drying of crystallised solids. Colin was a research fellow at the Institute of Particle Science & Engineering at The University of Leeds from 2010 - 2016, where he developed the method of ball indentation for powder flowability measurement.
Colin's expertise are in particle technology, where he relates particle properties to process performance, with particular focus on powder flow and particle breakage. He carried out a knowledge transfer secondment to Procter & Gamble during 2014-15, exploring "Advanced Manufacturing Based on the Discrete Element Method". In 2014 he was awarded a research grant by the International Fine Particle Research Institute (IFPRI) to carry out a "Flowability Assessment of Weakly Consolidated Powders", receiving further funding from IFPRI in 2017 to continue this work.
Colin was awarded the Young Researcher of the Year Award at the UK Particle Technology Forum in 2012, and the IChemE 2015 Nicklin Medal for promising young engineering researchers at ChemEngDayUK 2016, and is a member of the EPSRC Early Career Forum in Manufacturing Research.
Research interests
Powder flowability, particularly at low stresses and/or high strain rates
Predicting and optimising particle breakage/attrition mitigation
Mechanical property characterisation
The Discrete Element Method (DEM)
Particle coating by powders or liquids
Teaching
Transfer Processes (Mass Transfer)
Design Project
Affiliations
AMIChemE
AFHEA