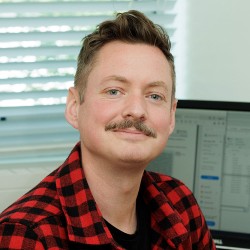 Dr David Andrew Griffiths
---
About
Biography
I am a senior lecturer in the Department of Sociology at the University of Surrey. My research brings together gender and sexuality studies, feminist science studies, and cultural histories of medicine and health. I am interested in queer approaches to the body that challenge medicalising or pathologizing perspectives. I have published research on the recent and contemporary history of intersex in Britain in leading international journals. I lead the FUTURESEX initiative and am a founding member of the Sex, Gender and Sexualities Research Group at Surrey. 
I have a PhD in Critical and Cultural Theory from the English Department at Cardiff University. I'm interested in interdisciplinary sexualities research, particularly in historicising and contextualising scientific and medical ways of understanding bodies and practices related to sex, gender and sexuality. 
Areas of specialism
Queer Theory;
Medical Humanities;
Intersex;
Feminist Science Studies;
History of Sexuality
University roles and responsibilities
Programme Director - MSc Sex, Gender and Sexuality Studies
Research

Research interests

My research interests are varied, but centre around sex, gender and sexuality. In particular, I bring a number of different disciplines (including queer theory and feminist science studies) together to place medical and scientific conceptions of non-normative bodies and practices, in historical and cultural context.

I am currently working on a project on intersex in Britain, from multidisciplinary perspectives, but my research has led me in the past to numerous queer places including: gay genes; sociobiology and evolutionary psychology; lichens, symbioses and ecologies; viruses and biopolitics; surgical and hormonal interventions on bodies; and medicine and temporality.

 

Research projects

Towards a UK History of Intersex
Supervision
Postgraduate research supervision
I would be happy to talk to potential PhD students about any of the following areas (and this is not an exhaustive list):
Queer theory
Feminist Science Studies
Intersex Studies
Embodiment
LGBTIQ+ Histories and Futures
Medicalisation of the Body
Entanglements of Sex, Gender, and Sexualities
I'm particularly interested in projects that engage with theoretical, archival and historical methodologies.
Teaching
I teach in the Department of Sociology on the undergraduate Sociology and Media and Communications courses. I lead and teach on the Master's in Sex, Gender and Sexuality Studies.