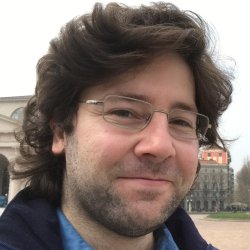 Dr Denis Erkal
---
Reader (Associate Professor) of Astrophysics
About
Biography
I am an Reader/Associate Professor in the astrophysics research group at the University of Surrey since 2017. I was previously a postdoc at the Institute of Astronomy at the University of Cambridge from 2013-2017. I received my PhD from the University of Chicago in 2013.
I received the Vice-Chancellor's award for Researcher of the Year in 2020. 
My work has mainly focussed on understanding on how the Milky Way was built by the accretion of many smaller systems. In particular, I am interested in tidal streams which form as globular clusters or dwarf galaxies are disrupted by the tides of the Milky Way. These streams roughly follow orbits and are excellent tracers of the potential of our Galaxy.
Areas of specialism
Galactic archaeology;
Near field cosmology;
Galactic Dynamics
University roles and responsibilities
Chair of the Board of Examiners in the Physics Department

Academic Integrity Officer
Research

Research interests

My research interests fall under the umbrellas of galactic archaeology and near-field cosmology. In particular, I am interested both in studying how the Milky Way was built up by the accretion of smaller systems and in using our Galaxy to learn about the properties of dark matter.

I am involved in the S5 collaboration, ARRAKIHS, WEAVE, 4MOST, and LSST.
Supervision
Postgraduate research supervision
I have supervised masters and PhD students at Surrey and Cambridge. I am happy to support applications for PhD studentships. Please contact me for more details.
I am currently supervising 
I have supervised 3 MSc student projects and 15 FYP projects at Surrey. 
Teaching
I am currently teaching
Energy, Entropy, and Numerical Physics (PHY2063)
Scientific Investigation Skills (PHY1035)