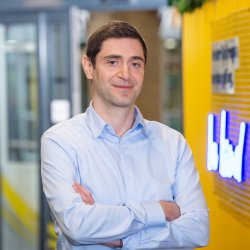 Dr Dimitris Asimakoulas
---
Deputy Director (Centre for Translation Studies) Programme Director (MRes in Translation and Interpreting Studies)
About
Biography
As an undergraduate student of English at the University of Athens I was drawn enough to the subject of translation to later pursue postgraduate studies in this field. I obtained an MSc (with distinction) and a doctorate degree from the University of Manchester after securing a PhD scholarship from the Alexander S. Onassis Public Benefit Foundation and a stipend from the Language Engineering Department at UMIST. Before joining Surrey in 2006 I worked as a corpus assistant for the Translational English Corpus (CTIS Manchester), as a research associate for a poetry translation project (Newcastle University) and as a part-time Greek translation lecturer (University of Salford).
Currently I serve as Deputy Director (Centre for Translation Studies) and Programme Director (MRes in Translation and Interpreting Studies).
Affiliations and memberships
Reviewer
Anglistica, The Translator, Meta, Intralinea, Palgrave McMillan, Routledge, Alif, JosTrans
Member
Modern Greek Studies Association
Research

Research interests

The underlying thread in my research is the premise that translation is a form of creative rewriting that occurs at specific moments in time. As such, it sheds light on how identity is mediated across language barriers, time, and media. To date, I have been an examiner for 18 PhD theses (nine as internal and nine as external examiner); I am also a reviewer for the Research Grants Council (Hong Kong). As a result of my research activity, I occasionally serve as member of (international) validation panels for MA programmes, interview panels for new appointments and teams for training projects (e.g. subtitling).

Current research: My current research focuses on comic book adaptations for children, humour as a coping/mediation technique in translation, the role of translation is social movements, gender performativity in subtitled filmic discourse and translated dialogue in comic books.

Earlier research: In my doctoral research I examined issues of social agency, publication trends and censorship. Brecht's poetry collections, political essays and plays published under the Greek dictatorship served as exemplars of how translation can be pressed to the service of protest.

Recent awards: Pump-Prime Fund awarded by Faculty of Arts and Social Sciences, University of Surrey; this enabled fieldwork in Greece leading to a monograph on the dissemination and translation of Aristophanic comic books. Faculty of Arts and Social Sciences funding for a Community Outreach programme; this led to the commissioning and delivery of a translation for the Watts Gallery into 5 languages (Chinese, Greek, Italian, Spanish and Norwegian). I have also received Santander Academic Mobility Funding in order to establish links with the Centro de Comunicação e Expressão at the Universidade Federal de Santa Catarina, Brazil.
Supervision
Postgraduate research supervision
My supervision interests on postgraduate and research level include the following:
Humour theory
Translation of multimodal cultural products (audio visual programmes, comics, adverts)
Cultural policy-making/questioning
Translation history
Translation and social movements
Translation as intercultural mediation.
PhD supervision
Completed:
Principal supervisor
Ming-Chih Wu. Michelle Wu. Negotiating Culture Space and Identity: The Translation of Tongzhi and Ku-er Fiction. (31 March 2015)
Selin Kayhan. A Bourdieusian Perspective On Translators In Turkey: Examining The Role Of Socio-Economic, Cultural and Political Environment. (20 January 2016)
Giacinto Palmieri. Oral Self-Translation of Stand-Up Comedy: From the Mental Text to Performance and Interaction. (21 February 2018)
Eleni Karvounidou. The Manipulation of Children's Literature: The Russian Translations of Alice's Adventures in Wonderland. (31 May 2018)
Konstantina Georgiou. The Translator as Reader: The case of Poetry Translations from Modern Greek into English. (03 Oct 2019)
Completed:
Co-supervisor
Artemis Lamprinou. A Study of the Cultural Variations in the Verbalisation of Near-Universal Emotions: Translating Emotions from British English into Greek in Popular Bestseller Romances. (28 March 2013)
Sara Dicerto. Multimodal Pragmatics: Building a New Model for Source Text Analysis. (28 August 2015)
Katerina Perdikaki.  Adaptation As Translation: Examining Film Adaptation as a Recontextualised Act of Communication. (21 December 2016)
Athil Farhan. Ideological Manipulation in the Translations of Political Discourse: A Study of Presidential Speeches After The Arab Spring Based on Corpora and Critical Discourse Analysis. (20 June 2017)
Dimitris Bogiatzis. Creative Writing Thesis: Free Spirit: A Novel on the Life of Nikos Kazantzakis. (10 April 2018)
Jaleh Delfani. Non-Professional Subtitling in Iran: Process, Product, and Socio-Cultural Context. (03 April 2019)
In progress:
Principal supervisor
Shasha Zhang. Exporting the "Real" China: Exploring Chinese National Ideologies within China-Produced TV Documentaries and their Translations.
Co-supervisor
Cheima Bouchrara. Persuasion in Courtroom Discourse: A Critical Discourse Analysis of Closing Arguments in US Criminal Cases.
Arianna Carloni. The Role of Continued Dance Training in the Reception of Audio Description.
Eleanor March. From margin to Centre: Prisoner writing as an act of translation.
Teaching
I teach the following undergraduate and postgraduate modules:
TRA3036 "Translation of Specialised and Creative Texts" (final-year undergraduate module)
TRAM503 "Translation for the Creative Industries" (MA module)
TRAM504 "Writing and Rewriting for Translators" (MA module).
In addition to my general teaching and programme-related duties, I also have the following administrative duties in the School of Literature and Languages that complement these roles: Subject Leader (Translation), Postgraduate Exams Officer, Postgraduate Exam Board Chair, PhD Admissions Co-ordinator (for the subjects of translation and interpreting), studentship evaluation panel member for scholarships awarded by the university and the AHRC (TECHNE).