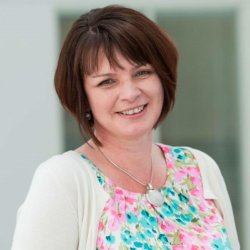 Felicity Jones
---
Teaching Fellow in Integrated Care (Population Health), Director of Studies for Specialist Practice and Pathway Lead for Health Visiting
Registered General Nurse, SCPHN Health Visitor, Community Nurse Prescriber, PGCert in Learning and Teaching for Professional Practice
Biography
I have worked full time as a Teaching Fellow at the University of Surrey since August 2012. I have a background in adult nursing and midwifery, qualifying as a Health Visitor in 1998. My health visiting experience has included working as a health visitor (GP attached and corporate team), a liaison health visitor for a Walk-in Centre and a practice development health visitor. 
As a Practice Development Facilitator, I have worked both at a local and strategic level to develop practice for health visiting and school nursing services. My role included the setting up training programmes, the development of guidelines, service audit and service innovation. This work gave me a wide breadth of experience in developing evidence based practice to support service provision for identified local health needs.
Areas of specialism
Public Health Nursing - 0 to 19 year old
University roles and responsibilities
Director of Studies for Specialist Practice and Pathway Lead for Health Visiting. School lead for Recognition of Prior Learning in the school. I am an External Examiner for the University of South Wales for SCPHN (Health Visiting)
Affiliations and memberships
United Kingdom Standing Council on Specialist Community Public Health Nurse Education
Member
United Kingdom Standing Council on Specialist Community Public Health Nurse Education
Member
My teaching
I teach on MSc/BSc Public Health Practice with SCPHN programme.
I am Module Lead for:
Public Health Assessment and Health Promotion Intervention,
Early Intervention: Working with Children, Parents and Carers 
Specialist Practice in SCPHN with V100
My publications
Publications
Butcher, A., Williams, P. and Jones, F. (2016) 'Is the introduction of a named midwife for teenagers associated with improved outcomes? A service development project' British Journal of Midwifery, 24(5), pp. 331-338.
Brown, A. M., Robinson, A., Jones, F., Smith, A, Williams, P. and Hanley, J. (2017) 'The effectiveness of prescription exercises for women diagnosed with postnatal depression: a systematic review', MIDIRS Midwifery Digest, 27(4), pp 488-495.