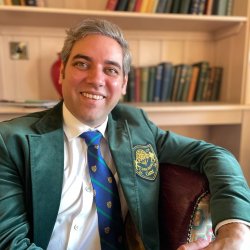 Professor Gavin Lotay
---
Professor, Director of Research and Innovation
About
Biography
Prof. Gavin Lotay is Director of Research and Innovation for the School of Maths and Physics at the University of Surrey and is a member of the Nuclear Physics Group. His main area of research expertise is in nuclear astrophysics, which aims to determine the origin of all the chemical elements we find on earth and observe in our Galaxy. In particular, by studying the reactions that occur in explosive astrophysical environments in terrestrial laboratories, Prof. Lotay endeavours to obtain the microscopic nuclear physics information needed to understand the macroscopic properties of the Universe.
Prof. Lotay completed an MSci degree in Physics at the University of Birmingham in 2004 and a PhD in experimental Nuclear Physics at the University of Edinburgh in 2009. After a three-year postdoctoral research position, also in Edinburgh, he secured the first Ernest Rutherford Fellowship in Nuclear Astrophysics research. In September 2013, he took up a permanent position at the University of Surrey and is now a Professor and the Director of Learning and Teaching.
Areas of specialism
Nuclear Astrophysics;
Gamma-ray Spectroscopy;
Transfer Reactions;
Direct Measurements
University roles and responsibilities
Director of Research and Innovation
Research

Research interests

I began my journey in nuclear astrophysics research by performing gamma-ray spectroscopy studies of astrophysically important nuclei. Those investigations utilised the 100-detector Gammasphere array and obtained critical information on the location and strength of resonances that determine the production of elements in classical nova explosions. Since then, I have broadened my horizons to the use of radioactive beam technology and developed a wide-ranging experimental programme focused on the study of explosive stellar phenomena throughout the Galaxy. In particular, I have performed a number of direct reaction studies, relevant for cataclysmic binary systems, at TRIUMF National Laboratory, Canada, using a variety of silicon arrays and spectrometers (e.g. DRAGON, TUDA, SHARC and EMMA), and have utilised the world-leading GRETINA array at the National Superconducting Cyclotron Laboratory, USA, to explore the origin of cosmic g-ray emitters. Looking forward, a number of next generation radioactive beams facilities (e.g. HIE-ISOLDE, FRIB, ARIEL and FAIR) are poised to come online that will allow us to reach regions of the nuclear chart that were hitherto inaccessible. These facilities will open up a host of unique opportunities for the field of nuclear astrophysics and provide us with the means to experimentally investigate astrophysical processes in the most exotic stellar events to occur in our Galaxy (e.g. X-ray bursts and Supernovae).
Teaching
I am currently the module lead for the following undergraduate physics courses:
PHY1040 - Atoms and Quanta
PHY3059 - Advanced Nuclear Astrophysics
PHYM052 - Explosive Stellar Phenomena