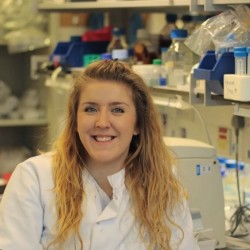 Dr Hannah Bolland
---
Surrey Future Fellow
PhD, FHEA
About
Biography
Hannah Bolland is a cancer biologist and a Surrey Future Fellow. Hannah completed her PhD at the University of Nottingham investigating the role of RNA helicases in hypoxic colorectal cancers. Following this she completed a post doc at the University of Nottingham investigating the role of STAT3 in hypoxic glioblastomas. In 2019 she moved to the University of Oxford, Institute of Radiation Oncology under the supervision of Prof Ester Hammond, to complete her second post doc. Here she  investigated novel ways to radiosensitise hypoxic cells with a focus on reactive oxygen species, the unfolded protein response, and the DNA damage response. She also investigated the development and validation of chemical biology tools for the measurement of reactive oxygen species and hypoxia in vitro. She has now joined as a Surrey Future Fellow where she will be investigating the role of peroxisome biogenesis in cancers. Aside from peroxisomes and lipid metabolism Hannah has interests in many aspects of cancer metabolism, mRNA translation and the tumour microenvironment. She also has keen interests in public engagement and science communication. 
Areas of specialism
Tumour Microenvironment;
Oncology;
Hypoxia;
Reactive oxygen species
Affiliations and memberships
Fellow of Advance HE
(FHEA)
Research

Research interests

Low oxygen (hypoxia), is a common feature of many solid tumours. Hypoxia is associated with resistance to chemotherapy, radiotherapy and poor patient prognosis. As such we need novel ways to target this therapy resistant fraction of tumours to improve patient outcome. Peroxisomes are amazingly active metabolic organelles responsible for the break down of very long chain fatty acids and regulation of cellular redox balance. Considering cancer is a disease characterised by aberrant metabolism, the effect of peroxisomes in cancer is poorly understood.