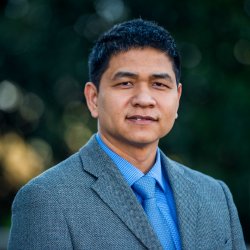 About
Biography
Hung Viet Nguyen (S'09-M'14) received the B.Eng. degree in Electronics & Telecommunications from Hanoi University of Science and Technology (HUST), Hanoi, Vietnam, in 1999 and his M.Eng. in Telecommunications from Asian Institute of Technology (AIT), Bangkok, Thailand, in 2002. He worked for the OPTIMIX and CONCERTO European as well as EPSRC funded projects on the area of both wireless communications and quantum communications. He is currently a research fellow at 5G Innovation Centre, University of Surrey, UK. His research interests include cooperative communications, channel coding, network coding and quantum communications.
University roles and responsibilities
Research fellow: 5G-NR link level simulator
Research

Research interests

His research interests focus on Cooperative Communications, Channel Coding, Network Coding, Cognitive Communications and recently on Quantum Error Correction, Quantum Algorithm, Quantum Key Distribution, Quantum Network Coding and 5G-NR.