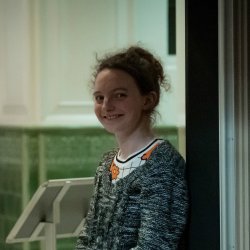 Josephine Solowiej-Wedderburn
---
Postgraduate Research Student
My research project
I am a PhD student at the University of Surrey, working under the supervision of Dr Carina Dunlop. My PhD project focuses on developing mathematical models to describe the physical forces exerted by a cell when adhered to a gel layer to elucidate the interplay between cellular dynamics and the mechanical microenvironment.
Previously, I did the MSc programme in Mathematical Modeling at the University of Birmingham, focusing on mathematical biology and fluid dynamics, with my masters' project supervised by Dr Tom Montenegro-Johnson. My undergraduate degree was in Pure and Applied Mathematics at the University of Cambridge.
Supervisors
My publications
Publications
J. Solowiej-Wedderburn, D.J. Smith, S.S. Lopes, T.D. Montenegro-Johnson
(2019).
"Wall stress enhanced exocytosis of extracellular vesicles as a possible mechanism of left-right symmetry-breaking in vertebrate development." Journal of Theoretical Biology, 460, 220-226.
J. Solowiej‐Wedderburn, M. Ide, M. Pennington
(2017).
"Cost‐effectiveness of non‐surgical periodontal therapy for patients with type 2 diabetes in the UK." Journal of Clinical Periodontology, 44.7, 700-707.