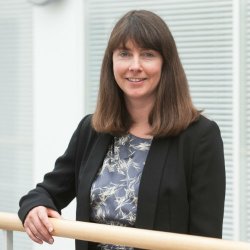 Dr Karen Stenner
---
Lecturer in Health Services Research
About
Biography
Karen is a lecturer in the School of Health Sciences with extensive experience in health services research. Her research interests include the evaluation of extended roles in medicines optimisation and non-medical prescribing. She has published widely on the impact and implementation of prescribing by nurses and other healthcare professionals, with a focus on long-term conditions. Current interests include the expansion of prescribing rights to allied health professions and the impact of delegation of medicines administration to non-registered healthcare workers. She is experienced in multi-site studies and mixed method approaches. She is a member of the University of Surrey ethics Committee.
Research

Research interests

Karen has been involved in a number of collaborative research projects that have evaluated the impact and implementation of non-medical prescribing. Current projects include a national evaluation of prescribing by dieticians and therapeutic radiographers, early adopted of paramedic prescribing and exploration of the delegation of insulin administration to healthcare assistants working in the community.

Research projects

NIHR Policy Research Programme PR-R19-0617-21001

Innovation in the Allied Health Professions: Evaluation of supplementary prescribing by dieticians and independent prescribing by therapeutic radiographers. Co-investigator, 2019-2022.

Paramedic: Early adopters of paramedic prescribing

An exploratory study, Faculty of Health and Medical Sciences Research Support Fund £8,000, April – October 2019. Principle Investigator

Delegation of insulin injections

Delegation of insulin administration to non-registered healthcare workers in community nursing teams: an evaluation of care and practice for older people with diabetes. Dunhill Medical Trust Research Grants, £88,130. Principle investigator. Start date to be confirmed.

This free online toolkit is designed to support those who wish to become a non-medical prescriber and enhance knowledge of the role requirements. 

Based on over a decade of work on non-medical prescribing, development of the toolkit was lead by Dr Nicola Carey and Dr Karen Stenner at the University of Surrey with help from a team including NMP leads, educators, researchers and policy makers from the UK. Implementation toolkits provide resources for healthcare professionals, non-medical prescribing leads, service and provider organisations, commissioners and Universities to support implementation of non-medical prescribing in practice.
Teaching
Research for Professional Practice dissertation modules
Quality Improvement and Patient Safety module
Nurse Independent and Supplementary Prescribing
Supervision of undergraduate and MSc dissertations and doctorates