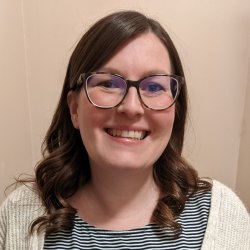 Dr Lisa Holbrook
---
Lecturer One Health-One Medicine (Non-Communicable Disease)
BSc, PhD
About
Biography
Lisa graduated with a degree in Biological Sciences in 2005 and a PhD in Protein Biochemistry and Cell Biology in 2010 from the University of Reading. The focus of Lisa's PhD thesis was to identify and characterise novel thiol isomerase enzymes in platelets. Following her PhD,  Lisa was a successful postdoctoral researcher with roles at Imperial College London, Oxford University, University of Reading and King's College London. In these roles she continued to develop her interests in how platelet function is controlled by redox modulation. Lisa joined the University of Surrey as a lecturer in 2022.
University roles and responsibilities
Research

Research interests

Lisa's research focuses on understanding how redox proteins such as thiol isomerases and NADPH Oxidases regulate the development and progression of disease in humans and animals. Much of Lisa's work to date has focused on investigating the impact of these proteins in the regulation of platelet activation, platelet signalling and thrombosis. Her current research aims to explore how these platelet-secreted proteins regulate cell migration and metastasis in cancer. 

Indicators of esteem

Editor's Awards finalist, JTH 2017.

ISTH 2009 Young Investigator Award Recipient.