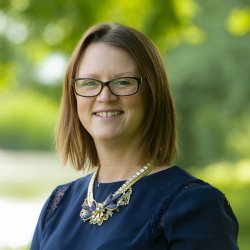 Dr Lucy Hale
---
Teaching Fellow, Clinical Psychologist
Biography
Biography
My first degree was in Psychology with German from the University of Newcastle upon Tyne. I worked as a Support Worker in a Specialist Eating Disorders Unit and then completed a Masters in Mental Health Studies at King's College in London (2008-2009). I then worked towards a Doctorate in Clinical Psychology (2010-2013) at the University of Surrey.
As a Clinical Psychologist, I have worked in a range of settings to include adult mental health services and specialist Eating Disorder Units. Most recently, I worked as the joint Lead Psychologist for the regional eating disorders service for children and young people.
Following the arrival of my beautiful son in 2016, I made the decision to work on a part-time basis. In September 2017, I left my NHS positon and moved to work three days a week as a Teaching Fellow on the Clinical Psychology Doctoral Training Programme at the University of Surrey. I also work as an Independent Practitioner in Guildford.
Research interests
My doctoral research (2010-13) involved developing and conducting a novel study into factors associated with family involvement in OCD. From this I have published a meta-analysis in collaboration with Dr Clara Strauss on levels of family accommodation and OCD symptom severity. I am currently writing up the main empirical paper which is investigating factors associated with accommodation to OCD symptoms and the relationships between those factors.
For my MSC research (2008-9), I carried out a pilot study investigating set-shifting abilities and emotional processing in individuals with anorexia nervosa using measures suitable for use in an FMRI scanner. The results were disseminated in a peer-reviewed journal which enabled the collaborating research team to secure funding for an FMRI study in eating disorders.
For my undergraduate research (2006-7) I conducted a critical review that investigated whether there is a difference in the effects of antidepressant medication on the psychological well-being of their users.
My research interests are driven by my clinical practice to seek to improve therapy outcomes for people experiencing a range of difficulties.
My interests lie in two main areas:
Exploration of family accommodation in obsessive compulsive disorder (OCD); and
Eating distress
I am also interested in the concept of intolerance of uncertainty and distress tolerance more generally in relation to anxiety and eating disorders.
I am happy to co-supervise quantitative studies broadly in the areas above. I am willing to work with trainees on their own research ideas/interests or those supplied by a Field Supervisor that are related to the above area of interest. Please contact me if you are in
Teaching
I teach on various units on the Clinical Psychology Doctoral Training Programme: Building a Therapeutic Alliance, Adults with Complex Presentations, Cognitive Behavioural Therapy (CBT), Children, Young People and Families and Research Methods. I also teach on the Undergraduate Programme (module in Clinical Psychology).
Departmental duties
Leadership: I co-convene the CBT unit and Building a Therapeutic Alliance unit with Alesia Moulton-Perkins.
I am involved in creating a specialist CBT pathway for Trainees that will enable the programme to apply for British Association of Cognitive and Behavioural Psychotherapies (BABCP) accreditation.
Marking: I conduct a range of marking on the clinical psychology doctorate.
Research supervision: I hope to co-supervise a first year Major Research Project from November 2017 (cohort 46).
Clinical/line management supervision: I am a clinical tutor to 14 trainees on the clinical psychology doctoral programme.
Affiliations
Health and Care Professions Council (HCPC; registration number PYL30075)
Chartered member of the British Psychological Society (BPS; registration number 196784).
(Provisionally) accredited Cognitive Behavioural Psychotherapist with the British Association for Behavioural and Cognitive Psychotherapies (BABCP; membership number 160088) hoping to gain full accreditation in February 2018.
My publications
Publications
I and have a strong background in research that seeks to improve therapy outcomes for people experiencing a range of difficulties. I am particularly interested in eating distress and anxiety disorders, to include obsessive compulsive disorder (OCD), and have several publications in these areas, as detailed below.
Konstantellou, A., Hale, L., Sternheim, L., Simic, M., & Eisler, I. Exploring the Meaning of Uncertainty in Adolescents with Anorexia Nervosa (In preparation).
Konstantellou, A., Nowotny,E., Sternheim,L., Hale, L., Treasure, J., Simic, M., & Eisler,I. Examining the Meaning of Uncertainty in Carers of Adolescents with Anorexia Nervosa (In preparation).
Hale, L., Strauss, C., & Stobie, B. Relational Accommodation and OCD Symptom Severity: The Role of Distress and Distress Tolerance in the Significant Other (In preparation).
Hale, L., Smith, L., & Rowland, C. Improving access to psychological interventions: An evaluation of the effectiveness of a Cognitive Behavioural Therapy group for young people with eating disorders in Surrey. Clinical. Manuscript submitted for publication. Strauss,
C., Hale, L. & Stobie, B. (2015). A Meta-analytic Review of the Relationship between Family Accommodation and OCD Symptom Severity. Journal of Anxiety Disorders, 33, 95-102.
Hale, L. & Strauss, C. (2014). Mindfulness for Obsessive Compulsive Disorder: FAQs Answered. Compulsive Reading: OCD UK
Hale, L., Eke, G., & Warren, F. (2012). An evaluation of the effectiveness and acceptability of a dialectical behaviour therapy service for individuals with a diagnosis of borderline personality disorder in East Surrey. Surrey and Borders Online Journal, 2, 10-16. Available at http://www.sabp.nhs.uk/journal/.
Hale, L., Strauss, C., & Lever Taylor, B. (2012). The effectiveness and acceptability of mindfulness-based therapy for obsessive compulsive disorder: A review of the literature. Mindfulness 6, 1-8. DOI:10.1007/s12671-012-0137-y.
Castro, L., Davies, H., Hale, L., Surguladze, S., & Tchanturia, K. (2010). Facial Affect Recognition in Anorexia Nervosa: Is Obsessionality a Missing Piece of the Puzzle? Australian and New Zealand Journal of Psychiatry,44 (12), 1118-25.