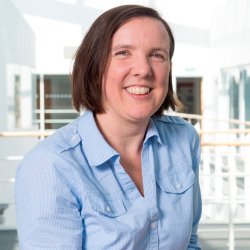 Dr Martha Betson
---
Senior Lecturer in Veterinary Parasitology & Head of Department
BSc PhD MA MSc FHEA
About
Biography
Martha graduated from University of Cambridge with a BA in Natural Sciences and went on to do a PhD in cell biology at University College London. She then undertook postdoctoral work at Massachusetts General Hospital/Harvard Medical School in Boston, USA, where she used the fruit fly as a model to gain insight into signalling pathways regulating cancer. While in Boston Martha developed an interest in public health and infectious diseases. After studying for an MSc in Control of Infectious Diseases at London School of Hygiene and Tropical Medicine, she worked as a postdoctoral researcher with Prof Russell Stothard, first at the Natural History Museum and then at the Liverpool School of Tropical Medicine. Here she played an integral role in the Schistosomiasis in Mothers and Infants project, investigating the epidemiology of a neglected parasitic disease in mothers and young children living in lakeshore communities in Uganda. Subsequently Martha took up a post as a research fellow in One Health at the Royal Veterinary College. Martha joined the School of Veterinary Medicine in May 2015 and became Head of Department of Veterinary Epidemiology and Public Health in 2019.
Research interests
Martha's research integrates laboratory work, fieldwork and epidemiology to understand the transmission dynamics of parasitic diseases of humans and animals. This includes the study of the population genetics of parasites and their hosts and the development and evaluation of diagnostic tests. Martha has a particular interest in neglected tropical diseases and parasitic diseases at the wildlife-domestic animal-human interface. She advocates an interdisciplinary One Health approach in research, in control of parasitic diseases and to address major global issues such as food security. She has long-standing collaborations with researchers at Liverpool School of Tropical Medicine, London School of Hygiene and Tropical Medicine, Royal Veterinary College and University of Copenhagen.
Recent research topics include:
Understanding the epidemiology, phylogeography, population structure and transmission dynamics of helminth parasites, in particular Ascaris, Trichuris and Schistosoma mansoni
Assessing the contribution of macaque reservoir hosts to the emergence of Plasmodium knowlesi infection in southeast Asia
Investigating the epidemiology of non-falciparum malaria infections in sub-Saharan Africa and implications for malaria control
One Health evaluation through participation in the COST-funded Network for Evaluation of One Health (NEOH)
Teaching
Martha is module co-coordinator for the Veterinary Medicine and Science module "Foundations of Disease Three - Pathology of the Integument and Alimentary Systems". She contributes to parasitology and epidemiology teaching on a number of other Veterinary Medicine and Science, MSc Veterinary Microbiology and MSc Medical Microbiology modules.