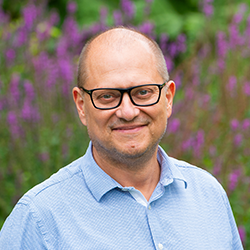 Professor Miroslaw Bober
---
Professor of Video Processing
BSc, MSc, PhD
Biography
Biography
Professor of Video Processing BSc, MSc, PhD, MIEEE
Miroslaw Bober joined Surrey in 2011 as Professor of Video Processing. He is leading the Visual Media Analysis team within the Centre for Vision, Speech and Signal Processing (CVSSP).
Prior to his appointment at Surrey Prof Bober was the General Manager of the Mitsubishi Electric R&D Centre Europe (MERCE-UK), and the Head of Research for its Visual & Sensing Division. He was leading this European Corporate R&D centre for 15 years. His technical achievements were recognized in numerous awards, including the Presidential Award for strengthening the TV business in Japan via an innovative "Visual Navigation" content access technology (2010) and the prestigious Mitsubishi Best Invention Award for his Image Signature Technology (2008-one winner selected globally).
Prof Bober received a BSc and an MSc degree with distinction in electrical engineering from the AGH University of Science and Technology (Krakow, Poland) (1990), an MSc degree in Machine Intelligence (with distinction) from Surrey University (1991), and a PhD degree in computer vision from Surrey University (1995).
Miroslaw has published over 60 peer-reviewed publications and is the named inventor on over 80 unique patent applications. He has held over 30 research and industrial grants, with the value exceeding £16M. He is a member of the British Standards Institution (BSI) committee IST/37, responsible for UK contributions into MPEG and JPEG and represents UK in the area of image and video analysis and associated metadata. Prof Bober is chairing MPEG technical work on Compact Descriptors for Visual Search (CDVS - standard ISO/IEC FDIS 15938-13) and Compact Descriptors for Video Analysis (CDVA - work in progress).
Research interests
My research focuses on novel techniques in Signal Processing, Computer Vision and Machine Learning and their applications in industry, healthcare, big-data and security. I have a particular interest in image and video analysis & retrieval (visual search, object recognition, analysis of motion, shape & texture). The broad research objective is to develop unique methods and technology solutions for visual content understanding that can dramatically improve on existing state-of-the art leading to new applications. My algorithms for shape analysis and image/video fingerprinting as well as visual search are considered world-leading and were selected for ISO International standards within MPEG and used by, e.g. Metropolitan Police.
Teaching
EEE3034 - Media Casting (Module Coordinator)
EEE3029 - Multimedia Systems and Component Technology
EEEM001 - Image and Video Compression
EEE3035 - Engineering Professional Studies
Departmental duties
Programme Director for MSc in Multimedia Signal Processing and Communications
Industrial Tutor for undergraduate industrial placement year
Personal tutor for undergraduate students (L1, L2, L3, L4)
MSc-level tutor
Member of Faculty Research Degrees Committee (FRDC)
Member of the Departmental Industrial Advisory Board (IAB)
Affiliations
I have extensive collaboration links with universities and research institutions in Europe (UK, Switzerland, Germany, Poland, France, Spain), US, Japan and China. I have also worked with the following companies: the BBC (UK), Bang and Olufsen (DE), CEDEO (IT), Casio (JP), Ericsson (SE), Huawei (DE), Mitsubishi Electric (JP), RAI television (IT), Renesas Electronics (JP), Telecom Italia (IT), and Visual Atoms (UK).
Current Projects & Research Funding
I am the project coordinator and PI for the BRIDGET FP-7 project [5.28 M€], where my team is responsible for the development of ultra large-scale visual search and media analysis algorithms for the broadcast industry. The project aims to open new dimensions for multimedia content creation and consumption by bridging the gap between the Broadcast and Internet. Project partners include RAI television, Huawei, Telecom Italia and more.
CODAM is my latest project (PI) and is funded by the TSB creative media call [£1.05 M]. My team is working with the BBC and Visual Atoms to develop an advanced video asset management system with unique visual fingerprinting and visual search capabilities. It will aid content creation and deployment by enabling visual content tracking, identification and searching across multiple devices and platforms, and across diverse digital media ecosystems and markets. Where is the original version of the low-quality clip? Which video clip has been used most often in BBC programmes? Is it a stock shot of a red double decker bus, or an excerpt from a royal wedding? Is there other footage in the archive that shows the same event but can provide a fresh viewpoint? The CODAM system will answer these questions, track the origins of video clips across multi-platform productions and search for related material. It will take the form of a modular software system that can identify individual video clips in edited programmes, and perform object or scene recognition to find similar footage in an archive without relying on manually entered and often incomplete metadata.
My publications
Publications
Visual search and image retrieval underpin numerous applications, however the task is still challenging predominantly due to the variability of object appearance and ever increasing size of the databases, often exceeding billions of images. Prior art methods rely on aggregation of local scale-invariant descriptors, such as SIFT, via mechanisms including Bag of Visual Words (BoW), Vector of Locally Aggregated Descriptors (VLAD) and Fisher Vectors (FV). However, their performance is still short of what is required. This paper presents a novel method for deriving a compact and distinctive representation of image content called Robust Visual Descriptor with Whitening (RVD-W). It significantly advances the state of the art and delivers world-class performance. In our approach local descriptors are rank-assigned to multiple clusters. Residual vectors are then computed in each cluster, normalized using a direction-preserving normalization function and aggregated based on the neighborhood rank. Importantly, the residual vectors are de-correlated and whitened in each cluster before aggregation, leading to a balanced energy distribution in each dimension and significantly improved performance. We also propose a new post-PCA normalization approach which improves separability between the matching and non-matching global descriptors. This new normalization benefits not only our RVD-W descriptor but also improves existing approaches based on FV and VLAD aggregation. Furthermore, we show that the aggregation framework developed using hand-crafted SIFT features also performs exceptionally well with Convolutional Neural Network (CNN) based features. The RVD-W pipeline outperforms state-of-the-art global descriptors on both the Holidays and Oxford datasets. On the large scale datasets, Holidays1M and Oxford1M, SIFT-based RVD-W representation obtains a mAP of 45.1% and 35.1%, while CNN-based RVD-W achieve a mAP of 63.5% and 44.8%, all yielding superior performance to the state-of-the-art.
Mokhtarian F, Bober MZ
(2003)
Curvature Scale Space Representation: Theory, Applications, and MPEG-7 Standardization,
Springer Netherlands
MPEG-7 is the first international standard which contains a number of key techniques from Computer Vision and Image Processing. The Curvature Scale Space technique was selected as a contour shape descriptor for MPEG-7 after substantial and comprehensive testing, which demonstrated the superior performance of the CSS-based descriptor. Curvature Scale Space Representation: Theory, Applications, and MPEG-7 Standardization is based on key publications on the CSS technique, as well as its multiple applications and generalizations. The goal was to ensure that the reader will have access to the most fundamental results concerning the CSS method in one volume. These results have been categorized into a number of chapters to reflect their focus as well as content. The book also includes a chapter on the development of the CSS technique within MPEG standardization, including details of the MPEG-7 testing and evaluation processes which led to the selection of the CSS shape descriptor for the standard. The book can be used as a supplementary textbook by any university or institution offering courses in computer and information science.
Sibiryakov A, Bober M
(2006)
Real-time multi-frame analysis of dominant translation,
18th International Conference on Pattern Recognition, Vol 1, Proceedings
pp. 55-58
IEEE COMPUTER SOC
Sibiryakov A, Bober M
(2007)
Low-complexity motion analysis for mobile video devices,
Digest of Technical Papers - IEEE International Conference on Consumer Electronics
This paper describes a low-complexity method for estimation of translational motion in video sequences, based on the principle that 2D image translation results in translation of image projections. The method uses a single pixel-by-pixel frame scan to extract a compact frame-descriptor. The translation between frames is determined by matching frame-descriptors using fixed-point implementation of the Phase Correlation Method (PCM). The method gives reliable results even when video images are blurred by significant and rapid motion and in the presence of independent local motions. Real-time performance has been achieved in a low-cost DSP board1. © 2007 IEEE.
Bober MZ
(2007)
Method and device for processing and for searching for an object by signals corresponding to images,
A method of representing an object appearing in a still or video image, by processing signals corresponding to the image, comprises deriving the peak values in CSS space for the object outline and applying a non-linear transformation to said peak values to arrive at a representation of the outline.
Bober Miroslaw, Kittler Josef
(1994)
Robust motion analysis,
1994 IEEE computer society conference on computer vision and pattern recognition, proceedings
pp. 947-952
IEEE, Computer Soc Press
We develop a new robust algorithm for the estimation of optic flow and extraction of other motion-relevant information. A novel combination of the Hough Transform, and robust statistical methods results in unbiased estimates for multiple motions, parallel segmentation and estimation and increased robustness to noise and changes of illumination. The algorithm is fast, due to application of multiresolution in both image and parameter space. A simple, translational motion model and a complex one coping with rotation and change of scale are applied. Also, an accuracy measure for the derived estimate is introduced. The paper includes experimental tests of this new approach and its comparison with several other widely-cited methods. The experiments were aimed at assessing the effect of noise, change of illumination and multiple motions on the algorithms performance. The results show that our approach is significantly more robust than other methods.
Bober MZ, Cooper J
(2011)
Method and apparatus for representing and searching for an object in an image,
A method representing an object appearing in still or video image for use in searching, wherein the object appears in the image with a first two-dimensional outline, by processing signals corresponding to the image, comprises deriving a view descriptor of the first outline of the object and deriving at least one additional view descriptor of the outline of the object in a different view, and associating the two or more view descriptors to form an object descriptor.
Bober MZ
(2002)
Hough transform based method of estimating parameters,
A Hough transform based method of estimating N parameters a=(a.sub.1, . . . , a.sub.N) of motion of a region Y in a first image to a following image, the first and following images represented, in a first spatial resolution, by intensities at pixels having coordinates in a coordinate system, the method including: determining the total support H(Y,a) as a sum of the values of an error function for the intensities at pixels in the region Y; determining the motion parameters a that give the total support a minimum value; the determining being made in steps of an iterative process moving along a series of parameter estimates a.sub.1, a.sub.2, . . . by calculating partial derivatives dH.sub.i =MH(Y,a.sub.n)/Ma.sub.n,i of the total support for a parameter estimate a.sub.n with respect to each of the parameters a.sub.i and evaluating the calculated partial derivatives for taking a new a.sub.n+1 ; and wherein, in the evaluating of the partial derivatives, the partial derivatives dH.sub.i are first scaled by multiplying by scaling factors dependent on the spatial extension of the region to produce scaled partial derivatives dHN.sub.i.
Bober MZ, Paschalakis S, Brasnett P
(2010)
Video Identification,
12/693,220
A method and apparatus for processing a first sequence of images and a second sequence of images to compare the first and second sequences is disclosed. Each of a plurality of the images in the first sequence and each of a plurality of the images in the second sequence is processed by (i) processing the image data for each of a plurality of pixel neighbourhoods in the image to generate at least one respective descriptor element for each of the pixel neighbourhoods, each descriptor element comprising one or more bits; and (ii) forming a plurality of words from the descriptor elements of the image such that each word comprises a unique combination of descriptor element bits. The words for the second sequence are generated from the same respective combinations of descriptor element bits as the words for the first sequence. Processing is performed to compare the first and second sequences by comparing the words generated for the plurality of images in the first sequences with the words...
Bober M, Kucharski K, Skarbek W
(2003)
Face recognition by Fisher and scatter linear discriminant analysis,
Lecture Notes in Computer Science (including subseries Lecture Notes in Artificial Intelligence and Lecture Notes in Bioinformatics)
2756
pp. 638-645
Fisher linear discriminant analysis (FLDA) based on variance ratio is compared with scatter linear discriminant (SLDA) analysis based on determinant ratio. It is shown that each optimal FLDA data model is optimal SLDA data model but not opposite. The novel algorithm 2SS4LDA (two singular subspaces for LDA) is presented using two singular value decompositions applied directly to normalized multiclass input data matrix and normalized class means data matrix. It is controlled by two singular subspace dimension parameters q and r, respectively. It appears in face recognition experiments on the union of MPEG-7, Altkom, and Feret facial databases that 2SS4LDA reaches about 94% person identification rate and about 0.21 average normalized mean retrieval rank. The best face recognition performance measures are achieved for those combinations of q, r values for which the variance ratio is close to its maximum, too. None such correlation is observed for SLDA separation measure. © Springer-Verlag Berlin Heidelberg 2003.
Bober MZ, Preteux F, W-Y Kim
(2002)
Shape Descriptors,
In: Manjunath BS, Salembier P, Sikora T (eds.), Introduction to MPEG-7
John Wiley & Sons Inc
Introduction to MPEG-7 takes a systematic approach to the standard and provides a unique overview of the principles and concepts behind audio-visual indexing, ...
This paper addresses the problem of ultra-large-scale search in Hamming spaces. There has been considerable research on generating compact binary codes in vision, for example for visual search tasks. However the issue of efficient searching through huge sets of binary codes remains largely unsolved. To this end, we propose a novel, unsupervised approach to thresholded search in Hamming space, supporting long codes (e.g. 512-bits) with a wide-range of Hamming distance radii. Our method is capable of working efficiently with billions of codes delivering between one to three orders of magnitude acceleration, as compared to prior art. This is achieved by relaxing the equal-size constraint in the Multi-Index Hashing approach, leading to multiple hash-tables with variable length hash-keys. Based on the theoretical analysis of the retrieval probabilities of multiple hash-tables we propose a novel search algorithm for obtaining a suitable set of hash-key lengths. The resulting retrieval mechanism is shown empirically to improve the efficiency over the state-of-the-art, across a range of datasets, bit-depths and retrieval thresholds.
Bober MZ
(2007)
Method for efficient coding of shape descriptor parameters,
A method of representing an object appearing in a still or video image, by processing signals corresponding to the image, comprises deriving a plurality of sets of co-ordinate values representing the shape of the object and quantising the co-ordinate values to derive a coded representation of the shape, and further comprises quantising a first co-ordinate value over a first quantisation range and quantising a smaller co-ordinate value over a smaller range.
Bober MZ, Sibiryakov A
(2010)
Dominant motion analysis,
A method of representing a 2-dimensional image comprises deriving at least one 1-dimensional representation of the image by projecting the image onto at least one axis, and applying a Fourier transform to said 1-dimensional representation. The representation can be used for estimation of dominant motion between images.
Husain S, Bober M
(2014)
Robust and scalable aggregation of local features for ultra large-scale retrieval,
2014 IEEE International Conference on Image Processing, ICIP 2014
pp. 2799-2803
© 2014 IEEE.This paper is concerned with design of a compact, binary and scalable image representation that is easy to compute, fast to match and delivers beyond state-of-the-art performance in visual recognition of objects, buildings and scenes. A novel descriptor is proposed which combines rank-based multi-assignment with robust aggregation framework and cluster/bit selection mechanisms for size scalability. Extensive performance evaluation is presented, including experiments within the state-of-The art pipeline developed by the MPEG group standardising Compact Descriptors for Visual Search (CVDS).
Bober M, Kittler J
(1996)
Video coding for mobile communications - MPEG4 perspective,
IEE Colloquium (Digest)
(248)
Bober MZ, O'Callaghan R
(2006)
Mutual-Rank Similarity-Space for Navigating, Visualising and Clustering in Image Databases,
11/990,452
A method of representing a group of data items comprises, for each of a plurality of data items in the group, determining the similarity between said data item and each of a plurality of other data items in the group, assigning a rank to each pair on the basis of similarity, wherein the ranked similarity values for each of said plurality of data items are associated to reflect the overall relative similarities of data items in the group.
Bober M
(1999)
Motion analysis for video coding and retrieval,
IEE Colloquium (Digest)
(103)
pp. 51-56
The use of a robust, low-level motion estimator based on a Robust Hough Transform (RHT) in a range of tasks, such as optical flow estimation, and motion estimation for video coding and retrieval from video sequences was discussed. RHT derived not only pixels displacements, but also provided direct motion segmentation and other motion-related clues. The RHT algorithm employed an affine region-to-region transformation model and was invariant to illumination changes, in addition to being statistically robust. It was found that RHT did not base the correspondence analyses on any specific type of feature, but used textured regions in the image as non-localized features.
This paper presents the core technologies of the Video Signature Tools recently standardized by ISO/IEC MPEG as an amendment to the MPEG-7 Standard (ISO/IEC 15938). The Video Signature is a high-performance content fingerprint which is suitable for desktop-scale to web-scale deployment and provides high levels of robustness to common video editing operations and high temporal localization accuracy at extremely low false alarm rates, achieving a detection rate in the order of 96% at a false alarm rate in the order of five false matches per million comparisons. The applications of the Video Signature are numerous and include rights management and monetization, distribution management, usage monitoring, metadata association, and corporate or personal database management. In this paper we review the prior work in the field, we explain the standardization process and status, and we provide the details and evaluation results of the Video Signature Tools.
Bober M, Brasnett P
(2009)
MPEG-7 visual signature tools,
Proceedings - 2009 IEEE International Conference on Multimedia and Expo, ICME 2009
pp. 1540-1543
The MPEG-7 standard offers a comprehensive set of audiovisual content Description Tools to support applications enabling effective and efficient access to multimedia content. MPEG recently identified a need for a set of new, unique descriptors necessary for detection of duplicate or derived visual media content. The MPEG-7 Visual Signature Tools are characterized by efficient detection at low false positive rates, high robustness and enable very fast searching. This paper outlines application scenarios for visual signatures (also known as fingerprints or robust hashes) and discusses the requirements, evaluation process and selection methodology employed by MPEG. The Image Signature technology selected by MPEG and its performance is also described and the latest work on Video Signatures and associated standardisation time-line is summarized. ©2009 IEEE.
Kucharski K, Skarbek W, Bober M
(2005)
Dual LDA - An effective feature space reduction method for face recognition,
IEEE International Conference on Advanced Video and Signal Based Surveillance - Proceedings of AVSS 2005
2005
pp. 336-341
Linear Discriminant Analysis (LDA) is a popular feature extraction technique that aims at creating a feature set of enhanced discriminatory power. The authors introduced a novel approach Dual LDA (DLDA) and proposed an efficient SVD-based implementation. This paper focuses on feature space reduction aspect of DLDA achieved in course of proper choice of the parameters controlling the DLDA algorithm. The comparative experiments conducted on a collection of five facial databases consisting in total of more than 10000 photos show that DLDA outperforms by a great margin the methods reducing the feature space by means of feature subset selection. © 2005 IEEE.
Cordara G, Bober M, Reznik Y
(2012)
Special issue on visual search and augmented reality,
Signal Processing: Image Communication
ZHANG K, BOBER M, KITTLER J
(1995)
VARIABLE BLOCK SIZE VIDEO CODING WITH MOTION PREDICTION AND MOTION SEGMENTATION,
DIGITAL VIDEO COMPRESSION: ALGORITHMS AND TECHNOLOGIES 1995
2419
pp. 62-70
SPIE - INT SOC OPTICAL ENGINEERING
Brasnett P, Paschalakis S, Bober M
(2010)
Recent developments on standardisation of MPEG-7 visual signature tools,
2010 IEEE International Conference on Multimedia and Expo, ICME 2010
pp. 1347-1352
This paper presents the latest developments and possible new directions for future work in standardisation of Visual Signature Tools within the Moving Picture Experts Group (MPEG). The tools, which include the Image Signature descriptor and the recently completed Video Signature descriptor, form a part of the MPEG-7 specification. They enable fast and robust detection of duplicate or derived visual media content, images and videos. Descriptors of this type are sometimes also referred to as fingerprints or robust hashes. Here we mainly focus on introducing the technology behind the recently completed Video Signature Tools and describe some recent developments and demonstration applications for the Image Signature Tools. Finally, we briefly present MPEG exploratory investigations on requirements of searching for different images containing the same visual objects within the mobile visual search framework. © 2010 IEEE.