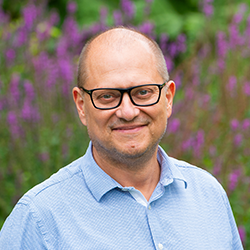 Professor Miroslaw Bober
---
Professor of Video Processing
BSc, MSc, PhD, MIEEE
About
Biography
Miroslaw Bober joined Surrey in 2011 as Professor of Video Processing. He is leading the Visual Media Analysis team within the Centre for Vision, Speech and Signal Processing (CVSSP).
Prior to his appointment at Surrey Prof Bober was the General Manager of the Mitsubishi Electric R&D Centre Europe (MERCE-UK), and the Head of Research for its Visual & Sensing Division. He was leading this European Corporate R&D centre for 15 years. His technical achievements were recognized in numerous awards, including the Presidential Award for strengthening the TV business in Japan via an innovative "Visual Navigation" content access technology (2010) and the prestigious Mitsubishi Best Invention Award for his Image Signature Technology (2008-one winner selected globally).
Prof Bober received a BSc and an MSc degree with distinction in electrical engineering from the AGH University of Science and Technology (Krakow, Poland) (1990), an MSc degree in Machine Intelligence (with distinction) from Surrey University (1991), and a PhD degree in computer vision from Surrey University (1995).
Miroslaw has published over 60 peer-reviewed publications and is the named inventor on over 80 unique patent applications. He has held over 30 research and industrial grants, with the value exceeding £16M. He is a member of the British Standards Institution (BSI) committee IST/37, responsible for UK contributions into MPEG and JPEG and represents UK in the area of image and video analysis and associated metadata. Prof Bober is chairing MPEG technical work on Compact Descriptors for Visual Search (CDVS - standard ISO/IEC FDIS 15938-13) and Compact Descriptors for Video Analysis (CDVA - work in progress).
University roles and responsibilities
Programme Director for MSc in Multimedia Signal Processing and Communications

Industrial tutor for undergraduate industrial placement year

Personal tutor for undergraduate students (L1, L2, L3, L4)

Member of Faculty Research Degrees Committee (FRDC)

Member of the Departmental Industrial Advisory Board (IAB)
Affiliations
I have extensive collaboration links with universities and research institutions in Europe (UK, Switzerland, Germany, Poland, France, Spain), US, Japan and China.
I have also worked with the following companies: the BBC (UK), Bang and Olufsen (DE), CEDEO (IT), Casio (JP), Ericsson (SE), Huawei (DE), Mitsubishi Electric (JP), RAI television (IT), Renesas Electronics (JP), Telecom Italia (IT), and Visual Atoms (UK).
Research

Research interests

My research focuses on novel techniques in signal processing, computer vision and machine learning and their applications in industry, healthcare, big-data and security.

I have a particular interest in image and video analysis and retrieval (visual search, object recognition, analysis of motion, shape and texture). The broad research objective is to develop unique methods and technology solutions for visual content understanding that can dramatically improve on existing state-of-the art leading to new applications.

My algorithms for shape analysis and image/video fingerprinting as well as visual search are considered world-leading and were selected for ISO International standards within MPEG and used by, e.g. Metropolitan Police.

Research projects

I am the project coordinator and PI for the BRIDGET FP-7 project [5.28 M€], where my team is responsible for the development of ultra large-scale visual search and media analysis algorithms for the broadcast industry. The project aims to open new dimensions for multimedia content creation and consumption by bridging the gap between the Broadcast and Internet. Project partners include RAI television, Huawei, Telecom Italia and more.

CODAM is my latest project (PI) and is funded by the TSB creative media call [£1.05 M]. My team is working with the BBC and Visual Atoms to develop an advanced video asset management system with unique visual fingerprinting and visual search capabilities. It will aid content creation and deployment by enabling visual content tracking, identification and searching across multiple devices and platforms, and across diverse digital media ecosystems and markets. Where is the original version of the low-quality clip? Which video clip has been used most often in BBC programmes? Is it a stock shot of a red double decker bus, or an excerpt from a royal wedding? Is there other footage in the archive that shows the same event but can provide a fresh viewpoint? The CODAM system will answer these questions, track the origins of video clips across multi-platform productions and search for related material. It will take the form of a modular software system that can identify individual video clips in edited programmes, and perform object or scene recognition to find similar footage in an archive without relying on manually entered and often incomplete metadata.
Teaching
EEE3034 - Media Casting (Module Coordinator)
EEE3029 - Multimedia Systems and Component Technology
EEEM001 - Image and Video Compression
EEE3035 - Engineering Professional Studies.