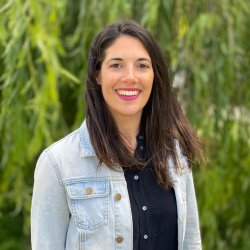 Dr Nicole Cocolas
---
Lecturer in Transport Management
About
Biography
Nicole Cocolas joined the SHTM team in 2021 as a Lecturer in Transport Management. She is also the Programme Leader for International Tourism Management with Transport, and co-Programme Leader of International Tourism Management. Nicole contributes to modules on Land Transport Systems, International Transport Planning and Policy, and Cruise Industry and Sea Transport. She also applies her marketing background to teach Digital Marketing in Hospitality and Tourism. 
Nicole's research focuses on the nexus between climate and tourism, with a particular spotlight on the role of transport. She is interested in marketing perspectives, consumer behaviour, and also policy developments in addressing transport emissions. She brings over a decade of experience working both in industry and academia. Nicole has collaborated on projects with UNWTO, and remains a strategic advisor on climate for the Adventure Travel and Trade Association (ATTA). Nicole's Honours thesis focused on market variability in Australian ski resorts as a result of unreliable snow cover. Her PhD explored the impact of persuasive climate communications on changing attitudes towards air travel.
Research

Research interests

Climate change, transport and tourism
Consumer behaviour
Climate communications
Teaching
Cruise Industry and Sea Transport (UG)
Digital Marketing in Hospitality and Tourism (PG) 
International Transport Planning and Policy (UG)
Land Transport Systems (UG)
Publications
Aviation remains a problematic sector of the global economy in times of climate emergency. Grounded in the ideology of reconfiguration, we adopt a system transitions perspective to address high emissions leisure travel. Our focus falls on the marketing communications of airlines as a critical component in the prevailing sociotechnical regime. Thematic analysis of the e-mail marketing communications of selected airlines revealed three prominent tropes: adventure and discovery; privilege; and urgency. These communications bring air travel into the everyday lives of consumers and accelerate the turnover time of tourist consumption. Time is mobilized to create a sense of resource scarcity and urgency to consume, paradoxically in a situation characterized by oversupply. The COVID-19 pandemic has presented a unique opportunity for structural reform of the airline industry. Component substitution to address airline marketing is required as an important step toward overcoming consumer moral disengagement and reconfiguring the airline industry.
Additional publications
Cocolas, N., Walters, G., Ruhanen, L., & Higham, J. (2021). Consumer attitudes towards flying amidst growing climate concern. Journal of Sustainable Tourism, 26(6), pp. 944-963. doi:10.1080/09669582.2020.1849234
Cocolas, N., Walters, G., Ruhanen, L., & Higham, J. (2019). Air travel attitude functions. Journal of Sustainable Tourism, 28(2), pp. 319-336. doi:10.1080/09669582.2019.1671851
Cocolas, N., Walters, G., & Ruhanen, L. (2016). Behavioural adaptation to climate change among winter alpine tourists: An analysis of tourist motivations and leisure substitutability. Journal of Sustainable Tourism, 24(6), pp. 846-865. doi:10.1080/09669582.2015.1088860