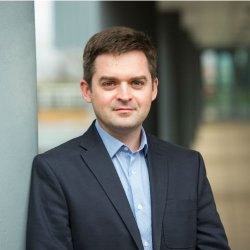 Dr Oleksiy Klymenko
---
Lecturer in Chemical Process Engineering
DPhil
About
Biography
My research focuses on the development and application of mathematical techniques for system and process modelling, design and optimisation in process systems engineering, physical chemistry and biochemistry. I was trained as an Applied Mathematician at Kharkov National University of Radio Electronics (Ukraine) where I obtained my BSc (2000) and MSc (2001) degrees before doing a D.Phil. in Computational Electrochemistry from the University of Oxford (2004) and a PhD in Computational Mathematics and Numerical Methods from Kharkov National University of Radioelectronics (2006). Since then I have held a number of researcher and senior scientist positions in Ukraine, France (Ecole Normale Supérieure, Paris) and the UK (Imperial College London) before joining the Department of Chemical and Process Engineering of the University of Surrey in 2016 as a Lecturer.
Research

Research interests

Model-based design and optimisation of process systems

Mathematical modelling in the natural and life sciences

Uncertainty quantification in process models, particularly Global Sensitivity Analysis
Teaching
I am currently module leader of two M-level modules:
ENGM071 Process and Energy Integration (MSc only)
ENGM214 Process Modelling and Simulation (MSc and Year 4 MEng)
and contribute the Numerical Methods component of the Year 2 BEng/MEng module
ENG2113 Reaction Engineering and Numerical Methods
In the past, I have been involved in the delivery of a number of other undergraduate modules:
ENG1083 Transferable Skills and Laboratory Skills
ENG2120 Engineering Systems and Dynamics
ENG3186 Energy and Industrial Systems
I regularly supervise Year 4 MEng and MSc research projects.