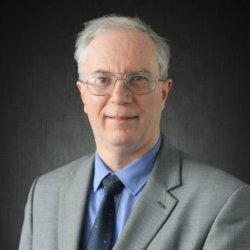 Professor Rex Thorpe
---
Professor of Chemical Engineering
MEng, PhD, FIChemE, CEng, FHEA
About
Biography
My MEng and PhD degrees were obtained at the University of Cambridge. I worked for Brown and Root (UK) for one year before joining the lecturing staff in chemical engineering at the University of Cambridge. I was elected a member of the IChemE and became a chartered engineer three years later. I moved to the University of Surrey in 2001 and was elected FIChemE in 2006.
University roles and responsibilities
Undergraduate Admissions Tutor
Previous roles
2008 -
2015
Head of Chemical and Process Engineering
University of Surrey
Research

Research interests

Multiphase flows including oil production flows (2, 3 and 4 phase), in circulating fermenters, jet engines and dissolved gas floatation tanks.
Energy optimisation of sewage treatment processes
Capture and recycling or destruction of odours including VOCs
Treatment of process water from Hydro-Thermal Carbonisation
Chemical recycling of waste plastics.

Research projects

Start date: July 2020
End date: September 2022

Collaborating with Recycling Technologies alongside the University of Birmingham and Cranfield University, we will contribute to the development of an online monitoring system which will predict and control Plaxx® (a recycled feedstock which can be used to manufacture new plastic) quality based on input composition and process conditions.
Supervision
Completed postgraduate research projects I have supervised
I have supervised students who have obtained their doctorates with the following titles:
The properties and abrasive behaviour of sand in hoppers
Cavitation in the flow through an orifice
The discharge of solid/liquid mixtures from storage vessels
The measurement of diffusion coefficients in non-Newtonian liquids
Large bubbles in circulating fermenters
Circulating fluidised beds
Near horizontal conveying of sand by two-phase gas-liquid flows in pipelines
Residence time distributions in circulating fluidised beds
Forces on pipe bends due to two-phase flow
Bubble break-up and mass transfer in down flow
Vertical dense-phase conveying of large particles
Air-current segregation in alumina silos
Oil-water separation on a production platform
Simulation of oil sprays formed by leaks in pipes
Transient flows in gas turbines
Using a screw extruder as a granulator
Optimising energy use in the water industry
Regeneration of VOCs from from GAC adsorbent
Dissolved gas floatation of oils
Direct contact condensation
Teaching
I teach on the following modules:
Energy and Industrial Systems
Process and Equipment Design
Chemical Product Design.
Publications
Highlights
Gear M, J Sadhukhan, R Thorpe, R Clift, J Seville, M Keast (2018) A life cycle assessment data analysis toolkit for the design of novel processes - a case study for a thermal cracking process for mixed plastic waste, Journal of Cleaner Production, 180, 735-747. https://doi.org/10.1016/j.jclepro.2018.01.015