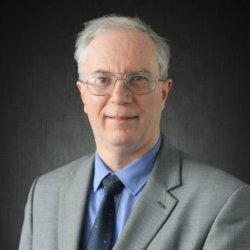 Professor Rex Thorpe
---
Professor of Chemical Engineering
MEng, PhD, FIChemE, CEng, FHEA
Biography
My MEng and PhD degrees were obtained at the University of Cambridge. I worked for Brown and Root (UK) for one year before joining the lecturing staff in chemical engineering at the University of Cambridge. I was elected a member of the IChemE and became a chartered engineer three years later. I moved to the University of Surrey in 2001 and was elected FIChemE in 2006.
University roles and responsibilities
Undergraduate Admissions Tutor
Previous roles
2008 -
2015
Head of Chemical and Process Engineering
University of Surrey
Research
Research interests
Multiphase flows including oil production flows (2, 3 and 4 phase), in circulating fermenters, jet engines and dissolved gas floatation tanks.
Energy optimisation of sewage treatment processes
Capture and recycling or destruction of odours including VOCs
Treatment of process water from Hydro-Thermal Carbonisation
Chemical recycling of waste plastics
Supervision
Postgraduate research supervision
Completed postgraduate research projects I have supervised
I have supervised students who have obtained their doctorates with the following titles:
The properties and abrasive behaviour of sand in hoppers.
Cavitation in the flow through an orifice.
The discharge of solid/liquid mixtures from storage vessels.
The measurement of diffusion coefficients in non-Newtonian liquids.
Large bubbles in circulating fermenters
Circulating fluidised beds
Near horizontal conveying of sand by two-phase gas-liquid flows in pipelines
Residence time distributions in circulating fluidised beds
Forces on pipe bends due to two-phase flow
Bubble break-up and mass transfer in down flow
 Vertical dense-phase conveying of large particles
 Air-current segregation in alumina silos
Oil-water separation on a production platform
 Simulation of oil sprays formed by leaks in pipes
Transient flows in gas turbines
Using a screw extruder as a granulator
Optimising engery use in the water industry
Regeneration of VOCs from from GAC adsorbant
Dissolved Gas Floatation of oils
 Direct contact condensation
My publications
Highlights
Gear M, J Sadhukhan, R Thorpe, R Clift, J Seville, M Keast (2018) A life cycle assessment data analysis toolkit for the design of novel processes - a case study for a thermal cracking process for mixed plastic waste, Journal of Cleaner Production, 180, 735-747. https://doi.org/10.1016/j.jclepro.2018.01.015
Thorpe RB, Brampton B, Robson S, Perrault A. (2017) Investigating the effect of an alternative feedstock on the performance of sludge powered generators: developing a theoretical model and analysing trial data. International Water Association Proceedings of The IWA Specialist Conference On Sludge Management: Sludgetech 2017, Imperial College, London, UK.
Kajero, O.T., R B. Thorpe, T. Chen, Wang B., Yao, Y (2016) Kriging meta-model assisted calibration of computational fluid dynamics models, AIChEJ, 62, 4308-4320.   DOI: 10.1002/aic.15352
Aliff Radzuan, M.R., M.A. Abia-Biteo Belope, R.B. Thorpe (2016) Removal of Fine Oil Droplets from Oil-in-Water Mixtures by Dissolved Air Flotation, Chemical Engineering Research and Design,115, 19-33.  http://dx.doi.org/10.1016/j.cherd.2016.09.013