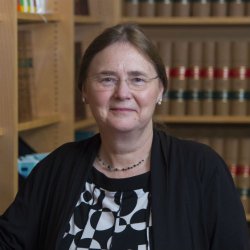 Professor Rosalind Malcolm
---
Professor of Law, Director of Environmental Regulatory Research Group (ERRG)
LLB (Hons), PhD, Barrister
Biography
I am an environmental lawyer and I specialise in looking at the ways law can be used to protect the environment.  Recently I have been working on the 'wicked problem' of the polluting waste from plastics and how a circular economy might help to stop the problem of waste.  So I look at laws around the ecodesign of products and how they can be implemented to stop the production of waste and pollution.  I look at the whole governance frameworks for environmental law including not just the legislation but policy, implementation, enforcement and compliance as well as the impact of property rights. I have been working on the rights to water and sanitation and how they can be used to ensure a decent standard of living for people especially in developing countries.  I believe that we will not solve the problem of the degradation of the earth unless we work across disciplines seeking solutions together so I specialise in multidisciplinary research working with social and natural scientists and engineers.
I am the Director of the Environmental Regulatory Research Group (http://www.surrey.ac.uk/errg/) which is a research grouping of individuals and organisations engaged in research, teaching and consultancy into environmental regulation, compliance and enforcement and is part of the Surrey Centre for International and Environmental Law.
I am an associate member of the Centre for Environmental Strategy at the University of Surrey and I also practice as a barrister from Guildford Chambers.
University roles and responsibilities
Director of Environmental Regulatory Research Group

Chair, Special Interest Group on Plastics in the Environment
Research
Research interests
regulatory frameworks for environmental management, compliance and enforcement
ecodesign laws
governance of plastics waste
operationalising rights to water and sanitation
property rights in environmental media
food safety law
statutory nuisance law
Current research projects include:
AHRC/GCRF, The Wicked Problem of Plastics & the Discourse Surrounding its Governance (AH/T008423/1) (PI: Prof Rosalind Malcolm, Surrey; Co-Is: Dr Itziar Castello-Molina, Surrey; Prof Nicholas Oguge, CASELAP, University of Nairobi, Kenya) (2020-2022)
EPSRC/GCRF Plastics Pollution Governance Framework Network (EP/T003529/1) (PI: Prof Nicholas Oguge, CASELAP, University of Nairobi, Kenya; Joint PI: Prof Rosalind Malcolm, Surrey; Co-I: Dr Noreen O'Meara, Surrey; (2019-2021)
QR GCRF 'A rapid, high level analysis of water safety planning in rural communities using groundwater sources in Uganda and Malawi.' (2019 – 2020) (£95,529)
Recently completed projects include:
Society for Legal Scholars Small Projects and Events Fund 2018 (£2,500.00) for organising a conference titled 'Rethinking Property Approaches in Resources for the Circular Economy' (June 2019) with Prof Alison Clarke (Surrey) and Dr Katrien Steenmans (Coventry)
Workshop funded by Universities of Surrey, Essex and SOAS, 2 June 2018. 'Designing Law and Policy Towards Managing Plastics in a Circular Economy'
SME Innovation Voucher: £1,083.60 and University of Surrey Sustainability Theme: £3,238.79) 'Plastic waste - governance, business modelling and consumer behaviour, (2019)
Undergraduate Sustainability Research Opportunities Programme 2018-19 'Regulatory instruments around single-use plastics'  (£2000 UG student bursary awarded to Hifza Younis)
D-Box: Demining tool-BOX for humanitarian clearing of large scale area from anti-personal landmines and cluster munitionsFP7 programme (FP7-SEC-2011.1.3-3); (Co-investigator, 3 years; 2012-2015)
Climate Change: Science and Policy - Collaboration with North Carolina State University. Surrey Institute of Advanced Studies and British Council PMI2 UK-US New Partnership funding.
3-K SAN: "Catalysing self-sustaining sanitation chains in informal settlements in Kigali, Kisumu and Kampala" (http://www.3ksan.org/). European Water Initiative ERA-NET SplashCo-investigator (April 2011 - March 2014)
"The establishment of legal frameworks for independent water providers in Kenya and Ethiopia"(Leverhulme Trust) with Robens Centre for Public and Environmental Health and the Centre for Environmental Strategy, University of Surrey.
Supervision
Postgraduate research supervision
I supervise topics in environmental law and welcome PhD students.
My teaching
Modules
UK and European Environmental Law (UG and PG)
Food Safety Law (PG and professional programmes)
Statutory Nuisance Law (PG and professional programmes)
Property Law (UG)
Teaching publications
"Equity and Trusts"Q & A Series, by Wilkie, M., Malcolm, R. and Luxton, P. (8th edition 2012, Oxford University Press). (1st ed. 1994, 2nd ed. 1996, 3rd ed, 2002, 4th ed. 2004, 5th ed. 2006, 6th ed. 2008, 7th ed. 2010.)
"Land Law",Q & A Series, by Wilkie, M., Luxton, P. and Malcolm, R. (7th edition, 2011, Oxford University Press (ISBN 978-0-19-929945-4, xxiii and 270 pages) (1st ed. 1995, 2nd ed. 1998, 3rd ed. 2001, 4th ed. 2003, 5th ed. 2005, 6th ed. 2008).
"Land Law: The Definitive Series" Institute of Legal Executives Tutorial Services, 1996.
English Legal SystemThree chapters contributed to the Manual for Institute of Legal Executives published in the autumn 1991: Chapter 4, "European Community Law", pp. 4.1 4.5, Chapter 14, "The Legal Profession", pp. 14.1 14.8,Chapter 15, "Financing Legal Services", pp. 15.1 15.6.[Updated for new edition in March 1993].
"The Best of Mainly for Students"Six chapters: pp. 207 211; 244 248; 441 446; 446 451; 472 480. (Estates Gazette, 1993) edited by Askham & Blake, (ISBN 0 7282 0185 2)
"The Best of Mainly for Students: Volume 2"Three chapters: pp. 232-236; 244 - 249; 389 - 392. (Estates Gazette, 1999) edited byAskham, P. and Blake, L.W., (ISBN 0 7282 03170)
"The Best of Mainly for Students: Volume 3"Four chapters: pp. 307 - 311; 317 - 321; 327 - 331; 395 - 399. (Estates Gazette,2004) edited by Askham, P. and Blake, L.W., (ISBN 0 7282 0422 3)