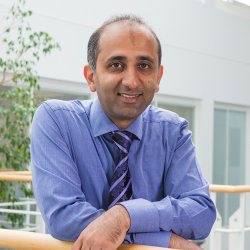 Dr Saber Fallah
---
Senior Lecturer in Vehicle and Mechatronic Systems
About
Biography
Saber Fallah is a Senior Lecturer (Associate Professor) at the University of Surrey, a past Research Associate and Postdoctoral Research Fellow at the Waterloo Centre for Automotive Research (WatCar), University of Waterloo, Canada, and a past Research Assistant at the Concordia Centre for Advanced Vehicle Engineering (CONCAVE), Concordia University, Montreal, Canada.
Currently, he is the director of Connected and Autonomous Vehicles Lab (CAV-Lab) within the department of Mechanical Engineering Sciences. Since joining Surrey, he has contributed (either as PI or CoI) to securing around £13M total research funding (with a contribution to Surrey of about £8.5M) from EPSRC, Innovate UK, EU, KTP and industry.
Dr Fallah's research has contributed to the state-of-the-art research in the areas of connected autonomous vehicles and advanced driver assistance systems. So far, his research has produced four patents (three filed by Jaguar Land Rover and one filed by General Motors Company of the USA), and more than 40 peer reviewed publications in high-quality journals and well-known conferences. He is also co-author of a textbook entitled Electric and Hybrid Vehicles: Technologies, modeling and control, (A mechatronics approach) which has been published by John Wiley publishing company in 2014. The book addresses the fundamentals of mechatronic design in hybrid and electric vehicles. Moreover, He is the co-editor of the book of conference proceedings resulted from the organisation of the TAROS 2017 conference published by Springer in 2017.
Dr Fallah is a fellow of higher education academy and completed the Graduate Seminar in Graduate Teaching at the University of Surrey and the Concordia University. He has collaborated with the Higher Education Department in a research and evaluation grant entitled "Bridging the Gap: the construction of shared meaning through feedback" to better understand of lecture feedback on teaching quality and students' learning outcome. He also carried out a research on the effect of e-learning and developed online micro videos on the enhancement of students' learning outcomes.
University roles and responsibilities
Serving as the member of departmental Athena Swan group

Visiting tutor for professional training students
Research

Research interests

Connected and autonomous cars
Cloud-assisted distributed vehicle control systems
Cooperative vehicle state estimation and prediction
Intelligent advanced driver assistance systems
Power/energy management of electric and hybrid vehicles.

Research funding

Energy Management of a Fleet of Connecte Electric Vehicles, Funding Source: KTP, 2018-2021, 
GPR for Localisation of Autonomous Vehicles, Funding Source: Innovate UK, 2018-2019,
Above the Cloud, Funding Source: Innovate UK, 2017-2019,
Future AI and Robotics for Space (FAIR-SPACE), Funding Source: EPSRC - UK Space Agency, 2017-2021, https://fair-space.squarespace.com ,
Improved Trustworthiness and Weather-Independence of Conditionally Automated Vehicles in Mixed Traffic Scenarios (TrustVehicle), Funding Source: European Commission (Horizon 2020), 2017-2020, http://www.trustvehicle.eu ,
Optimization of scalable realtime models and functional testing for e-drive concepts (Obelics), Funding Source: European Commission (Horizon 2020),  2017-2020, https://obelics.eu ,
Secure Cloud-based Distributed Control (SCDC) Systems for Connected Autonomous Cars, Funding Source: EPSRC - JLR, 2016-2021, http://gow.epsrc.ac.uk/NGBOViewGrant.aspx?GrantRef=EP/N01300X/2 ,
Development of Pre-emptive Optimal Control for Active Suspension Systems, Funding Source: Jaguar Land Rover (JLR), Industrial Research Collaboration, 2013-2014,
Integrated Control of Multiple-Motor and Multiple-Storage Fully Electric Vehicles, Funding Source: Seventh Framework Programme, European Commission, 2013-2016, http://www.i-compose.eu/iCompose/ ,
Development of Regenerative Auxiliary Power Systems, Automotive Partnership Canada (APC) and Canada Foundation for Innovation (CFI), Dec. 2011. 
Supervision
Postgraduate research supervision
Research fellows
Dr Ainur Begalinova, 3D digital map construction for autonomous vehicle navigation, 2019 - present
Dr Ashith Rajendar Babu, Learning-based MPC motion-planning for robotic manipulators, 2019 - present
Dr Kaushik Halder, Robust distributed control systems for connected autonomous vehicles, 2018 - present
Mohammad Zeeshan Babar, Multi-objective Optimsation for Planetary Rovers, 2018 - present
Umberto Montonaro, Design of a cloud-assisted distributed control system for connected autonomous driving, 2016 - 2018.
PhD students
Nikolaos Sarantinoudis, Sensor Fusion and digital map construction for autonomous vehicle navigation", April 2019 - present
Thomas Barbier, Perception of morphology & kinematic properties of space debris for grasp planning using sensor fusion, January 2019 - present 
Marco Visca, Reinforcement Learning Path Planning of Autonomous Planetary Rovers. October 2018 - present 
Salar Arbabi, Cooperative Decision Making for Automated Driving in Urban Environment, October 2018 - present
Glen Mason, Functional Safety Analysis of Cooperative Adaptive Cruise Control Systems, October 2017 - present
Sampo Kuutti, End-to-End Deep Learning Control for Connected Autonomous Vehicles, October 2017 - present
Samuel Green, Fault-tolerant Cooperative Vehicle State Estimation (Cloud-assisted), October, 2017 - present
Shayan Taherian, Vehicle Emergency Autonomous Collision Avoidance System , May 2017 - present
Shilp Dixit, Fault-tolerant Cooperative Cruise Control with Autonomous Overtaking, October 2016 - present
Zhengyuan Wang, Robust Optimal Vehicle Yaw Moment Stability Control, January 2014-2018 
Johan Theunissen, Model Predictive Control of Semi-active Suspension Systems, January 2014 - present.
Undergraduate students (MEng)
Sreejith Sreekumar, Design and Numerical Validation of Advanced Distributed Control of Connected Autonomous Vehicles in Platoons, 2017-2018
Mark Peters, Intelligent Vehicle Health Monitoring and Maintenance using Machine Learning, 2017-2018
Salar Arbabi, Robotic Test Station for Automated Testing of Disk Pump Actuators, 2017-2018
Sampo Kuutti, Analysis of Cooperative Vehicle Localisation Systems, 2016-2017
Saifuddin Abdul Halim, Energy Management of a Series Hybrid Powertrain using Forward Equivalent Consumption Minimisation Strategy, 2016
Darius Mazeika, Emission Estimation of a Conventional Diesel Bus, 2015 (In collaboration with Alexander Denis Ltd.)
Tom Morrison, Emission Estimation of a Series Hybrid Electric Bus, 2015 (In collaboration with Alexander Denis Ltd.)
James MacDonald, Application of Equivalent Consumption Minimisation Strategy for Series Hybrid Electric Vehicles, 2014
Ioannis Karountzos, Power Management Control Design for a Hybrid Electric Vehicle, 2014
Lambros Vardakis, Modeling of a Continuously Variable Transmission and Its Fuel Efficiency Analysis, 2014
Matthew Chapman, Semi-active Suspension Simulation and Optimization using MATLAB and Simulink, 2013.
Teaching
ENGM248: Mechatronics
ENGM001: Multi-Disciplinary Design Project
ENG3170: Modern Vehicle System Design
ENG3166: Control and Dynamics
ENG2094: Control.