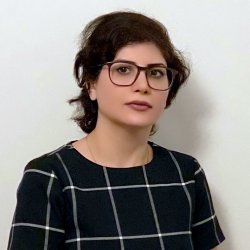 Dr Samaneh Kouchaki
---
Senior Lecturer in Machine Learning for Healthcare
About
Biography
I joined CVSSP in July 2020 to lead research and teaching in machine learning for health and dementia care in collaboration with the UK Dementia Research Institute (UK DRI) Care Research & Technology Centre (a joint initiative between CVSSP, the Surrey Sleep Research Centre and Department of Mathematics at Surrey, and Imperial College London).
I previously spent three years as a postdoctoral researcher within the Institute of Biomedical Engineering at the University of Oxford. I was the senior machine learning researcher for the '100,000 Genomes Project for Tuberculosis', an international consortium involving the Centres for Disease Control of most major nations (including the USA, UK and China), jointly funded by the Gates Foundation and the Wellcome Trust. My research focus was on the prediction of antibiotic resistance in pathogens such as those that cause tuberculosis.
Prior to this, I was at the University of Manchester within the Division of Evolutionary and Genomic Sciences where I was funded by the EU Horizon 2020 Virogenesis project, working on next-generation DNA sequencing using signal and image processing techniques coupled with unsupervised machine learning.
I obtained my PhD in Computer Science at Surrey in 2015. My PhD focused on developing novel multi-way techniques for source separation with application to biomedical signals.
Areas of specialism
Biomedical signal processing; deep supervised/semi-supervised learning for healthcare data; graph learning and embedding for omics data; time-series data processing and pattern analysis.
Research

Research interests

Dr Kouchaki's research is aimed at improving patient care by providing decision support. Her objective is to develop intelligent tools, based on hybrid architectures of advanced probabilistic and deep learning techniques, that facilitate improved patient outcomes.

PhD research positions

Please contact me if you are interested in PhD in Machine learning for Healthcare applications.
Supervision
Postgraduate research supervision
Narges Pourshahrokhi
Elaheh Kalantari
Nivedita Bijlani
Bahar Khorram
Jamal Hashem
Co-supervision:
Adam Dowse
Hesam Alaei
Tingyu Guo
Charlie Baskerville
Completed postgraduate research projects I have supervised
Teaching
LABORATORIES DESIGN & PROFESSIONAL STUDIES III and IV (EEE2036 and EEE2037)
 COMPUTER AND DIGITAL LOGIC (EEE1033)