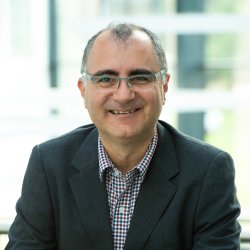 Dr Shahriar Behboudi
---
Senior Lecturer in Immunology and Virology
Biography
After completing his undergraduate studies in Veterinary Medicine at University of Tehran, Shahriar Behboudi was trained as an immunologist in Uppsala, Sweden. As a postdoctoral fellow at University of Oxford, he was involved in assessing the efficacy and immunogenicity of novel malaria and TB vaccines.  Later, Shahriar set up an independent research group  with the aim to develop T cell based immunotherapy for treatments of solid tumours.  In 2013, Shahriar took up the position of group leader at the Pirbright Institute and Senior Lecturer in Veterinary Immunology, University of Surrey. Shahriar's research focuses on exploring host-pathogen interaction, immune evasion and vaccine development. 
Areas of specialism
Avian Immunology, Viral Immunology, lipid metabolism, Vaccine development, Cancer immunotherapy
Affiliations and memberships
BSI
British Society for Immunology
Research
Research interests
The specific goals of Shahriar's group are:
To develop efficacious vaccines or immunisation strategies against infectious diseases in chickens.  
To identify regulatory mechanism by which avian pathogens escape immune control 
To determine the role of conventional and non-conventional T cell immunity, including chicken Natural Killer T cells
To understand transmission dynamics of avian influenza, determine correlates of transmission and means of preventing transmission.
Shahriar's lab has developed many tools to study immunity in chickens, including cell transfer, epitope mapping for chicken CD4 and CD8 T cells, identification of lipid ligands for activation of chicken NKT cells in CD1-dependent manner, and means of enumerating effector and memory chicken T cells against avian pathogens. We have also established a reproducible model for Marek's disease virus infection in chickens.
Current funding
Behboudi S. A novel platform for producing cell-free third generation Marek's disease virus vaccine . BBSRC IPA funding, £460K, 2021-2024
Behboudi S and La Ragione R. Control of avian pathogenic Escherichia coli by non-antibiotic compounds inducing trained immunity of chicken macrophages. BEMB PhD studentship, 2020-2024
Behboudi S and Riddle N. The role of TGF-beta and Treg cells in pathogenesis of Marek's disease. Surrey-Pirbright PhD studentship. 2020-2024
Behboudi S. Dissecting the role of virus-specific T cells in providing protection against Marek's disease. BBSRC responsive mode grant. £492K, 2019-2022
Behboudi S, Nair V and Tahir-Alaoui A. Dissecting the role of TGF-beta+ regulatory T cells in pathogenesis of Marek's disease.  BBSRC responsive mode grant. £416K, 2016-2019
Shahriar's lab is recruiting PhD students in Virology/Immunology
My teaching
Veterinary Microbiology MSc Module 4 Coordinator
Veterinary Microbiology MSc
Veterinary Bioscience BSc (Hons)
Veterinary Medicine and Science  BVMSci (Hons)
Biomedical Sciences (Hons)
My publications
Highlights
Boodhoo N. and Behboudi S. Differential virus-specific IFN-gamma producing T cell responses to Marek's disease virus in chickens with B19 and B21 MHC haplotypes. Frontiers in Immunology, 13 January 2022, DOI: https://doi.org/10.3389/fimmu.2021.784359 
Kamble N, Gurung A, Kaufer BB, Pathan A and Behboudi S. Marek's disease virus modulates T cell proliferation via activation of Cyclooxygenase 2-dependent prostaglandin E2. Frontiers in Immunology, 22 December 2021. DOI: https://doi.org/10.3389/fimmu.2021.801781

Boodhoo N, Kamble N., Behboudi S. De novo cholesterol biosynthesis and its trafficking in LAMP-1 positive vesicles are involved in replication and spread of Marek's disease virus. Journal of Virology, 2020 Nov 23;94(24):e01001-20. DOI: https://doi.org/10.1128/JVI.01001-20

Boodhoo N, Kamble N., Sharif S., Behboudi S.  Glutaminolysis and glycolysis are essential for optimal replication of Marek's disease virus. Journal of Virology, 2020 Jan 31;94(4). DOI: https://doi.org/10.1128/JVI.01680-19 

Boodhoo N, Kamble N, Kaufer BB, Behboudi S. Replication of Marek's Disease Virus is dependent on synthesis of de novo Fatty Acid and Prostaglandin E2. Journal of Virology, 2019, Jun 14;93(13). DOI: https://doi.org/10.1128/JVI.00352-19

Gurung A, Kamble N, Kaufer BB, Pathan A, Behboudi S. Association of Marek's Disease induced immunosuppression with activation of a novel regulatory T cells in chickens, PLoS Pathogen, 2017, Dec 21;13 (12):e1006745. DOI: https://doi.org/10.1371/journal.ppat.1006745

Chen Y, Behboudi S, Mohammad GH, Pereira SP, Morris EC.  Ex vivo PDL1/PD1 pathway blockade reverse dysfunction of circulating CEA specific T cells in pancreatic cancer patients. Clinical Cancer Research, July 2017, CCR-17-1185. DOI: https://doi.org/10.1371/journal.ppat.1006745

Akeel Alisa, Sandra Boswell, Lakshmana Ayaru, Ansar Pathan, Roger Williams and Behboudi S. Human CD4+ T cells recognize an epitope within AFP sequence and develop into TGF-beta producing CD4+ T cells. The Journal of Immunology, 2008 Apr 1;180(7):5109-17.  DOI: https://doi.org/10.4049/jimmunol.180.7.5109

Lakshmana Ayaru , Stephen P Pereira, Akeel Alisa, Ansar Pathan, Roger Williams, Brian Davidson, Andrew K Burroughs , Tim Meyer,  and Behboudi S. Unmasking AFP-specific CD4 T cell response in HCC Patients undergoing Embolisation.The Journal of Immunology, 2007 (178) 1914-1922. DOI: https://doi.org/10.4049/jimmunol.178.3.1914

Akeel Alisa, Annette Ives, Ansar Pathan, Citrina Novarette, Roger Williams, Antonio Bertoletti and Behboudi S. Analysis of CD4+ T cell responses to a novel AFP-derived epitope in hepatocellular carcinoma patients. Clinical Cancer Research, 2005 Sep 15;11(18):6686-94. DOI:10.1158/1078-0432.CCR-05-0382

Soon Um, Catherine Mulhall, Akeel Alisa, Annette Ives, John Karani, Roger Williams, Antonio Bertoletti and Behboudi S. Alpha-fetoprotein impairs APC function and induces their apoptosis. The Journal of Immunology, 2004, 173, 3, 1772. DOI: https://doi.org/10.4049/jimmunol.173.3.1772
Additional publications
Boodhoo N. and Behboudi S. Differential virus-specific IFN-gamma producing T cell responses to Marek's disease virus in chickens with B19 and B21 MHC haplotypes. Frontiers in Immunology, 13 January 2022, DOI: https://doi.org/10.3389/fimmu.2021.784359 
Kamble N, Gurung A, Kaufer BB, Pathan A and Behboudi S. Marek's disease virus modulates T cell proliferation via activation of Cyclooxygenase 2-dependent prostaglandin E2. Frontiers in Immunology, 22 December 2021. DOI: https://doi.org/10.3389/fimmu.2021.801781
Boodhoo N, Kamble N., Behboudi S. De novo cholesterol biosynthesis and its trafficking in LAMP-1 positive vesicles are involved in replication and spread of Marek's disease virus. Journal of Virology, 2020 Nov 23;94(24):e01001-20. DOI: https://doi.org/10.1128/JVI.01001-20

Huhammad Suleman Riaz, Anuvinder Kaur, Suha Shwayat, Behboudi S, Uday Kishore and Ansar Ahmed Pathan. Dissecting the Mechanism of Intracellular Mycobacterium smegmatis Growth Inhibition by Platelet Activating Factor C-16. Frontiers in Microbiology, 10 June 2020.https://doi.org/10.3389/fmicb.2020.01046  

Boodhoo N, Kamble N., Sharif S., Behboudi S.  Glutaminolysis and glycolysis are essential for optimal replication of Marek's disease virus. Journal of Virology, 2020 Jan 31;94(4).  DOI: https://doi.org/10.1128/JVI.01680-19 

Boodhoo N, Kamble N, Kaufer BB, Behboudi S. Replication of Marek's Disease Virus is dependent on synthesis of de novo Fatty Acid and Prostaglandin E2. Journal of Virology, 2019, Jun 14;93(13).  DOI: https://doi.org/10.1128/JVI.00352-19

 Bavananthasivam J, Read L, Astill J, Yitbarek TN, Alkie TN, Abdul-Careem MF, Wootton SK, Behboudi S, Sharif S. The effects of in ovo administration of encapsulated Toll-like receptor 21 ligand as an adjuvant with Marek's disease vaccine. Scientific Report, 2018 Nov 6; 8(1):16370. https://doi.org/10.1038/s41598-018-34760-6

Riaz MS, Kaur A, Shwayat SN, Behboudi S, Kishore U, Pathan AA. Direct Growth Inhibitory Effect of Platelet Activating Factor C-16 and Its Structural Analogs on Mycobacteria. Frontiers in Microbiology, 11 September 2018. DOI: https://doi.org/10.3389/fmicb.2018.01903 

BavananthasivamJ, Alkie TN, Astill J, Abdul-Careem MF, Wooton SK, Behboudi S., Yitbarek A, Sharif S. In ovo administration of Toll-like receptor ligands encapsulated in PLGA nanoparticles impede tumor development in chickens infected with Marek's disease virus. Vaccine. 2018 Jun 27;36(28):4070-4076. DOI: https://doi.org/10.1016/j.vaccine.2018.05.091

Santhakumar D, Rohaim MAMS, Hussein HA, Hawes P, Ferreira HL, Behboudi S, Iqbal M, Nair V, Arns CW, Munir M. Chicken Interferon-induced Protein with Tetratricopeptide Repeats 5 Antagonizes Replication of RNA Viruses. Scientific Report, 2018 May 1;8(1):6794. DOI: https://doi.org/10.1038/s41598-018-24905-y

Gurung A, Kamble N, Kaufer B, Pathan A, Behboudi S. Association of Marek's Disease induced immunosuppression with activation of a novel regulatory T cells in chickens, PLoS Pathogen, 2017, Dec 21;13 (12):e1006745. DOI: https://doi.org/10.1371/journal.ppat.1006745

Chen Y, Behboudi S, Mohammad GH, Pereira SP, Morris EC.  Ex vivo PDL1/PD1 pathway blockade reverse dysfunction of circulating CEA specific T cells in pancreatic cancer patients. Clinical Cancer Research, July  2017, CCR-17-1185. DOI: https://doi.org/10.1371/journal.ppat.1006745
Boodhoo N, Gurung A, Sharif S, Behboudi S. Marek's disease in chickens; a review with focus on immunology. Veterinary Research, 2016 November 28: 47(1);119. DOI: 10.1186/s13567-016-0404-3
Boodhoo N., Sharif S., Behboudi S. 1alpha,25(OH)2 Vitamine D3 modulate Avian T Lymphocyte Functions without Inducing CTL unresponsiveness. PLoS One. 2016 Feb 24;11(2):e0150134.  DOI: 10.1371/journal.pone.0150134
Barjesteh N., Brisbin J., Behboudi S, Nagy E., Sharif S. Induction of antiviral responses against avian influenza virus in embryonated chicken eggs with toll-like receptor ligands. Viral Immunology, 2015 May;28(4):192-200.  DOI: 10.1089/vim.2014.0145
Shojadoost B., Behboudi S, Villanueva AI, Brisbin J., Ashkar AA., Sharif S.. Vitamin D3 modulates the function of chicken macrophages. Research Veterinary Science, 2015 June, 100: 45-51.
Barjesteh N., Behboudi S, Brisbin J, Villanueva AI, Nagy E, Sharif S. TLR ligands induce antiviral responses in chicken macrophages, PLOS ONE, 2014, Aug 28;9(8);e105713. DOI: 10.1371/journal.pone.0105713
Parvizi P, Abdul-Careen MF, Mallick AI, Haq K, Haghighi HR, Orouji S, Heidari M, Behboudi S, Sharif S. The effects of administration of ligands for Toll-like receptor 4 and 21 against Marek's disease in chickens. Vaccine, 2014 Apr 7;32(17)1932. DOI: 10.1016/j.vaccine.2014.01.082
Chen Y, Ayaru L, Mathew S, Morris E, Pereira S, Behboudi S. Expansion of anti-mesothelin specific CD4 and CD8 T cell responses in patients with pancreatic carcinoma. PLOS ONE, 2014, Feb 10;9(2):e88133. DOI: 10.1371/journal.pone.0088133
Boswell S, Pathan AA, Pereira SP, Williams R, and Behboudi S. Induction of CD152 (CTLA-4) and LAP (TGF-beta1) in human Foxp3- CD4+CD25- T cells modulates TLR-4 induced TNF-alpha production. Immunobiology, 2013 Mar; 218(3):427-34. DOI: 10.1016/j.imbio.2012.05.028
Payvand Parvizi, Amirul Islam Mallick, Kamran Haq, Hamid R. Haghighi, Shahriar Orouji, Niroshan Thanthrige-Don, Michael St Paul, Jennifer T. Brisbin, Leah R. Read, Behboudi S, Shayan Sharif. A Toll-like receptor 3 ligand enhances protective effects of vaccination against Marek's disease virus and hinders tumour development in chickens. Viral Immunology, 2012 Oct; 25(5):394-401
Amirul I Mallick, Raveendra R Kulkarni, Michael St Paul, Payvand Parvizi, Eva Nagy, Behboudi S and Shayan Sharif. Vaccination with CpG-adjuvanted avian influenza virosomes promotes anti-viral immune responses and reduces virus shedding in chickens Viral Immunology, 2012 June, 25(3):226-31
Haq K, Elawadli I, Parvizi P, Mallick AI, Behboudi S, Sharif S. Interferon-γ influences immunity elicited by vaccines against very virulent Marek's disease virus. Antiviral Res. 2011 Jun;90(3):218-26
Sandra Boswell, Shayan Sharif, Akeel Alisa, Stephen P Pereira, Roger Williams and Behboudi S. Induction of LAP (TGF-beta) expression on CD4+ T cells reducesTLR4 ligand-induced TNF-alpha production in a TGF-beta dependent manner. Immunology. 2011 Jul;133(3):278-87
Amirul Islam Mallick, Payvand Parvizi , Leah R Read, Eva Nagg, Behboudi Sand Shayan Sharif Enhancement of immunogenicity of a virosome-based avian influenza vaccine in chickens by incorporating CpG-ODN. Vaccine. 2011 Feb 11;29(8):1657-65
Kulkami R, Behboudi Si, Shayan Sharif. Insight into the role of Toll-like receptors in modulation of T cell responses. Cell Tissue Research, 2011, 343(1): 141-52
Payvand Parvizi, Katelyn Andrzejewski, Leah R. Read, Behboudi S and Shayan Sharif. Expression profiling of genes associated with regulatory functions of T-cell subsets in Marek's disease virus-infected chickens. Avian Pathol. 2010;39(5):367-73
Behboudi S., Alisa A., Boswell S., Anastassiou J., Pathan AA., Williams R. Expansion of anti-AFP Th1 and Tc1 responses in hepatocellular carcinoma occur in different stages of disease.  Br J Cancer. 2010, 16;102(4):748-53
Behboudi S, Stephen Pereira. Alpha-fetoprotein specific CD4 and CD8 T cell responses in patients with Hepatocellular Carcinoma.  World Journal of Hepatology, 2010, 27, 2(7)256-60
Behboudi S, Boswell S. and Williams R. Cell mediated immune responses to AFP and other antigens in hepatocellular carcinoma. Liver International, 2010 Apr; 30(4):521-6.
Haghighi H, Read L., Behboudi S, Haeryfar M. and Sharif S. Characterization of host responses against a recombinant fowl pox Virus-vectored vaccine in chickens. Clinical and Vaccine Immunology, March 2010, 17(3) 454-63
Hamid Haghighi, Leah Read, S. M. Mansour Haeryfar, Shahriar Behboudi and Shayan Sharif. Identification of a dual-specific T cell epitope of the hemagglutinin antigen of an H5 avian influenza virus in chickens. PLoS ONE, November 2009, 4(11): e7772
Akeel Alisa, Sandra Boswell, Lakshmana Ayaru, Ansar Pathan, Roger Williams and Shahriar Behboudi. Human CD4+ T cells recognize an epitope within AFP sequence and develop into TGF-beta producing CD4+ T cells. The Journal of Immunology, 2008 Apr 1;180(7):5109-17
Lakshmana Ayaru , Stephen P Pereira, Akeel Alisa, Ansar Pathan, Roger Williams, Brian Davidson, Andrew K Burroughs , Tim Meyer,  and Shahriar Behboudi. Unmasking AFP-specific CD4 T cell response in HCC Patients undergoing Embolisation The Journal of Immunology, 2007 (178) 1914-1922
Akeel Alisa, Annette Ives, Ansar Pathan, Citrina Novarette, Roger Williams, Antonio Bertoletti and Shahriar Behboudi. Analysis of CD4+ T cell responses to a novel AFP-derived epitope in hepatocellular carcinoma patients Clinical Cancer Research, 2005 Sep 15;11(18):6686-94
Magdalena Plebanski , Carolyn M Hannan, Shahriar Behboudi, Katie L Flanagan, Vasso Apostolopoulos, Robert E Sinden and Adrian VS Hill. Direct processing and presentation of antigen from malaria sporozoites by professional antigen-presenting cells in the induction of CD8+ T-cell responses. Immunology and Cell Biology. 2005, 83, 307
Soon Um, Catherine Mulhall, Akeel Alisa, Annette Ives, John Karani, Roger Williams, Antonio Bertoletti and Shahriar Behboudi. Alpha-fetoprotein impairs APC function and induces their apoptosis. The Journal of Immunology, 2004, 173, 3, 1772
Shahriar Behboudi, Ann Moore, Sarah Gillbert, Adrian V S Hill. Dendritic cells infected by recombinant modified vaccinia virus Ankara retain immunogenicity in vivo despite in vitro dysfunction. Vaccine, 2004, Oct 22;22 (31-32):4326-31
Shahriar Behboudi, Ann More, Adrian V S Hill. Splenic dendritic cell subsets prime and boost CD8+ T cells and are involved in the generation of effector CD8+ T cells. Cell Immunol.  2004, 228, 1, 15
Fabio Malacarne , George JM Webster , Jim Gotto , Shahriar Behboudi, Andrew K Burroughs, Geoffrey M Dusheiko, Roger Williams and Antonio Bertoletti. Tracking the source and function of the reconstituted hepatitis B virus-specific CD8+ cell population during lamivudine treatment. Journal of Infectious Disease, 2003, 73, 3, 1623 
Helen McShane, Shahriar Behboudi, Nilu Goonetilleke, Roger Brookes, and Adrian V. S. Hill. Protective Immunity against Mycobacterium tuberculosis Induced by Dendritic Cells Pulsed with both CD8+ and CD4+T-Cell Epitopes from Antigen 85A, Infection and Immunity, 2002, 70, 3,  1623-1626
Shahriar Behboudi, David Chao, Paul Klenerman, and Jonathan M Austyn. The effects of DNA containing a CpG motif on dendritic cells. Immunology, 2000, 99, 361-6
Shahriar Behboudi, Bror Morein, Maria Villacres-Eriksson. Quillaja saponin formulations that stimulate proinflammatory cytokines also elicit potent acquired cell mediated immunity. Scand. J.  Immunol. 1999, 50, 371-377
Bror Morein, Maria Villacres-Eriksson, Jill Ekstrom, Kefei Hu, Shahriar Behboudi, Karen Lovgren- Bengtsson. ISCOM - A delivery system for neonates and for mucosal administration; Review article, Adv Vet. Med, 1999, 41, 405-13
Maria C Villacres, Shahriar Behboudi, Nikkilä,T., Karen Lövgren and Bror Morein.  Internalization of iscom-borne antigen and presentation under MHC class I and class II restrictions. Cell. Immunol. 1998, 185, 30-38
Maria Villacres-Eriksson, Shahriar Behboudi, Karen Lövgren-Bengtsson and Bror Morein. Modulation of cytokine response by iscoms and iscom-matrix 1997, Vaccine design: the role of cytokine network, edited by Gregoriadis, G. Plenum press, New York, 111-8
Shahriar Behboudi, Bror Morein and Maria Villacres-Eriksson. In vivo and in vitro induction of interleukine-6 by novel formulations of Quillaja saponaria  Molina saponins, 1997, CYTOKINE, 1997, 9, 9, 682-7
Bengt Rönnberg, Fekado Makonnen, Shahriar Behboudi, Lars Kenne and Bror Morein. Effects of periodate oxidation on adjuvant activity, toxicity and cholesterol-binding capacity of Quillaja saponaria Molina triterpenoids (QH-B). Vaccine, 1997, 15, 17-18, 1820-6
Maria Villacres-Eriksson, Shahriar Behboudi, Andy J Morgan, Trinchieri, G., Bror Morein. Immunomodulation by Quillaja saponaria adjuvant formulations: In vivo stimulation of interleukin-12 and its effects on the antibody response. CYTOKINE, 1997, 2, 73-82
Shahriar Behboudi, Bror Morein, Maria Villacres-Eriksson. In vitro activation of antigen-presenting cells by defined composition of Quillaja saponaria Molina triterpenoids. Clin. Exp. Immunol. 1996, 105, 26-30
Shahriar Behboudi, Bror Morein, Bengt Rönnberg. Isolation and Quantification of Quillaja saponaria Molina Saponins and lipids in iscom-matrix and iscoms. Vaccine, 1995, 17, 1690-6