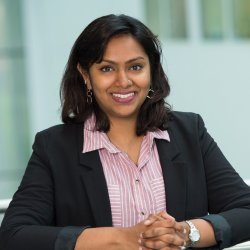 Dr Sharmini Julita Paramasivam
---
Teaching Fellow, Veterinary Training Coordinator
About
Biography
Sharmini graduated from University Putra Malaysia with a Doctor of Veterinary Medicine ,after which she worked at a first opinion and referral companion animal hospital. She received the Douglas Houghton Memorial Fund Fellowship in 2009 to pursue her MSc in Applied Animal Behaviour and Animal Welfare at the Royal Dick School of Veterinary Studies, University of Edinburgh. The focus of her MSc research was the use of natural environmental enrichment to improve monkey well-being and as a rehabilitation tool. Upon completion, she took on the position as a veterinarian as well as enrichment program coordinator for International Animal Rescue (UK) based in Indonesia. Subsequently she, became their Head Veterinarian and was in charge of all medical and surgical care of wild animals kept at the centre. During this time, she gained significant field experience in medical and surgical procedures particularly involving slow lorises and macaques. She was also in charge of training new veterinarians in the team and established clinical protocols relevant in the field. Sharmini was directly in charge of the organisations human-animal conflict project and actively engaged in human monkey interaction research whilst working for the organisation. In 2013, she returned to Malaysia and joined the PAWS animal shelter where she was the lead locum veterinarian managing the daily veterinary care at the shelter including the spay clinic. She was also the clinical supervisor for year 1 and 2 Veterinary students doing their placements at the shelter. Sharmini was also invited as a guest lecturer on the Veterinary course and lectured on applied animal behaviour and responsible animal breeding at University Putra Malaysia.
Sharmini has a special interest in animal behaviour and conflict mitigation for wildlife in addition to zoonosis research. In 2013 she established a human-animal conflict project called The Animal Neighbours Project. The project aims to mitigate human-monkey conflict using research and awareness. Sharmini is currently, the Project Director of The Animal Neighbours Project and is actively involved in the behaviour research component. Since moving to the UK in 2015, Sharmini was an Associate Tutor for the School of Veterinary Medicine, University of Surrey where she assisted with Anatomy, Physiology and Clinical Skills teaching. She delivered several lectures on animal behaviour in the first year. She subsequently took on a full time position as a Teaching Fellow (Veterinary Training Coordinator).
Research interests
Sharmini is actively involved in The Animal Neighbours project which aims to tackle human animal conflict through research and awareness. The research is done along the One Health concept studying zoonotic diseases as well as behaviour interaction between humans and animals.
Teaching
Sharmini teaches on the farm animal and small mammal modules in Animals in Society 1. She is also involved in the anatomy and physiology teaching on the Structure and Function modules.
Departmental duties
Extramural Studies (EMS) Coordinator
More
Sharmini invites individuals interested to participate in the Animal Neighbours Project to contact her.
Publications
Thesis
Paramasivam, S. J., 2008. Hypothalamic-pituitary-adrenal axis response to physical restraint in Green Iguanas (Iguana iguana).
Paramasivam, S. J., 2010. Effects of environmental enrichment on species-typical behaviours in rehabilitating Long tailed macaques (Macaca fascicularis).
Posters
Paramasivam, S. J., 2012. Field management and treatment of a deep fungal wound in a Sumatran Slow Loris (Nycticebus coucang). Asian Society for Zoo and Wildlife Medicine, Thailand.
Honess, P., Algie, C., Hodgkiss, R., Krall, C., Paramasivam, S., Sanchez, K., Knight, A., 2012. Enrichment for the rehabilitation of macaques in a rescue sanctuary. International Primate Society, Mexico.
Citraningputri, I., Sanchez, K., Prameswari, W., Huminto, H., Paramasivam, S.J., Wismandanu, O., 2012. Diagnosing Renal Osteodystrophy in a Sumatran Slow Loris (Nycticebus coucang). Asian Society for Zoo and Wildlife Medicine, Thailand.
Citraningputri, I., Paramasivam, S. J., Sanchez, K., Prameswari, W., 2011. Fatal Acute Haemorrhagic Enteritis cause by Salmonella paratyphii type C in a Javan Slow loris (Nycticebus javanicus) - A Case Study. International Veterinary Pathology Conference, Indonesia.
Presentations
Paramasivam, S.J., 2010. How can the skill of debating be used in everyday life? Global Bridge Theatre Project's Debate Workshop, Cambridge, UK.
Paramasivam, S. J., 2011. Using an ethnoprimatological approach to aid in the human wildlife conflict in Muara Angke, Jakarta. Animals For Asia, China.
Paramasivam, S.J 2015. Mitigating wildlife conflict through education. Conflict awareness workshop, Malaysia.