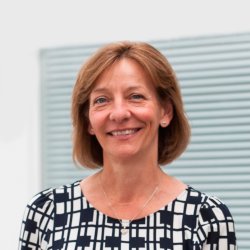 Susan Brooks
---
Teaching Fellow in Integrated Care
MSc Advanced Clinical Practice, BSc(Hons) Psychology with Nursing Studies, Registered Nurse, Independent and Supplementary Prescriber, PG Certificate in Education.
Biography
My nursing career began in 1980 with an integrated BSc and RN qualification at City University and St Bartholomew's Hospital, London.
After working in renal and rehabilitation specialities, I qualified as an RN in the USA and developed an interest in Primary Care. On my return to the UK, I developed skills and knowledge as a generalist practice nurse and then undertook further study to qualify as a Nurse Practitioner and Independent Non-Medical Prescriber. During this time, I held a number of appointments in clinical leadership and management.
I completed an MSc in Advanced Clinical Practice at the University of Southampton in 2012 and joined the University of Surrey as a teaching fellow in 2103. I continue to work as a Nurse Practitioner with an NHS contract alongside my teaching commitments in Surrey.
University roles and responsibilities
Programme Leader for MSc Advanced Clinical Practice

Programme Leader for PGCert Advanced Practice (Primary and Community Care)

Programme Leader for PGCert Advanced Practice (Public Health Practice)
Research
Research interests
I am an active member of the Primary Care Research Network. I have been involved in a study of the Evaluation of nurse and pharmacist independent prescribing Department of Health Policy Research Programme Project 016 0108.
My current research interests include development of communications strategies to enhance supported self management in healthcare and the incorporation of cognitive behaviour therapy and psychosocial interventions to treat depression in people with diabetes.
I am also an active member of the Long-Term Conditions and Ageing Research and Education Cluster.
My teaching
I teach across Professional Preparation Programmes in adult field modules and year two inter-disciplinary modules. I am module co-lead for the Innovation and Leadership core module.
I also teach on CPD modules for Leading and Managing Long-Term conditions, Return to Practice, Health Assessment, Managing Common Illnesses and Injuries, and Introduction to Practice Nursing and regular update days.
In addition, I lead the V300 Nurse Independent/Supplementary Prescribing module, and have recently taken on the role of Director of Studies for a new programme of MSc Advanced Clinical Practice planned for late 2018.
I am the Research for Professional Practice dissertation supervision of year 3 and post-registration students and I am a personal tutor for BSc Adult Nursing students.
My publications
Publications
Paper based on workshop 'C5: The mentoring pipeline: institutional perspectives on mentoring as a development tool' presented at the Vitae Researcher Development International Conference, 8-9 September 2015, Manchester, UK
This study explores three stages of migration of Czech and Slovak women who migrated to Britain between 1989 and 2004 to first work as au-pairs and later settled in the UK. It investigates their migration journeys through qualitative life-course interviews and examines the gendered nature of their motivations, their experiences of the migration process and their approach to integration, intertwined with their perpetually evolving sense of belonging. Conceptually the study is informed by Boyd and Grieco?s (2003) theoretical framework of temporal analysis of migration stages combined with intersectional insight and the theory of structuration. This theoretical combination acknowledges the interconnection of gender with several other social categories (such as class, nationality and race) that shaped individual migrants? journeys, whilst it was equally able to recognise the impact of macro level forces on women?s choices and their continuous effort to be accepted as a fully recognised member of the host society.
Some of the core concepts that arose from the interviews include the gendered nature of migrant domestic work, particularly in relation to ambiguity surrounding the au-pair scheme that resulted in a significant disparity between migrants? and host families? expectations of what au-pairs should do. The study also found that both the attitudes of migrants towards the home population and their understanding of how they were received by the British population were directly linked to the concept of gender, race and national stereotyping.
The analysis suggests that these women?s motivations were affected by challenges of the post-communist transition period in the Czech Republic and Slovakia. It also discovered that migrants? pre-conceived expectations of Britain as mostly white and middle-class society were met with starkly different complex reality of a multicultural and a class divided Britain. The findings show some evidence that the women utilised their gender and race to negotiate their initially unfavourable societal position in order to gradually improve their social capital, whilst the intersection of their nationality and class created specific barriers that hindered their original ambitions to pursue further education in the UK.