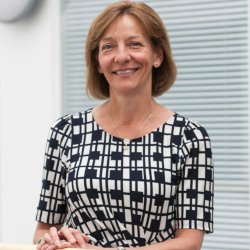 Susan Brooks
---
Teaching Fellow in Integrated Care
MSc Advanced Clinical Practice, BSc(Hons) Psychology with Nursing Studies, Registered Nurse, Independent and Supplementary Prescriber, PG Certificate in Education.
Biography
My nursing career began in 1980 with an integrated BSc and RN qualification at City University and St Bartholomew's Hospital, London.
After working in renal and rehabilitation specialities, I qualified as an RN in the USA and developed an interest in Primary Care. On my return to the UK, I developed skills and knowledge as a generalist practice nurse and then undertook further study to qualify as a Nurse Practitioner and Independent Non-Medical Prescriber. During this time, I held a number of appointments in clinical leadership and management.
I completed an MSc in Advanced Clinical Practice at the University of Southampton in 2012 and joined the University of Surrey as a teaching fellow in 2103. I continue to work as a Nurse Practitioner with an NHS contract alongside my teaching commitments in Surrey.
Research interests
I am an active member of the Primary Care Research Network. I have been involved in a study of the Evaluation of nurse and pharmacist independent prescribing Department of Health Policy Research Programme Project 016 0108.
My current research interests include development of communications strategies to enhance supported self management in healthcare and the incorporation of cognitive behaviour therapy and psychosocial interventions to treat depression in people with diabetes.
Teaching
I teach across Professional Preparation Programmes in adult field modules and year two inter-disciplinary modules. I am module co-lead for the Innovation and Leadership core module.
I also teach on CPD modules for Leading and Managing Long-Term conditions, Return to Practice, Health Assessment, Managing Common Illnesses and Injuries, and Introduction to Practice Nursing and regular update days.
In addition, I lead the V300 Nurse Independent/Supplementary Prescribing module, and have recently taken on the role of Director of Studies for a new programme of MSc Advanced Clinical Practice planned for late 2018.
Departmental duties
My departmental duties include Research for Professional Practice dissertation supervision of year 3 and post-registration students and I am a personal tutor for B Sc Adult Nursing students. I am also an active member of the Long -Term Conditions and Ageing Research and Education Cluster .
My publications
Publications
Paper based on workshop 'C5: The mentoring pipeline: institutional perspectives on mentoring as a development tool' presented at the Vitae Researcher Development International Conference, 8-9 September 2015, Manchester, UK