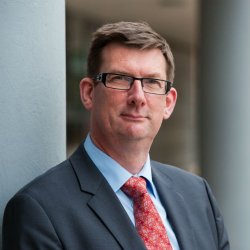 Professor Vince Emery
---
Emeritus Professor of Translational Virology
PhD FRSB
About
Biography
Vince Emery is currently the President and Vice-Chancellor of the University of Hertfordshire's campus in Egypt. Vince Emery is an Emeritus Professor of Translational Virology at the University of Surrey, where he was formally Vice-President (Global). As Vice-President (Global) Professor Emery led the University of Surrey's global strategy seeking to catalyse and expand international research networks, student and staff recruitment and mobility, to foster teaching collaborations, and to realise transnational educational opportunities. 
Before joining the University of Surrey in 2012, Professor Emery was Pro-Provost for Africa and the Middle East, Vice-Head of the Graduate School and Professor of Virology at UCL where he still holds an Honorary Professorship.
Vince started his scientific career as a biochemist but has been a virologist for the last 38years. His current research aims to provide an interdisciplinary approach to understanding viral infections in immunocompromised hosts such as HIV-infected patients and transplant recipients. He has an H-index of 75 and over 19,600 citations of his published work.
Research

Research interests

Vince's particular interests have been focused on cytomegalovirus in solid organ and stem cell transplant recipients and in newborns (especially in Africa) by combining viral replication measures with assessment of theimmune response and mathematical biology to improve patientmanagement.

During his career he has obtained in excess of £29 million of grant money from Government agencies in the UK and USA, charitable organisations, and the private sector and has an H-index of  75 and his work has been cited 19,500 times.

Vince has published in excess of 245 research articles, reviews, and books including a "Pocket Guide to Cytomegalovirus" and "A Patient's Guide to Cytomegalovirus" published in 2009, and "A spotlight on Cytomegalovirus Infection and Disease" as part of the Lectures in Transplantation series, published in 2010. In addition, Vince is also a named inventor on 5 patents in the area of biotechnology and molecular diagnostics.

i-sense, the EPSRC IRC in Early Warning Systems for Infectious Diseases

Protecting patients and populations from the threat of infectious diseases

Globally, infectious diseases such as influenza, MRSA and HIV rank among the gravest threats to human health, alongside global warming and terrorism. 

i-sense is a five-year, £11m EPSRC-funded interdisciplinary programme, launched in October 2013. It aims to engineer a new generation of early-warning sensing systems to identify disease outbreaks much earlier than before, using self-reported symptoms on the web and mobile phone-connected diagnostic tests.

i-sense's mobile phone-connected diagnostic devices will help widen access to testing in GP surgeries, the community, the developing world and the home. The capability to detect infections and then wirelessly connect test results to healthcare systems will help patients gain faster access to treatment, and support public health efforts to map indicators of emerging infections in real-time. 

Researchers are also using the vast amount of web-based information on Google, Facebook and Twitter- self-reported symptoms such as "cough" or "fever"- to identify indicators of disease outbreaks, before people attend clinics, or from geographical regions that are not covered by traditional public health systems.

Outbreaks of infectious disease can spread rapidly and unpredictably, causing enormous losses to health and livelihood. Worldwide, many infections remain undiagnosed and untreated due to poor diagnostic tools. This results in the on-going transmission of serious infections, such as HIV, and delay in the identification of emerging threats, for example pandemic influenza.

The best approach to control an outbreak is to identify the source of infection, stop it spreading at an early stage, or prevent it altogether. Therefore, early detection and vigilant monitoring is crucial. 

i-sense is led by University College London and brings together a team of scientists, engineers and clinicians from five leading universities - UCL, Imperial College London, Newcastle University, London School of Hygiene and Tropical Medicine and University of Surrey, jointly with Public Health England and industrial and clinical partners.