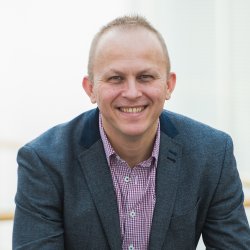 Biography
Biography
Dr Vlad Stolojan is a Senior Lecturer in Nanomaterials Characterisation, working in the Advanced Technology Institute as part of the Nano-Electronics Centre. He is a member of the Institute of Physics and a fellow of the Royal Microscopical Society.
Dr Stolojan is an alumnus of University of East Anglia (BSc Physics -1996) and of the University of Cambridge (PhD Physics -2001 Nanochemistry of grain boundaries in iron"). He first joined the University of Surrey's School of Engineering in 2001 as an expert in electron microscopy and energy-loss spectroscopy, continuing as an RCUK Fellow with the University of Surrey's Electrical and Electronic Engineering department, in Prof Ravi Silva's Nano Electronics Centre.
Dr Stolojan is an author of over 100 peer-reviewed publications and a reviewer for a number of journals (Carbon, Applied Surface Science, Ultramicroscopy, etc.).
Research interests
Large area electrospinning of aligned carbon nanotube-polymer composites;
Catalytic growth of carbon nanotubes and graphene;
Electron Microscopy and associated spectroscopies, particularly Electron Energy-Loss Spectroscopy;
Focussed Ion Beam Microscopy, Fabrication and manipulation;
Optical microlenses and concentrators;
Photovoltaic devices.
PhD Projects are available in:
Teaching
EEEM050 - Nanofabrication and Characterisation (Module Co-ordinator): This module covers data processing and analysis, microscopy image processing and analysis, optical spectroscopies, carbon nanotube growth mechanisms, thin film deposition techniques, ion-beam fabrication, implantation and analysis and journal article writing.
EEE3037 - Nanoscience and Nanotechnology (with Dr JD Carey): Dr Stolojan's component covers the use of electron and ion microscopy and spectroscopy in nanotechnology.
Dr Stolojan is an academic supervisor for Multi-Disciplinary Design Projects, a tutor for FHEQ Levels 4 and 5 EEE students and and contributes to the Engineering Design and Professional Skills.
Departmental duties
ATI Health and Safety Academic Representative
Academic Exams Team Leader for the Electrical and Electronic Engineering depratment.
Academic in charge of the Transmission Electron Microscopes (STEM, TEM) in Materials Structural Studies Unit (MSSU), and the microscopy and analysis suite at the ATI: SEM, ESEM, Dual-Beam FIB, AFM, Scanning Tunneling Microscope (STM) with XPS, UPS and an SEM column.
Affiliations
Institute of Physics (EMAG and The Carbon Group): MInstP.
Fellow of the Royal Microscopical Society.
University roles and responsibilities
Academic tutor (all years)

Academic Supervisor (PhD and EngD)
My qualifications
2001
PhD cantab
University of Cambridge
1996
BSc Hons (1st)
University of East Anglia
Affiliations and memberships
MInstP
Member of the Institute of Physics (EMAG and Carbon groups)
Fellow RMS
Fellow of the Royal Microscopical Society
Fellow HEA
Fellow of the Higher Education Academy
My publications
Publications
For carbon nanotubes (CNTs) to be exploited in electronic applications, the growth of high quality material on conductive substrates at low temperatures (
Curry RJ, cox dc, devarepally kk, fry AT, stolojan, munz m
(2011)
Synthesis of linear ZnO structures by a
thermal decomposition method and their
characterisation,
Journal of Materials Science
47
pp. 1893-1901
The semiconductor zinc oxide (ZnO) is a
promising material for applications in optoelectronics, photochemistry and chemical sensing. Furthermore, ZnO structures can be grown with a large variety of sizes and shapes. Devices with ZnO rods or wires as their core elements can be used in solar cells, gas sensors or biosensors. In this article, an easy approach for the non-aqueous wet chemical synthesis of ZnO structures is presented that employs the solvent trioctylamine (TOA) and the surfactant hexamethylenetetramine (HMTA). Using the thermal decomposition method, rod-shaped structures were grown that are suitable for the fabrication of electrical devices. A detailed study was carried out to investigate the effects of various reaction parameters on the growth process. Both the concentration of the surfactant HMTA and the zinc precursor zincacetylacetonate (Zn(acac)2) were found to show strong effects on the resulting morphology. In addition to structural characterisation using XRD, SEM and TEM, also optical properties of rod-shaped ZnO structures were measured. Rod-shaped structures were obtained for the following conditions: reaction time 4 h,reaction temperature 70 C, 1 mmol of Zn(acac)2, 4 mmol of HMTA and 25 mL of the solvent TOA. Photoluminescence and photoluminescence excitation spectroscopy of samples grown under these conditions provided information on levels of defect states that could be critical for chemical sensing applications. Two narrow peaks around 254 and 264 nm were found that are well above the band gap of ZnO.
Chong LC, Stolojan V, Wagner G, Silva SRP, Curry RJ
(2008)
One-pot rapid low-cost synthesis of Pd-fullerite catalysts,
JOURNAL OF MATERIALS CHEMISTRY
18
(40)
pp. 4808-4813
ROYAL SOC CHEMISTRY
Langridge MT, Cox DC, Webb RP, Stolojan V
(2014)
The fabrication of aspherical microlenses using focused ion-beam techniques,
Micron
57
(C)
pp. 56-66
© 2013 Elsevier Ltd.Aspheric lenses are the most common method for correcting for spherical aberrations but, in microlens production, highly-controlled lens profiles are hard to achieve. We demonstrate a technique for creating bespoke, highly-accurate aspheric or spherical profile silicon microlens moulds, of almost any footprint, using focused ion-beam milling. Along with this, we present a method of removing induced ion-beam damage in silicon, via a hydrofluoric acid etch, helping to recover the surface's optical and chemical properties. In this paper, we demonstrate that our milled and etched moulds have a roughness of 4.0-4.1. nm, meaning they scatter less than 1% of light, down to wavelengths of 51. nm, showing that the moulds are suitable to make lenses that are able to handle light from UV up to infra-red.Using empirical experiments and computer simulations, we show that increasing the ion-dose when milling increases the amount of gallium a hydrofluoric acid etch can remove, by increasing the degree of amorphisation within the surface. For doses above 3000¼C/cm2 this restores previous surface properties, reducing adhesion to the mould, allowing for a cleaner release and enabling higher quality lenses to be made.Our technique is used to make aspheric microlenses of down to 3. ¼m in size, but with a potential to make lenses smaller than 1. ¼m.
Hatton RA, Blanchard NP, Stolojan V, Miller AJ, Silva SRP
(2007)
Nanostructured copper phthalocyanine-sensitized multiwall carbon nanotube films,
LANGMUIR
23
(11)
pp. 6424-6430
AMER CHEMICAL SOC
Carbon fibre reinforced polymers (CFRP) were introduced to the aerospace, automobile and civil engineering industries for their high strength and low weight. A key feature of CFRP is the polymer sizing - a coating applied to the surface of the carbon fibres to assist handling, improve the interfacial adhesion between fibre and polymer matrix and allow this matrix to wet-out the carbon fibres. In this paper, we introduce an alternative material to the polymer sizing, namely carbon nanotubes (CNTs) on the carbon fibres, which in addition imparts electrical and thermal functionality. High quality CNTs are grown at a high density as a result of a 35 nm aluminium interlayer which has previously been shown to minimise diffusion of the catalyst in the carbon fibre substrate. A CNT modified-CFRP show 300%, 450% and 230% improvements in the electrical conductivity on the ?surface?, ?through-thickness? and ?volume? directions, respectively. Furthermore, through-thickness thermal conductivity calculations reveal a 107% increase. These improvements suggest the potential of a direct replacement for lightning strike solutions and to enhance the efficiency of current de-icing solutions employed in the aerospace industry.
Gravani S, Polychronopoulou K, Stolojan V, Cui Q, Gibson PN, Hinder SJ, Gu Z, Doumanidis CC, Baker MA, Rebholz C
(2010)
Growth and characterization of ceria thin films and Ce-doped gamma-Al2O3 nanowires using sol-gel techniques,
NANOTECHNOLOGY
21
(46)
ARTN 465606
IOP PUBLISHING LTD
Saavedra MS, Sims GD, McCartney LN, Saavedra MS, Stolojan V, Anguita JV, Tan YY, Silva SRP, Ogin SL, Smith PA
(2012)
Catalysing the production of multiple arm carbon octopi nanostructures,
Carbon
50
(6)
pp. 2141-2146
Octopus-like carbon nanofibres with leg diameters as small as 9 nm are reported, with a high yield over large areas, using a unique photo-thermal chemical vapour deposition system. The branched nature of these nanostructures leads to geometries ideal for increasing the surface area of contacts for many electronic and electrochemical devices. The manufacture of these structures involves a combination of a polyacrylonitrile/polysiloxane film covering the surface of cupronickel catalysts, supported on silicon. Acetylene is used as the carbon feedstock. High-resolution electron microscopy revealed a relationship between the geometry of the nanoparticles and the catalytic growth process, which can be tuned to maximise geometries (and therefore the surface area) and was obtained with a catalyst size of 125 nm. The technique proposed for growing these carbon octopi nanostructures is ideal to facilitate a new in situ transfer film process to place high-density carbon structures on secondary surfaces to produce high capacitance all-carbon contacts. © 2011 Elsevier Ltd. All rights reserved.
The vast majority of stent thrombosis occurs in the acute and sub-acute phases and is more common in patients with acute coronary syndromes, due to the thrombotic milieu where stent struts are positioned. Stent thrombosis is likely due to incomplete tissue coverage of metallic stents as the contact between metallic stents and blood elements may lead to platelet adhesion and trigger vessel thrombosis. If a stent is covered after 7 days, the risk that it will be found uncovered at later stages is very low (