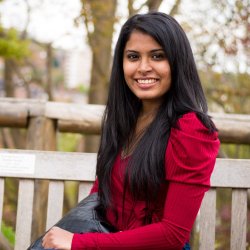 W Hashini K Perera
---
Postgraduate Research Student
About
My research project
Development of stable, high efficiency perovskite photovoltaics

My project is aimed at developing photovoltaics based on perovskites with improved efficiency and long term stability.
Publications
THOMAS WEBB, Xueping Liu, Robert J. E. Westbrook, Stefanie Kern, Muhammad T. Sajjad, Sandra Jenatsch, K. D. G. Imalka Jayawardena, Withanage Hashini Kawshika Perera, Igor Marko, Sanjayan Sathasivam, Bowei Li, MOZHGAN YAVARI, David J. Scurr, Morgan R. Alexander, Thomas J Macdonald, Saif A. Haque, Stephen Sweeney, Wei Zhang
(2022)
A Multifaceted Ferrocene Interlayer for Highly Stable and Efficient Lithium Doped Spiro-OMeTAD-based Perovskite Solar Cells
, In: Advanced energy materials
12
(26)
2200666
Wiley
Over the last decade, 2,2 '',7,7 ''-Tetrakis[N,N-di(4-methoxyphenyl)amino]-9,9 '-spirobifluorene (spiro-OMeTAD) has remained the hole transporting layer (HTL) of choice for producing high efficiency perovskite solar cells (PSCs). However, PSCs incorporating spiro-OMeTAD suffer significantly from dopant induced instability and non-ideal band alignments. Herein, a new approach is presented for tackling these issues using the functionality of organometallocenes to bind to Li+ dopant ions, rendering them immobile and reducing their impact on the degradation of PSCs. Consequently, significant improvements are observed in device stability under elevated temperature and humidity, conditions in which ion migration occurs most readily. Remarkably, PSCs prepared with ferrocene retain 70% of the initial power conversion efficiency (PCE) after a period of 1250 h as compared to only 8% in the control. Synergistically, it is also identified that ferrocene improves the hole extraction yield at the HTL interface and reduces interfacial recombination enabling PCEs to reach 23.45%. This work offers a pathway for producing highly efficient spiro-OMeTAD devices with conventional dopants via addressing the key challenge of dopant induced instability in leading PSCs.