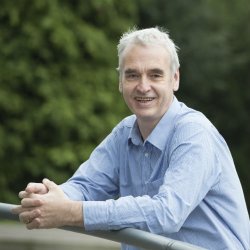 Biography
Biography
Walter joined CES in 1998 as the BG Surrey Scholar, focusing on contaminated land and ways in which current processes towards recycling land can be improved, in terms of both the speed of recycling as well as the quality of the site remediation. Before that he was at the University of Kent, jointly appointed between the School of Biological Sciences and the (now) Kent Business School, working on environmental perf measures and management systems.
Research interests
His past research interests include self-organisation as a viable method to understand corporate environmental behaviour, organisational behaviour towards sustainability and sustainability indicators, especially for the regeneration of brownfield sites. His current interest cover organisational approaches to innovation and sustainable development, participatory approaches to decision-making, and corporate social responsibility, in particular, the role of culture and ethics in defining and forming business strategies.
Research collaborations
He is actively involved with research and teaching collaborations with Universities in Germany, Hungary, Australia and Lithuania, but has been working with many more in the past. Industry-based collaboration involved, amongst many more, Unilever, Shell, Airbus UK, GSK.He is also editor of Greener Management International, sits on the Editorial Board of Environment, Development and Sustainability, and is Co-editor, Case Studies of the Journal of Industrial Ecology.
Teaching
He is teaching at undergraduate and postgraduate level several modules pertinent to his research interest. In addition to providing lectures and seminars on other modules, full modules include:Postgraduate:
Environmental Auditing and Environmental Management Systems
Corporate Social and Environmental Responsibility
Environmental Management Strategy (at Curtin graduate Business School's MBA programme)
Undergraduate:
Corporate Sustainability (Chemical Engineering and Technology Entrepreneurship degree)
Modelling and Management (Technology Entrepreneurship degree)
Departmental duties
He is Director of the Technology Entrepreneurship BSc and the MSc Sustainability Management.
My publications
Publications
Jeswani, HK; Wehrmeyer, W; Mulugetta, Y (2008): How Warm Is the Corporate Response to Climate Change? Evidence from Pakistan and the UK; in: Business Strategy and the Environment; Vol. 18, pp 46-60.
Burningham, K; Barnett, J; Carr, A; Clift, R; Wehrmeyer, W; (2007): Industrial constructions of publics and public knowledge: a qualitative investigation of practice in the UK chemicals industry; in: Public Understanding of Science, Vol. 16, No. 1, 23-43
Pediaditi, K., Wehrmeyer, W., Chenoweth, J., 2006, Developing Sustainability Indicators for Brownfield Redevelopment Projects, Engineering Sustainability, 159 (1), pp 3-10
Waygood, S.; Wehrmeyer, W. (2003): A Critical Assessment of How Non-Governmental Organisations Use the Capital Markets to Achieve Their Aims: A UK Study; in: Business Strategy and the Environment; Vol 12, No. 6; pp 372-385
M. Wagner, W. Wehrmeyer (2002): The relationship of environmental and economic performance at the firm level: a review of empirical studies in Europe and methodological comments; in European Environment. Vol. 12, No. 3, pp. 149-159
Books
W. Wehrmeyer, Y. Mulugetta (1999): Growing Pains: Environmental Management in Developing Countries; Book publ by Interleaf Publ, ISBN 1-874719-23-3
W. Wehrmeyer (1996) (ed.) Greening People - Human Resources and Environmental Management; Book publ. by Greenleaf International Publ, ISBN 1-874719-15-2
W. Wehrmeyer (1995): Measuring Environmental Business Performance - A Comprehensive Guide, Stanley Thornes Publ, ISBN 0-748720-63-4