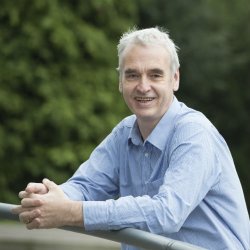 About
Biography
After studying economics and business administration in Marburg, Germany, I did an undergraduate degree in Development Studies, followed by a PhD in Industrial Environmental Management at the University of Kent. I joined the Centre for Environment and Sustainability (CES) initially as the BG Surrey Scholar in Risk Communication, focusing on engagement strategies towards contaminated land remediation and management. After the successful completion of this project, I have worked as Senior Lecturer and Reader in Environmental Business Management, of late looking at CSR and sustainability beyond 'environment'.
University roles and responsibilities
Chair of the Faculty Ethics Committee

Academic Integrity Officer

Chair the Board of Studies

Board of Examiners of MSc programmes for the Centre
Research

Research interests

My past research interests include self-organisation as a viable method to understand corporate environmental behaviour, organisational behaviour towards sustainability and sustainability indicators, especially for the regeneration of brownfield sites. My current interest cover organisational approaches to innovation and sustainable development, participatory approaches to decision-making, and corporate social responsibility, in particular, the role of culture and ethics in defining and forming business strategies. This includes engagement strategies and development of sustainability pathways for communities, corporations or countries towards low carbon futures, including scenario planning and including ways in which the fight against organised crime and terrorism can be integrated with Policing with the Community.

Research collaborations

I am actively involved with research and teaching collaborations with universities in Germany, Australia and Lithuania, but have been working with many more in the past.

Industry-based collaboration involved, amongst many more, Unilever, Shell, Airbus UK, GSK, Rolls Royce, Costain, Network Rail and several UK police forces.

I was also editor of Greener Management International, I sit on the Editorial Board of Environment, Development and Sustainability, and am Co-editor, Case Studies of the Journal of Industrial Ecology.

I have supervised over 35 PhD students to successful completion.
Teaching
I am teaching at undergraduate and postgraduate level several modules pertinent to his research interest. In addition to providing lectures and seminars on other modules, full modules include:
Postgraduate:
Environmental Auditing and Environmental Management Systems
Corporate Social and Environmental Responsibility
Sustainability Management Strategy (MBA programme)
Undergraduate:
Corporate Sustainability (Chemical Engineering degrees)
Publications
Zierler, R; Wehrmeyer; R; Murphy, R. (2017) The energy efficiency behaviour of individuals in large organisations: A case study of a major UK infrastructure operator; in: Energy Policy, Vol 104; pp 38-49, doi: 10.1016/j.enpol.2017.01.033
Nualnoom, P; Wehrmeyer, W. & Morse, S (2016) Analysing household decision-making on oil palm cultivation in Thailand, Journal of Land Use Science, 11:5, 560-578, DOI: 10.1080/1747423X.2016.1204019
Gould, E, Wehrmeyer, W; Leach, M. (2015): Transition Pathways of Commercial-urban fleet electrification in the UK: in: Journal of Contemporary Management: 2016, No. 4, pp 53-67
Looser, S; Wehrmeyer, W: (2015): Doing Well or Doing Good? Extrinsic and Intrinsic CSR in Switzerland; in: Umweltwirtschaftsforum, 14 August 2015
Looser, S; Wehrmeyer, W. (2015): "An Emerging Template of CSR in Switzerland", in: Corporate Ownership and Control, Vol 12, No 3, Spring 2015; pp. 541- 560
Gould, E, Wehrmeyer, W; Leach, M. (2015): Transition Pathways of e-mobility services; in: Transactions on Ecology and the Environment, Vol 194; pp. 349-359
Nayar, G; Wehrmeyer, W, Phillips, Crankshaw, N. (2015): The Efficacy of Safety Data Sheets in Informing Risk based decision-making: a Review of the Aerospace sector'; in: Journal of Chemical Health and Safety; Vol 23, No. 3; pp. 19-29
Looser, S.; Wehrmeyer, W. (2015): "Varieties of Capitalism and Small Business CSR: A Comparative Overview"; in: International Journal of Social, Behavioral, Educational, Economic and Management Engineering Vol:9, No:7; pp. 2145-2154
Jeswani, HK; Wehrmeyer, W; Mulugetta, Y (2008): How Warm Is the Corporate Response to Climate Change? Evidence from Pakistan and the UK; in: Business Strategy and the Environment; Vol. 18, pp 46-60.
Burningham, K; Barnett, J; Carr, A; Clift, R; Wehrmeyer, W; (2007): Industrial constructions of publics and public knowledge: a qualitative investigation of practice in the UK chemicals industry; in: Public Understanding of Science, Vol. 16, No. 1, 23-43
Books
Peters, M; Fudge, S; Wehrmeyer, W; Christie, I, Jackson, T. (eds) (2013): The Global Challenge of Encouraging Sustainable Living: Opportunities, Barriers, Policy and Practice, Edward Elgar
W. Wehrmeyer, Y. Mulugetta (1999): Growing Pains: Environmental Management in Developing Countries; Book publ by Interleaf Publ, ISBN 1-874719-23-3
W. Wehrmeyer (1996) (ed.) Greening People - Human Resources and Environmental Management; Book publ. by Greenleaf International Publ, ISBN 1-874719-15-2
W. Wehrmeyer (1995): Measuring Environmental Business Performance - A Comprehensive Guide, Stanley Thornes Publ, ISBN 0-748720-63-4