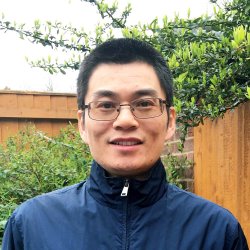 Dr Xiatian Zhu
---
Senior Lecturer in People-Centred AI
About
Biography
Xiatian Zhu is a senior lecturer at the Surrey Institute of People-Centred AI, and Centre for Vision, Speech and Signal Processing (CVSSP), Faculty of Engineering and Physical Sciences, University of Surrey. He is interested in fundamental and scalable machine learning such as unsupervised learning, zero/few-shot learning, transfer learning, multi-modality learning, and embedded AI. He won the 2016 Sullivan Doctoral Thesis Prize, representing the annual best doctoral thesis in computer vision in the UK and has published over 90 peer-reviewed papers with over 10000 citations (h-index 43).
Areas of specialism
Machine learning;
Computer Vision;
Multimodal learning
Research

Research interests

Xiatian Zhu has extensive research experiences in visual surveillance for the benefits of society and human wellbeing by providing enabling AI technologies. He has been working on two EU Security Programme Projects on street-scene behaviour recognition and airborne multi-sensor object detection and tracking in video.

As a research scientist at Samsung AI Centre, Cambridge, he has contributed significantly on several "human-centric AI" projects to enrich peoples' lives via developing compute-efficient, supervision-efficient and data-efficient AI technologies.