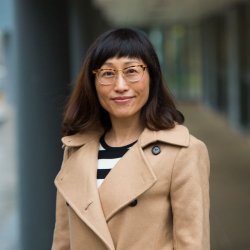 Dr Yanfei Hu
---
Lecturer in Sustainable Enterprise
About
Biography
Yanfei Hu is Lecturer of Sustainable Enterprises at the Surrey Business School. She holds a PhD in Business Administration, an MBA (both from the Ivey Business School, Western University, Canada), and a BA in Economics. Prior to joining the academia, she worked in the media and education sectors, holding positions of business journalist, media group special projects manager, and corporate development director based in Beijing, Shanghai, Hong Kong and Toronto.
Research

Research interests

My areas of expertise include sustainability, strategic management, organisation theory and qualitative research methods.

My research is at the intersection of business and society; specifically, I'm interested in how organizations (both for profit and non-profit) engage with big societal problems. I primarily use the lens of institutional theory and social movements to approach my research questions, aiming to unpack the intriguing interplay between the socio-political environment and actions of organizational actors. I critically examine the intended and unintended outcomes of such interplays to provide theoretical and practical insights.

I welcome PhD solicitation in the below research areas:

Institutional entrepreneurship: how organisations and individuals effect major change in contested issue domains. I'm especially interested in authoritarian contexts in which social or institutional entrepreneurs have to use subtle tactics to drive change.
Social movements and new markets: how social movements create moral markets that engage in pro-social productions.  
Industry response to climate change: I am interested in net-zero transitioning strategies in a variety of industry sectors, with an aim of unpacking the dynamics and nuances of how deeply embedded industry actors respond to societal demands of radical change in business models and productions.
CSR and governance

Awards

Finalist, Best Paper on Environmental and Social Practices (ESP) 2017, Organization & Management Theory (OMT) Division, Academy of Management (AOM)
Best Student Paper Award 2015, European Group for Organizational Studies (EGOS) - largest scholarly group in organisation studies with 2600 active members. The best student paper was selected from 70+ tracks of the annual Colloquium through three rounds of screening, and came with €2000 cash prize 

Conference presentations

Hu Y., Rerup, C, & Zietsma, C. Reflexivity in the "middle": Conducting large-scale institutional work in repressive contexts. Presented at the Academy of Management (AOM) annual meeting, August 9-13, 2019, Boston.
Hu Y., Rerup, C, & Zietsma, C. Institutional Interveners and Human Rights Development in Extreme Institutional Environments. Harvard Kennedy School SICI Conference on Rethinking Cross-Sector Social Innovation, April 5-7, 2018, Boston. http://sici.hks.harvard.edu/
Hu, Y. A longitudinal view of negotiating dual legitimacies during institutional change. European Group of Organization Studies (EGOS) Colloquium, July 5-7, 2018 Tallinn, Estonia. https://www.egosnet.org/home
Paper presentation. Hu, Y., & Rerup, C. 2017. "Mediating Human Rights-Based Change in an Authoritarian State". Presented at the Academy of Management (AOM) annual meeting, August 4-8, 2017; this paper is also a Finalist, Best Paper on Environmental and Social Practices (ESP) 2017, Organization & Management Theory (OMT) Division, AOM.
Hu, Y. "Social Movement Organizing: Robust Action in a Movement-Inhibiting Environment". Presented at the American Sociological Association (ASA) annual meeting, August 10-15, 2017.
Hu, Y. "Corporate Social Irresponsibility and Paradoxes of MNC Social Coordination". Presented at the British Academy of Management (BAM) 2017 Conference, September 5-7, 2017

 

 

 

 

 

 
Supervision
Postgraduate research supervision
As primary supervisor: Gianluigi Narciso (since 2022 January). With Itziar Castello & Xavier Font. Project: How Non-Growth Discourses Transform Industries: Exploring the Paradox of Embedded Agency at the intersection of Economic Identities and Radical Sustainability Goals.
As second supervisor: Titus Sauerwein (since 2019), Estrela Antonio (since 2019), Massaran Traore Sarr (2021). With Gavin Hilson. Their projects explore political and gender issues in African mining sectors.
I served as the examiner of four PhD confirmations and two PhD Viva. My expertise as an examiner lies in qualitative methodology and social, environmental and political issues in management and organisations. 
I serverd as a reviewer for Doctoral College PhD studentship in 2020, 2021, and 2022.
Teaching
MAN1090 Business Ethics (module leader)
MANM429 Managing the Agile Business (MBA, EMBA)
MANM455 Organising (Msc)
Personal tutor
Placement year tutor
Publications
Additional publications
Hu, Y.  & Hilson, G. Forthcoming. Philanthropic Foundations and Institutional Change under Rigid Authoritarianism: Exploring the Ford Foundation's Historical Grantmaking in the Chinese Family Planning Field (1991–2005). Journal of Social Policy
Dissertation:
Social Movement Organization and Robust Action: Creating a Pre-movement in a Movement-Inhibiting Environment (Examiners: Dr. Tima Bansal, Dr. Charles Jones, Dr. Christine Oliver, Dr. Mark Zbaracki)