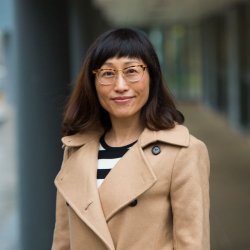 Dr Yanfei Hu
---
Lecturer in Sustainable Enterprise
Biography
Yanfei Hu is Lecturer of Sustainable Enterprises at the Surrey Business School. She holds a PhD in Business Administration, an MBA (both from the Ivey Business School, Western University, Canada), and a BA in Economics. Prior to joining the academia, she worked in the media and education sectors, holding positions of business journalist, media group special projects manager, and corporate development director based in Beijing, Shanghai, Hong Kong and Toronto.
Research
Research interests
Yanfei's areas of expertise include sustainability, strategic management, organisation theory and qualitative research methods.
Her research unpacks social change dynamics using the institutional theory, social movement theory, and the sensemaking perspective. Her projects explore the advancement of human rights, animal rights and veganism in various social contexts, with a focus on strategies and tactics of civil society organizations or entrepreneurs in catalysing radical change. Her other streams of research look into development issues in African mining communities and the dynamics of digital institutional fields. Yanfei uses diverse qualitative research methods including grounded theory, process study and discourse analysis.
Awards
Finalist, Best Paper on Environmental and Social Practices (ESP) 2017, Organization & Management Theory (OMT) Division, Academy of Management (AOM)
Best Student Paper Award 2015, European Group for Organizational Studies (EGOS)
Conference presentations
Hu Y., Rerup, C, & Zietsma, C. Reflexivity in the "middle": Conducting large-scale institutional work in repressive contexts. Presented at the Academy of Management (AOM) annual meeting, August 9-13, 2019, Boston.
Hu Y., Rerup, C, & Zietsma, C. Institutional Interveners and Human Rights Development in Extreme Institutional Environments. Harvard Kennedy School SICI Conference on Rethinking Cross-Sector Social Innovation, April 5-7, 2018, Boston. http://sici.hks.harvard.edu/
Hu, Y. A longitudinal view of negotiating dual legitimacies during institutional change. European Group of Organization Studies (EGOS) Colloquium, July 5-7, 2018 Tallinn, Estonia. https://www.egosnet.org/home
Paper presentation. Hu, Y., & Rerup, C. 2017. "Mediating Human Rights-Based Change in an Authoritarian State". Presented at the Academy of Management (AOM) annual meeting, August 4-8, 2017; this paper is also a Finalist, Best Paper on Environmental and Social Practices (ESP) 2017, Organization & Management Theory (OMT) Division, AOM.
Hu, Y. "Social Movement Organizing: Robust Action in a Movement-Inhibiting Environment". Presented at the American Sociological Association (ASA) annual meeting, August 10-15, 2017.
Hu, Y. "Corporate Social Irresponsibility and Paradoxes of MNC Social Coordination". Presented at the British Academy of Management (BAM) 2017 Conference, September 5-7, 2017
Supervision
Postgraduate research supervision
My teaching
MAN1090 Business Ethics (module leader)
MANM429 Managing the Agile Business (MBA, EMBA)
MANM455 Organising (Msc)
Personal tutor
Placement year tutor
PhD supervision (Second supervisor: Titus Sauerwein, Estrela Antonio)
PhD confirmation (Zahra Shirgholami, Madeline Yong)
PhD viva examination (Suleman Dauda)
My publications
Publications
Countries that have ratified the Minamata Convention on Mercury, a United Nations-backed international treaty designed to protect human health and the environment from releases of mercury and mercury compounds, are required to produce a National Action Plan (NAP). Each must state, very clearly, how the mercury being used at artisanal and small-scale gold mines will be phased out. In most areas of sub-Saharan Africa, however, devising a comprehensive NAP promises to be an enormous and indeed, challenging, undertaking. Here, the institutional capacity and resources, expertise and at times, commitment needed to capture the level of detail the Minamata Secretariat expects to be included in each NAP are woefully lacking. One of the more challenging tasks ahead, given the shortage of hard data available on the sector's populations, production and activities, promises to be the design and implementation of appropriate educational, communication and support-related strategies for the 'vulnerable populations' who rely on work at artisanal and small-scale gold mines for their incomes. This is especially significant for women, who, despite accounting for at least 50 percent of the region's artisanal and small-gold mine workforce, mostly carry out the manual work at the lower tiers of the sector's labour hierarchies. Taking stock of this largely 'invisible' work and the circumstances driving individuals to pursue employment in this sector in the first place, this paper reflects critically on the challenges with reducing women's exposure to mercury at artisanal and small-scale gold mines in sub-Saharan Africa. It draws on findings from ongoing research in Ghana, the location of one of the largest and most dynamic artisanal and small-scale gold mining sectors in the region.
This study examines how highly disruptive issues cause profound dissonance in societal members that are cognitively and emotionally invested in existing institutions. The authors use PETA's (People for the Ethical Treatment of Animals) entrepreneurial advocacy for animal rights to show how this highly disruptive issue interrupted and violated taken-for-granted interpretations of institutions and institutional life. The authors compare 30 YouTube videos of PETA's advocacy to explore pathways to effective sensegiving and sensemaking of highly disruptive issues. The findings augment the analytical synergy that exists between sensemaking and institutional analysis by unpacking the micro-level dynamics that may facilitate transformational institutional change.
Institutional change is a key topic in organization study, but we know surprisingly little about how such change unfolds in change-resistant authoritarian countries. We use a historical study of the efforts by an international non-governmental organization, the Ford Foundation, to mediate human rights-based change in China. Mediated change is the process through which a mediator uses subtle tactics to broker values and practices from one social world to another. We find that mediated change involves tactics that reduce local actors' institutional embeddedness in authoritarianism (e.g., disembedding tactics), and tactics that enhance local actors' embeddedness in rights-based values and practices (e.g., embedding tactics). Overall, the study not only demonstrates the importance of accounting for mediated institutional change processes, but also reveals new insights into under-theorized aspects of the paradox of embedded agency.
Additional publications
Hu, Y., & Rerup, C. Forthcoming. "Fools" with impossible goals: Mobilizing March's technology of foolishness to tackle grand challenges. Research in the Sociology of Organizations.
Dissertation:
Social Movement Organization and Robust Action: Creating a Pre-movement in a Movement-Inhibiting Environment (Examiners: Dr. Tima Bansal, Dr. Charles Jones, Dr. Christine Oliver, Dr. Mark Zbaracki)