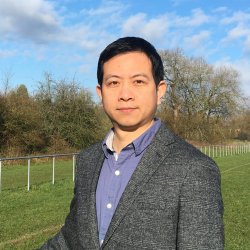 Dr Yuren Xiang
---
Marie Curie Research Fellow
About
Biography
Dr Yuren Xiang is a Marie Curie research fellow at the Advanced Technology Institute, University of Surrey. He received his PhD degree in the photovoltaics from University of Chinese Academy of Sciences at 2016. Focusing on the interface passivation of devices, Dr Xiang has abundant research experience in both commercial silicon-based solar cells and emerging perovskite solar cells fabrications.  
Publications
Additional publications
Yang, X., Luo, D., Xiang, Y., et al. (2021). "Buried Interfaces in Halide Perovskite Photovoltaics." Advanced Materials, 2021, 2006435. (co-first author)
Xiang, Y., et al. (2018). "Light-current-induced acceleration of degradation of methylammonium lead iodide perovskite solar cells." Journal of Power Sources 384: 303-311.
He, J., Xiang, Y., et al. (2018). "Improvement of red light harvesting ability and open circuit voltage of Cu:NiOx based p-i-n planar perovskite solar cells boosted by cysteine enhanced interface contact." Nano Energy 45: 471-479. (co-first author)
Xiang, Y., et al. (2017). "Characterization of spin-coated gallium oxide films and application as surface passivation layer on silicon." Journal of Alloys and Compounds 699: 1192-1198.
Xiang, Y., et al. (2016). "The Effect of Reaction Time on Optical Trapping Nanostructure Formation on the Multi-Crystalline Silicon by Metal-Assisted Chemical Etching." Key Engineering Materials 703: 219-223.
Xiang, Y., et al. (2016). "The effect of substrate surface condition on atomic layer deposited alumina passivation films." Key Engineering Materials 703.
Xiang, Y., et al. (2015). "Numerical simulation of potential induced degradation in silicon solar cell." Taiyangneng Xuebao/Acta Energiae Solaris Sinica 36(6).
Xiang, Y., et al. (2015). "Oxidation precursor dependence of atomic layer deposited Al2O3 films in a-Si: H (i)/Al2O3 surface passivation stacks." Nanoscale research letters 10(1): 137.
Zhao, S….,Xiang, Y., et al. (2018). "General Nondestructive Passivation by 4-Fluoroaniline for Perovskite Solar Cells with Improved Performance and Stability." Small 14(50): 1803350.
Zhang, F.,…,Xiang, Y., et al. (2018). "Interfacial Passivation of the p-Doped Hole-Transporting Layer Using General Insulating Polymers for High-Performance Inverted Perovskite Solar Cells." Small 14(19): 1704007.
Zhang, F.,….,Xiang, Y., et al. (2018). "Semimetal–Semiconductor Transitions for Monolayer Antimonene Nanosheets and Their Application in Perovskite Solar Cells." Advanced Materials 2018: 1803244.
Wang, X., Xiang, Y., et al. (2019). "Enhanced photocatalytic performance of Ag/TiO2 nanohybrid sensitized by black phosphorus nanosheets in visible and near-infrared light." Journal of Colloid and Interface Science 534: 1-11.
Wang, H., ,….,Xiang,Y., et al. (2019). "Achieving efficient inverted perovskite solar cells with excellent electron transport and stability by employing a ladder-conjugated perylene diimide dimer." Journal of Materials Chemistry A 7(42): 24191-24198.
Zhao, S.,…. Xiang,Y., et al. (2020). "Bifunctional Effects of Trichloro(octyl)silane Modification on the Performance and Stability of a Perovskite Solar Cell via Microscopic Characterization Techniques." ACS Applied Energy Materials 3(4): 3302-3309.