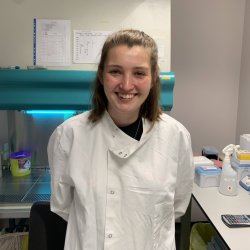 Zoe Maylin
---
Postgraduate Research Student
My research project
The characterisation and pre-clinical development of a novel dual activity anti-androgen for castration resistant prostate cancer
The project entails testing the efficacy and exploring the mechanism of action of new drugs for the advanced disease of prostate cancer. The drugs are provided by a collaboration partner from the chemistry department at the University of Cambridge and are novel inhibitors aiming to be superior to drugs currently used in the clinic.
Supervisors
My publications
Publications
Zoe R Maylin, Radu CB Nicolescu, Hardev Pandha, Mohammad Asim
(2021).
Breaking androgen receptor addiction of prostate cancer by targeting different functional domains in the treatment of advanced disease
View abstract
View full publication
In the last decade, treatment for castration-resistant prostate cancer has changed markedly, impacting symptom control and longevity for patients. However, a large proportion of cases progress despite androgen deprivation therapy and chemotherapy, while still being fit enough for several more lines of treatment. Overstimulation of the androgen receptor (AR) activity is the main driver of this cancer. Targeting biological functions of the AR or its co-regulators has proven very effective in this disease and led to the development of several highly effective drugs targeting the AR signalling axis. Drugs such as enzalutamide demonstrated that the improvement in anti-tumour efficacy is closely correlated with an affinity for the AR and its activity and have established the paradigm that AR remains activity in aggressive disease. However, as importantly, key insights into mechanisms of resistance are guiding the development of the next generation of AR-targeted drugs. This review outlines the historical development of these highly specific agents, their mechanism of action in the context of defective AR activity, and explores the potential for the upcoming next-generation AR inhibitors (ARI) for prostate cancer by targeting the alternative domains of AR, rather than by the conventional ligand-binding domain approach. There is huge potential in these approaches to develop new drugs with high clinical activity and further improve the outlook for patients.