Think family project
Start date
01 October 2014
Team
Principle investigator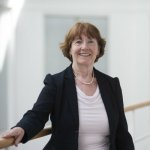 Dr Anne Arber
Visiting Reader in Cancer and Palliative Care
Biography
Anne Arber has a clinical and research background in supportive cancer care. She completed her PhD in 2004 in Medical Scociology at Goldsmiths, University of London, UK. Her research focuses on supportive care of patients with cancer and their carers; including symptom support using e-health and patient and public involvement in cancer and palliative care research. Anne also conducts research in Advanced Communication Skills. She is an Honorary Faculty Member for the European School of Oncology.
Anne is a highly experienced PhD supervisor and was awarded the Vice-Chancellors Award for Post Graduate Research Supervisor of the Year 2018 in the Faculty of Health and Medical Sciences; in recognition of creating the most supportive, stimulating and inspirational research environment. She combines research and teaching as integral parts of her role within the university. Recently, she became an Editorial Board Member for BMC Health Services Research.
She has research expertise in grounded theory, ethnography and mixed methods research. She is a trainer in Advanced Communication Skills and has been invited to run workshops in advanced communication in the UK and in Europe.
She has examined many doctoral thesis as both an internal and external examiner across the UK and internationally.